Jay Worthy Taps Boogie and Jake One for Latest 'Two4One' Single "Bellin"
The LNDN DRGS rapper has some major plans for 2020.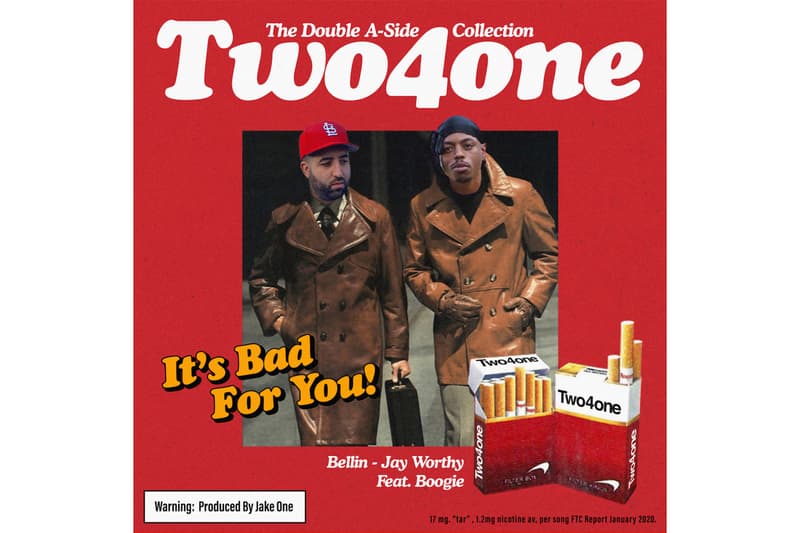 After his LNDN DRGS AFFILIATED project alongside Sean House and a number of notable West Coast features, Jay Worthy returns with another single from his Two4One solo effort in "Bellin." The latest track features an homage to g-funk with heavy synths courtesy of producer Jake One and a guest verse from Boogie. The trio displays some effortless chemistry as Jay Worthy handles the first verse duties with a perfect day-in-the-life tour through LA while Boogie's hazy sing-songy flow floats over the beat. The effort follows Worthy's collaboration with Cardo for "Bullshit" & "Off the Shits" late last week featuring respective Pressa and Kamaiyah guest spots.
"The series came about just over the years with different producers reaching out and showing love wanting to work, so I thought I'd put together a Double A-Side singles collection each produced by one of the greats," Jay Worthy told HYPEBEAST about his Two4One project. "I'm really excited about these Jake One records as that's been the homie and always been a fan of his contributions to the funk. I found inspiration in approaching the New Year wanting to show my fans what's in-store. We just gettin' started. This a big year for me with a ton of releases not letting up at all. We going back to back with drops till next year."

"Boogie been my boy. We came up together, so it was natural. We from the same hood so that's my everyday bro. Next up for me is gonna be [a new single] "My World" with Shlomo, an LP with DāM-FunK and a little gem for y'all is that the Double-A Side collection will be available on Harry Fraud's vinyl label with two extra singles produced by him. [They will] only be available on vinyl so stay posted for release date."
Stream Jay Worthy's latest "Bellin" single with Boogie below and be on the lookout for more Two4One tracks in the near future. In more music news, listen to Danny Brown's new "Out The Slums" verse on the remix of Drakeo The Ruler and 03 Greedo's standout 2017 hit.