These Are the Emerging Designers From This Year's Woolmark Prize Shortlist
Get to know the label's entry collections and sustainability initiatives.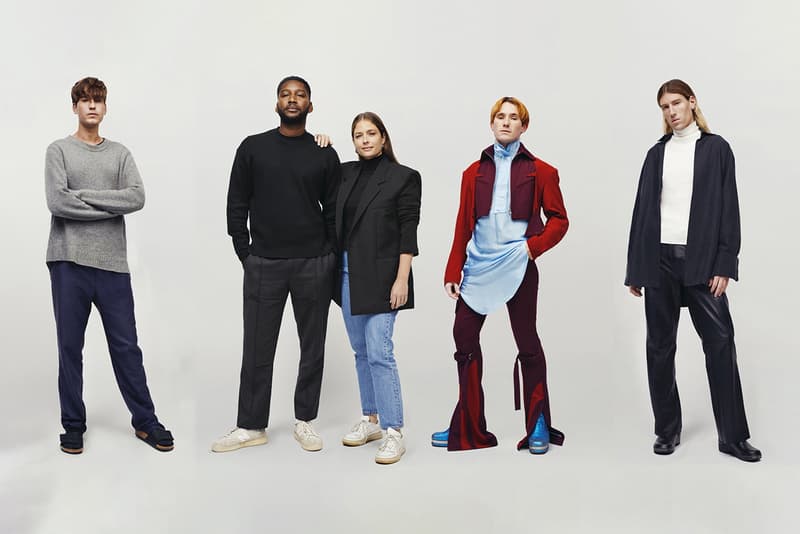 Since it was launched in 1953, the International Woolmark Prize has celebrated some of the biggest names in fashion, beginning with Karl Lagerfeld and Yves Saint Laurent. Since then, the prize has been awarded each year to designers who celebrate Australian Merino wool as a fabric in specially-designed collections. For 2020, the award will be decided by a judging panel including Kim Jones, Takashi Murakami and Edward Enninful.
This year's shortlist is packed with big name designers and labels from across the world, such as Samuel Ross' A-COLD-WALL*, New York's Bode and Berlin-based label GmbH. Additionally, the prize also gives a platform to emerging designers. Some of the less-well-known labels on the 2020 shortlist include Ludovic de Saint Sernin, Matthew Adams Dolan, Botter and Richard Malone. Ahead of the prize being awarded at London Fashion Week, here's everything you need to know about the up-and-coming designers from the International Woolmark Prize shortlist.
Ludovic de Saint Sernin
Parisian designer Ludovic de Saint Sernin has designed a collection titled "Heartbreak" for this year's prize. Inspired by a break-up over the last year, the collection features a consistent broken heart motif that runs throughout the garments. The pieces continue Ludovic de Saint Sernin's signature minimalist style, with his Eyelet Brief — a classic piece throughout his collections — reworked into hand crocheted wool.
"It's encouraging to have the recognition of such an important organization as Woolmark," de Saint Sernin explains. "Most of the collection is produced between the studio and small ateliers based in Paris. By keeping the production simple, it drastically reduces our carbon footprint and gives us full visibility of our ateliers and their work practices."
Richard Malone
Central Saint Martins graduate Richard Malone has taken influence from his upbringing in Wexford, Ireland for his Woolmark Prize collection. A particular inspiration comes from working class uniforms and dressing, a frequent reference point throughout his work. Malone has deconstructed items he associated with this, including aprons, workwear-inspired trousers and chore style jackets. Additionally, the collection sees a focus on sustainability with handwoven fabrics, azo-free dyes and textiles that can be recycled back into the soil.
Speaking about that ethos, Malone explained that, "We focus on many sustainable practices — from working with a hand-weaving community in southern India, which encourages and funds education and training, as well as using plant-based dyes and organic matters. Each jacquard fabric can be traced back to the weaver, and in turn how it was spun, dyed and woven."
Matthew Adams Dolan
Matthew Adams Dolan takes inspiration from classic American style, updating this legacy with new ideas including exaggerated silhouettes, experimental proportions and a focus on craftsmanship. Dolan's work is described as looking at "how a progressive vision of Americana can be presented to the world through the subversion of traditionally American signifiers, reimagining them as a modern American wardrobe for an inclusive and celebratory generation."
Dolan's Woolmark Prize collection takes America's maritime history as its starting point, particularly looking at wool's seafaring past, as well as its weather-proof and water-resistant properties. Additionally, the designer has looked at tailoring and suiting through a range of pieces inspired by the quality of "Made in Italy" manufacturing.
BOTTER
Netherlands-based BOTTER — which recently made its Paris Fashion Week debut — was founded by Rushemy Botter and Lisi Herrebrugh, and takes inspiration from the pair's Caribbean roots. For the Woolmark Prize collection, BOTTER has continued the DIY ethos that runs throughout previous collections. This influence is referenced through deconstructed items, the use of deadstock clothing tags and a wool-based version of traditional synthetic or down wadding.
Speaking about the brand, designers BOTTER and Herrebrugh explain that they "are very careful where we produce our garments… we work with a lot of deadstock fabrics and if we have to develop a bigger number of meters we will make sure it's being used the season after as a classic. We work with cottons, wools and silk fabrics that are biodegradable, just like our packaging."