The Skateroom Launches Skateboard Editions Featuring Andy Warhol's 'Skulls'
Arriving in five different versions.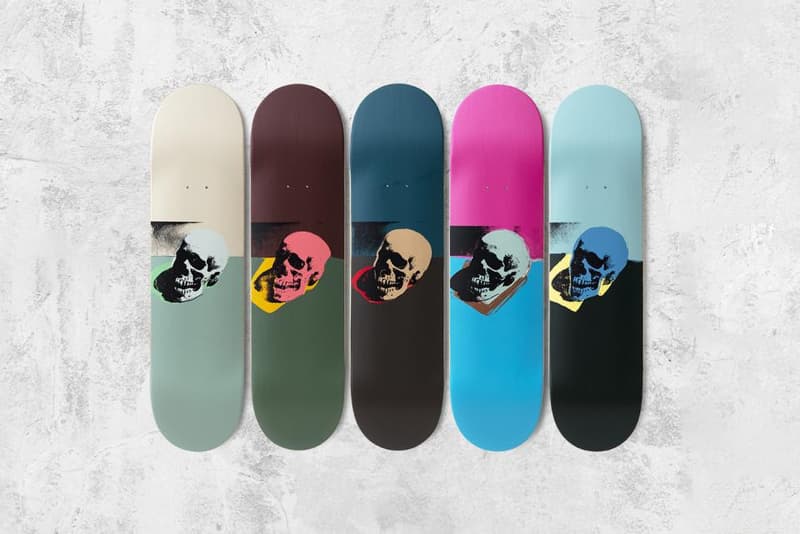 The Skateroom has teamed up with The Andy Warhol Foundation for the Visual Arts to release skateboard editions featuring the late iconic pop artist's Skulls series from 1976. Each skate deck measures approximately 31 by 8 inches and arrives in five distinct versions: blue, grey, peach, pink and white. The skateboards are made of seven ply grade A Canadian maple wood and includes the official Andy Warhol brand logo with one wall mount per deck.
Warhol developed the Skulls series between 1976 and 1977 in his famed New York City studio called the Factory. The Skulls portray an image of a human skull resting on a flat surface. The multi-colored skulls presented on the duo's skate decks were inspired by an original black and white photograph captured by one of Warhol's assistants. "Following Warhol's instructions, his assistant took photographs while casting a variety of dramatic shadows by manipulating the light source's position," as per a statement by The Skateroom.
Art historians have made connections to the artworks to Warhol's nearly fatal shooting in 1968, claiming that the artist was obsessive over his own mortality following the incident. "Yet, in his book The Philosophy of Andy Warhol (1975), Andy Warhol himself famously claimed, 'I don't believe in it because you're not around to know that it's happened. I can't say anything about it because I'm not prepared for it,'" Warhol said in regards to the concept of death.
Check out the skateboard editions above and then head to The Skateroom's website to purchase one for $250 USD. In other art releases, Devin Troy Strother recently unveiled new glossy Faker Lazer Favor prints.