NTWRK Is Dropping a Ton of Exclusives for Singles Day
James Jean prints, Matthew Senna J11 sneaker casts, and even a chance to win the XBox Series X.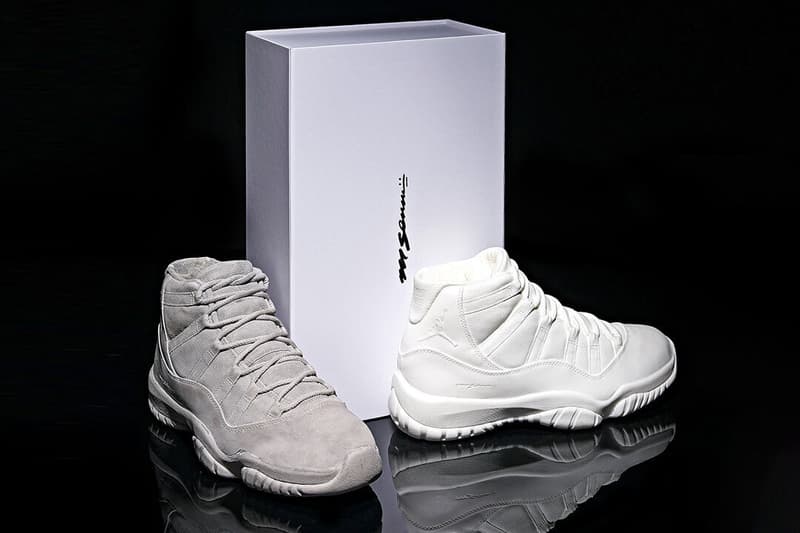 On November 11 — or 11/11, aka Singles Day — mobile-first video commerce platform NTWRK will be releasing a slew of exclusive drops for its die-hard followers. The items run the gamut from jewelry and artwork, to "sneakers" and even a chance to win the fresh-out-the-oven XBox Series X.
Singles Day is recognized as the unofficial holiday for bachelors who are either looking to woo their love interests with gifts, or celebrate their loneliness by spending on themselves instead of a significant other. Whatever their reason is, NTWRK's scheduled drops should satisfy either party member come November 11.
Check out what's available to release on Wednesday, November 11, below.
Dan Life Hologram Series Pendant Chains
Artist Dan Life returns with a new collection of pendant chains, once again inspired by holographic Pokémon trading cards. This series introduces two evolved favorites and a legendary: 'Fire Breather' and 'Water Blaster' each adorning their own 2 1/8" x 1 5/8" 14k gold plated frames, while 'Lightning Flyer' rounds out the trio. Each sculpture chain feature crystals of which are hand set, and are accompanied by a 24" 14k yellow gold plated .925 sterling silver chains. Each are limited to only 100 editions and priced at $750 USD.
Victor Solomon 'Literally Balling' Collection
Victor Solomon is releasing his next line of jewelry, coined 'Literally Balling' as the shape of the rings mimic the seams of a regulation basketball. Three editions will be available: one 14k Solid Yellow Gold with encrusted crystals, another in Sterling silver and lastly one in Gold Vermeil. Each are hand-made "using ethically sourced materials," according to the brand, and are custom ordered for sizes between 5-13. Pricing is $1200 USD, $250 USD, and $500 USD respectively based on their materials. Two T-shirts will also be available, with a front graphic print of the collection.
James Jean Exclusive Art Prints
Taiwanese-American contemporary artist James Jean will release two exclusive prints for NTWRK's Singles Day drop. The first is entitled 'Erhu' or "a spiked fiddle" that, according to the artist, "typically has two strings, but the instrument being played here is missing a tuning spike." He adds, "perhaps the other spike was used to silence the lover, and now his hair has been strung up and resonates with a song of remorse and release." The second is entitled 'Hunting Party II Vermillion' and features "all the animals in the Chinese Zodiac in rich detail and flowing movement… to embark on an eternal quest." The prints are 23.5" tall x 18" wide and 21.9″ tall × 29.5″ wide, respectively, and display holographic foil textures, pearlescent embellishments, and are numbered and hand-signed by the artist. 'Erhu' is priced at $500 USD, while 'Hunting Party II Vermillion' is set at $600 USD.
Matthew Senna Study 011 Resin Sneaker Casts
Artist Matthew Senna, or more commonly recognized as MSenna, returns with a new sneaker cast entitled "Study 011," which plays off of the Air Jordan 11 silhouette. Two versions will be for sale — one in white resin, and another in concrete. Both will feature minute details every sneakerhead would appreciate, from the laces and logo placements, to the outsole and even the sock liner's texture. The white resin cast is limited to 400 and priced at $450 USD, while the concrete edition is limited to only 100 and priced at $550 USD. Both will come in a custom-made box with foam inserts and a magnetic clasp closure system.
Microsoft XBox Series X Drawing
The latest and greatest XBox is here. Microsoft's XBox Series X ushers in a new era of next-gen gaming, with 4K resolution, 120fps capabilities, ultra-fast SSD loading speeds and much more at your disposal. Best of all, NTWRK is hoping to get the XBox Series X into your hands for free via a drawing. The lottery for the console will begin on November 10 at 12 P.M. PST and end exactly 24 hours later, on November 11 12 P.M. PST. The winner will then be announced at 4:30 P.M. PST. A minimum processing fee of only $1 USD will be applied to the winner, so good luck and gamespeed to you.