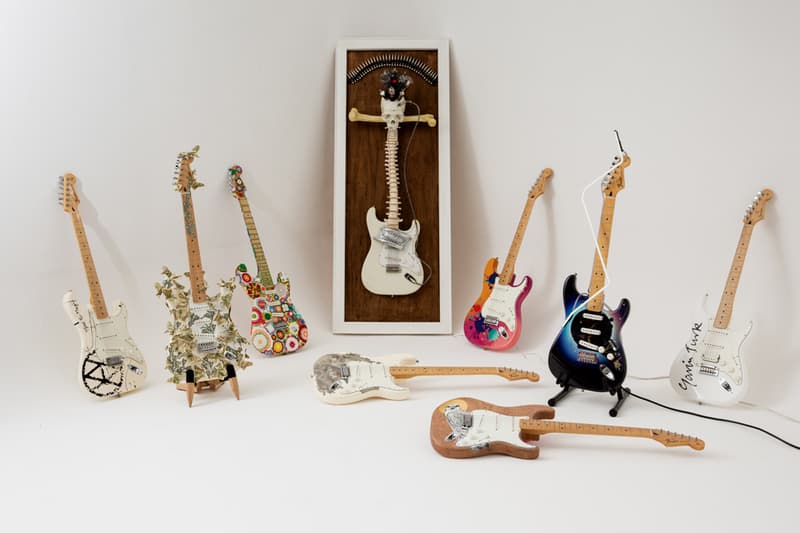 Artist-Designed Guitars Are Being Auctioned to Support Marginalized Groups in U.K.
Stratocasters reinterpreted by Vhils, Gavin Turk and more.
---
UK-based social enterprise, The Big Issue, is helming an auction featuring custom Stratocaster guitars designed by artists, musicians and celebrities. Participants include acclaimed British musician Goldie, contemporary artist Gavin Turk, Sex Pistols artist collaborator Jamie Reid and renowned street artist Vhils.
The Big Issue will also release limited edition artworks including lithographs, paintings, prints and sculpture. Artist Adam Neate and Radiohead cover artist and writer, Stanley Donwood, will also provide new pieces up for sale.
Proceeds from the initiative will go towards aiding marginalized groups and individuals at risk of homelessness while granting them opportunities to earn viable income. "Our vendors need your support more than ever and our mission is more important and more challenging than it has been in our 29-year history. We rely on the generosity of the public and are calling for you to support The Big Issue, to help those that need us now and the many that will in the future. You can make a difference," said the Big Issue on their website.
Registration for the event is open now and ends on November 3. Head to the Auction Collective's website for more information.
In case you missed it, check out the official HYPEBEAST x Fender Stratocaster collaboration.