Lewis Hamilton Breaks Michael Schumacher's Formula 1 Record With 92 Race Wins
Cruising to victory on his 262nd appearance.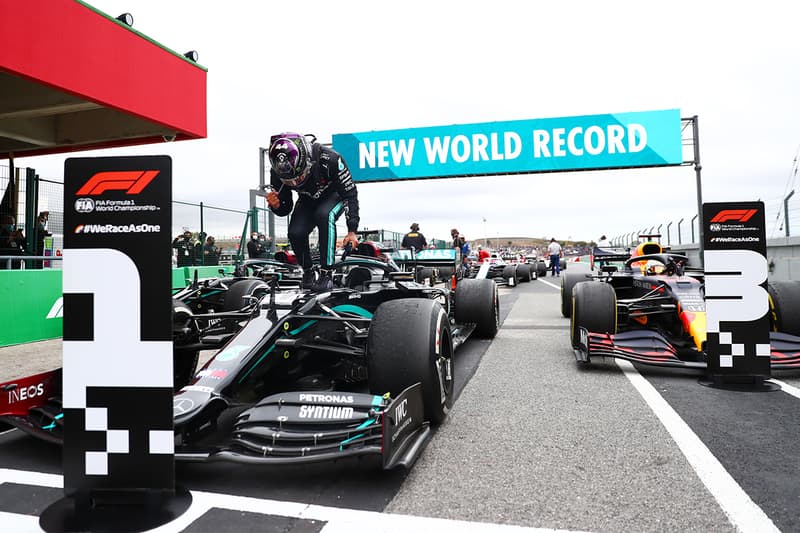 Despite a turbulent start which saw the pole sitter drop behind fellow teammate Valtteri Bottas for the beginning stages of the race in Portugal, six time Formula 1 champion Lewis Hamilton rallied over the 66-lap race on Sunday to take home his 92nd win, breaking the world record previously held by Michael Schumacher.
"I feel fantastic. Very humbled," said the Mercedes driver. "Very difficult to explain the feeling. I feel young, I feel energized. And, of course, I'm very grateful. I'm constantly thinking of the guys I'm working with."
Although Portimao was Hamilton's 262nd Grand Prix, the champion driver says he still experiences nervousness when race day comes. "The crazy thing about this is that I would have thought I would get used to things," Hamilton explained. "But I was getting ready, getting my helmet on in the garage today [and there were] nerves, uncertainty. Have I remembered my strategy? Have I remembered my switch settings? All these different things you go through and it's still terrifying."
Having broken Schumacher's win record, Hamilton is now on track to win the driver's championship this year with a 77-point lead to tie Schumacher's other seven-time champion record.
Formula 1 will return to Italy next for the Emilia Romagna Grand Prix this coming weekend, from October 31 to November 1.
In other sports-related news, Khabib Nurmagomedov has announced his official retirement after defeating Justin Gaethje in UFC 254.
To the legends before me, thank you for paving the way ?? https://t.co/u9hIcdKz2j

— Lewis Hamilton (@LewisHamilton) October 25, 2020