Medicom Toy Unveils 50th-Anniversary Doraemon BE@RBRICK
An homage to the long-running anime.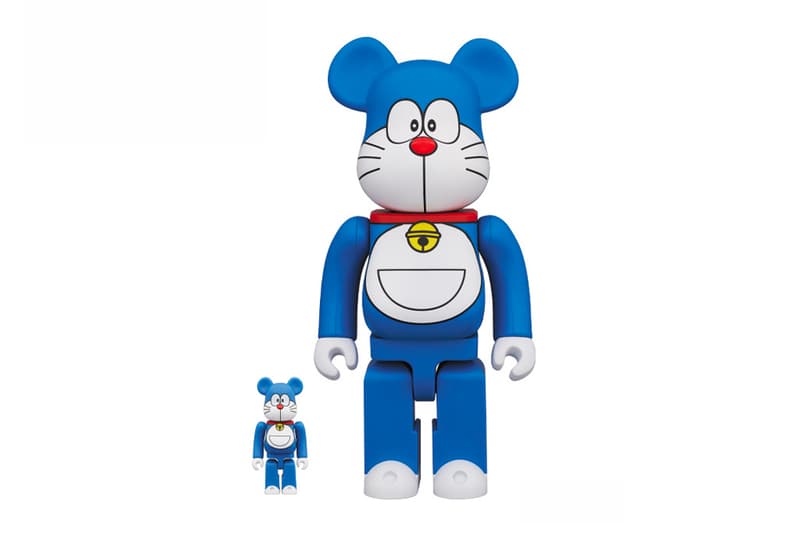 Last week, Medicom Toy collaborated with Pokémon for a bright yellow Pikachu iteration of its BE@RBRICK figurine. Now, the toymaker is calling in another classic Japanese anime: Doraemon.
Celebrating the anime's 50th anniversary, the collectible is emboldened by Doraemon's familiar blue-white colors, with this particular figure depicting early artwork of Doraemon from its 1969 manga debut. Starting at the top of the head, the toy sees a set of ovular eyes tightly placed together under a red nose. Three long whiskers appear at each side of the face, followed by a central line that runs from the nose to the bottom of the head. Doraemon's thin red collar is placed at the neck, complemented by a yellow bell and Doraemon's signature 4D Pocket below. As a finishing note, the BE@RBRICK comes with white hands and feet, a nod to the character's feline identity.
The Medicom Toy Doraemon BE@RBRICK 100% & 400% set is will be available for raffle at Medicom Toy's website from February 1 until February 3. Winners will be able to take home the figure set for $137 USD.
For other collectible toys, check out an official upcoming life-sized Baby Yoda figure from The Mandalorian.