LeBron James Venture UNKNWN to Open Wynwood, Miami Boutique
With a series of launch events planned during Art Basel 2019.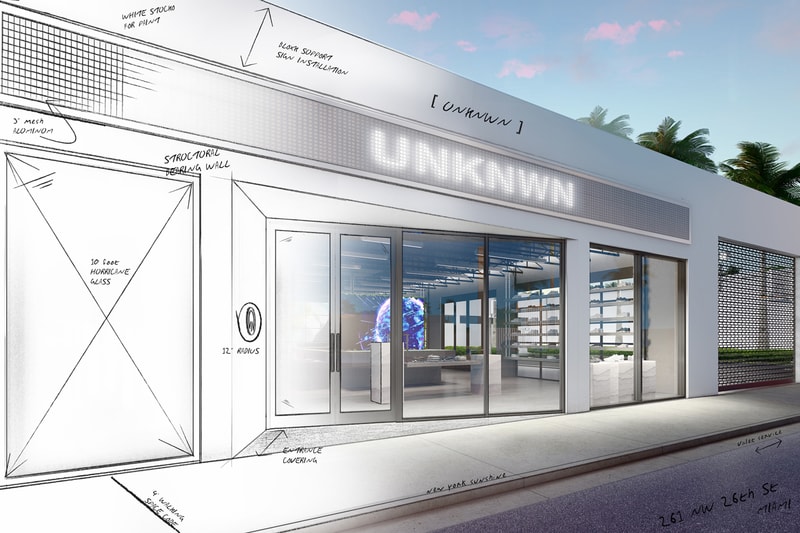 Designer retailer UNKNWN, the fashion venture co-founded by LeBron James, Jaron Kanfer, and Frankie Walker Jr., is set to open a new location in Miami this December right in time for Art Basel 2019. The boutique will be located in the city's Wynwood district and will feature an experiential concept across 10,000 square feet, which includes 4,000 square feet of courtyard space.
New York Sunshine is designing the store and is aiming to "provide a unique shopping experience that reflects the lifestyle and wardrobe of the co-founders," as explained in a press release. The building will be made out of concrete for a contemporary look and will include details like a custom water feature, 200 feet of mural space for artist creations and a shelving display that can hold up to 175 sneakers. It will also house an indoor, built-in photo studio and prop house, and serve as a community space for local events and global travelers alike.
UNKNWN Wynwood is slated to open its doors in December, though an official date has not yet been announced. In the meantime, visit the brand's webstore to shop the current assortment and stay up to date with more details.
UNKNWN Wynwood
261 NW 26th St.
Miami, Florida 33127