'eFootball PES 2020' Review: Is This the Year It Overtakes 'FIFA'?
Looking over Konami's latest iteration of its Football franchise.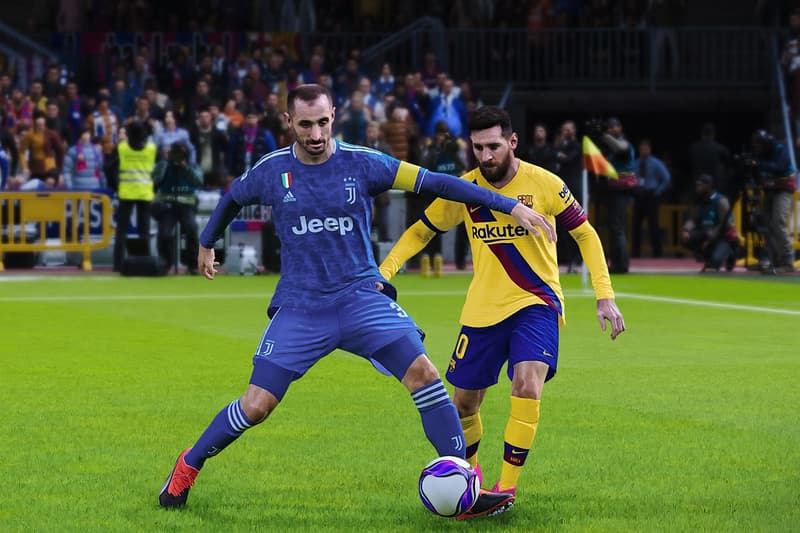 The battle between Pro Evolution Soccer and FIFA continues and, as usual, PES — now clunkily called eSports PES 2020 — has released its game a couple of weeks earlier than FIFA for a headstart on the competition.
When HYPEBEAST's previewed PES 2020, It's long been touted that PES has the reputation for satisfying the hardcore gaming fan, while FIFA has always catered to the casual players. Is this still the case? Read on to find out.
Gameplay
The most important part of PES has always been gameplay. And this iteration is no different. PES 2020 shows marked improvements in this field, creating what is quite possibly the most realistic game of football available in a video game today. For instance, if you try to run the length of the pitch with an unskilled player he'll eventually lose control of the ball, with the game forcing you to use bursts of pace rather than holding onto the sprint button for extended periods.
If there's any singular thing that showcases the realism of PES, it's the importance of the central midfielder. In FIFA, it's a position that can be ignored in favor of pacey wingers, leaving the midfielders' only job to be trailing in for second-chance shots or playing through balls to the aforementioned wingers.
In PES however, the central midfielder is the heart and soul of your team. The increased space afforded to players due to the scale of the pitch, along with a slower pace in comparison to FIFA, means you'll be able to effectively decide how your team plays from the center of the pitch. That means a player like Paul Pogba is an essential addition to a PES lineup.
"Comparing 'PES' to 'FIFA' in terms of pure gameplay, 'PES' is leagues ahead."
But perhaps the most important part of why the game feels so realistic is the movement of the ball. Moreso than ever, it feels completely independent from the player. While this may sound like a small change, it changes every aspect of the game, from interceptions to dribbling to shooting.
The ball's independent movement makes passing riskier than it's been before which, in turn, makes a successful passing sequence incredibly satisfying. The ball's uniqueness also leads to some situations that much more closely ape real football. For instance, you're much more likely to try and use your pacey striker to intercept a defender's weak back pass, which would leave you with a perfect shot — only if you steady yourself first. You'll also get used to steadying yourself, as balance plays an imperative role in shooting and passing.
The new features of Finesse Dribble and Inspire are welcome additions. The Inspire feature means AI teammates adapts to a players skills — i.e. having Messi on the ball leads to players spreading out to leave room for him to dribble. These changes showcase just why PES has always been a step ahead of FIFA when it comes to gameplay. It's hard to compare the two games when the demo of FIFA 20 only released this morning, but comparing PES 2020 to FIFA 19 in terms of pure gameplay, PES is leagues ahead.
Presentation
In comparison to other sports games, PES has always had something of the rudimentary about it in terms of presentation. While it's easy to compare PES to FIFA, other sports games such as NBA 2K, Madden and MLB The Show also manage to create graphics that are far closer to broadcast TV than what PES manages. One plus point in the latest title is its new camera angle, which apes just how TV broadcasts showcase the game.
Licensing has improved this season, most notably with the headline-grabbing addition of Juventus in an exclusive deal. PES 2020 has added Serie A in its entirety this season and, if you're on PS4 or the PC, there's always the option files from the faithful editing community that'll make every team an official one.
Licensing aside, the presentation generally feels unlike any sports broadcast in 2019, which doesn't help you feel totally immersed into the game, even if the gameplay itself does. The poor presentation has long been a part of PES that fans have had to overlook and this trend continues for this iteration.
Master League
Master League is the backbone of PES. Merging RPG-like leveling up of players with football management, it's still the key reason why players keep coming back to the title. This season big changes were promised, but it's the smallest ones that make the largest impact.
Much was made of the addition of legendary managers such as Johan Cruyff and Diego Maradona. However when playing, there's little visible difference in gameplay because of managers, other than an increase replays that show the manager reacting to the game.
The more realistic transfer system was far less heralded but its effect on the game is much larger. For instance, this reviewer saw the improved system in action when his attempted transfer of Thomas Vermalen from Barcelona to Luton Town was, unsurprisingly, rebuffed by the player due to Luton Town not being big enough for him. It's a shift that makes getting hold of players during your first season more challenging and, in turn, makes you decidedly better at tinkering tactics to make your team competitive.
The best of the rest
The new game mode, Matchday, is a mode that'll make more sense over the course of the season. The gist of it being that Konami picks a derby and players choose a team, playing against a random online opponent to help the community win. How it works in action wasn't clear during this review as finding opponents was difficult during the first and second days of release.
Elsewhere there's Be A Legend and My Club. Be A Legend is essentially a single player master league, seeing yourself level up a single player RPG style. It lacks the theatrics and pomp of FIFA's The Journey, but for those who just want to play football games, that could be a blessing in disguise.
My Club is Konami's answer to Ultimate Team and those familiar to that mode will be well acquainted with this system. Your enjoyment of this mode will be tempered by how much you enjoy building teams in this manner but fans of FUT will find much to enjoy here.
Is This The Year?
Any review of PES always boils down to this simple question: is it better than FIFA? The short answer this year is that, with a demo of FIFA 20 only recently available, it's impossible to tell. The complicated answer is that, judging PES against FIFA 19, it's very easy to feel unsatisfied with FIFA's gameplay and the arcade-y feel of EA Sports game in comparison to PES's realistic yet still fun style.
In the end, it comes down to the question of whether you're willing to make the presentation trade-off for what is undoubtedly a superior game of football. If you are, then eFootball PES 2020 is your game. If you need to have Manchester City's kits pre-loaded into the game, then FIFA will remain the game for you. The choice is yours.
eSports PES 2020 is out now on PlayStation 4, Xbox One and PC.