Best New Tracks: Young Thug, Freddie Gibbs, Madlib, Mozzy & More
What a week.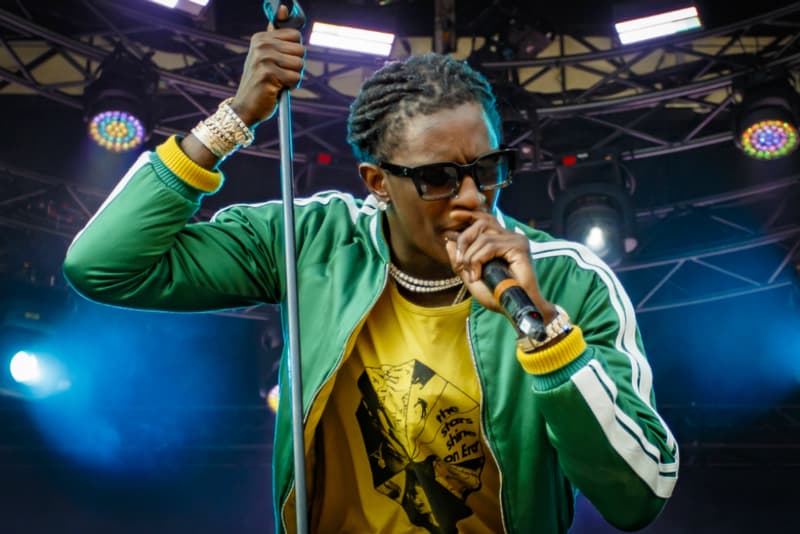 Sada Baby & Tee Grizzley – "Next Up"
Two of Detroit's most popular and talented superstars are linking up for "Next Up," the latest collaborative single from labelmates Sada Baby and Tee Grizzley. Directed by 20K Visuals, Sada Baby and Tee Grizley's "Next Up" visual takes us to a secluded and scenic forest locale, where the duo and a handful of models gather together to party and enjoy the luxuries of the videoshoot's lavish setting.
Mozzy & Gunplay – "Bail Bond"
On September 13, Mozzy and Gunplay are planning on releasing a collaborative studio project known as Chop Stixx & Banana Clips. To introduce listeners to the LP's sonic direction and tease its arrival, the Florida-to-California connection is sharing an animated vignette — cooked up by Damon Jamal — for Chop Stixx & Banana Clips' lead single, "Bail Bond."
SOB X RBE – "Legend"
Towards the beginning of June, SOB X RBE released their first new single of 2019, "Legend." Now, for the follow-up to that P-Lo produced record, the quartet are serving up a new, Damn Pocket-produced salvo titled "Legend." Considering the quality and release date of the aforementioned double-dose of music, it looks like SOB X RBE might be on course to drop a new full-length project by the end of this year.
Valee & Calboy – "Uninvited"
Lots of fire, melancholic melodies and soft-spoken flows collide for "Uninvited," a new single and visual from Chicago favorites Valee and Calboy. The Stripmall-directed "Uninvited" video comes to us following Valee's Runnin Rich EP, which dropped earlier this summer.
Nef the Pharaoh – Mushrooms & Coloring Books
For his latest full-length delivery, Nef the Pharaoh compiles 16 new tracks for a studio album titled Mushrooms & Coloring Books. The Vallejo rapper's new LP finds him looking to Tyga, ALLBLACK, Sada Baby, Shootergang Kony, Rexx Life Raj, Slimmy B, LOE Gino and Scando the Darklord for guest verses, while DTB, DJ Fresh, Konz Beats, Brodinski, Apollo Jets, JSlappy and show up supply the album's production.
DaBoii – "Beat In A Chokehold"
DaBoii delivers a hard-hitting flurry of sharp bars for "Beat In A Chokehold," his latest single and visual. As usual, DaBoii snaps on "Beat In A Chokehold," proving — once again — he's the strongest emcee in SOB X RBE. While SOB X RBE are likely preparing to drop a new album in the near future, we definitely need another new solo project from DaBoii in the coming months.
Fredddie Gibbs, Madlib & Oh No – "The Next Day"
After putting together another Album of the Year contender — and their second collaborative album — Freddie Gibbs and Madlib link up with Oh No for "The Next Day." "The Next Day" comes to us courtesy of Adult Swim, who released the song as a standalone record under the network's Adult Swim Singles venture.
DamJonBoi – Super Saiyan
In recent years, Detroit polymath DamJonBoi has quietly become one of the best producers to ever be behind the booth of a Detroit studio setup. As he built that extensive resume, he also invested an equal amount of energy fine-tuning and piecing together his own style as a rapper, ascending to the highest peak of Detroit's rap-rankings. Now, having solidified his position as one of the Motor City's contemporary greats, DamJonBoi drops off one of his best releases yet, Super Saiyan. A 10-cut album, Super Saiyan is DamJonBoi nearing perfection; there's not a single skip necessary, the verses provided by featured guests GT, Rio Da Young OG, Trouble, Trey Trey, Fettie and Shaboo are solid, and DamJonBoi's beats and bars represent Detroit street-rap at its most effective. You should listening to this one for many months to come. — along with his other past deliveries.
D-Lo – "Memories"
Oakland hometown hero D-Lo digs deep and bares his soul for "Memories." Directed by by Suzy Made It, the video for D-Lo's new Nemz collaboration is straightforward and full of slow-motion sequences, keeping things simple yet striking and effective.
Babyface Ray – "Rip Jas"
Once again, Babyface Ray is serving up a new single that adds to his case for being one of the best rappers to ever come out of Detroit. Continuing his years-long hot streak, the Team Eastside icon unveils a new visual and single, "Rip Jas."
Jay Worthy, Rucci & Cardo – "Love Letter"
More new heat from the trio of Jay Worthy, Rucci and Cardo. This time around, Worthy is promoting his next major studio project by dropping its lead single, "Love Letter."
Peewee Longway – "Wakanda"
Later this year, Peewee Longway will debut the fourth installment in his popular Blue M&M series, The Blue M&M 4. To support that tape, Longway is delivering its latest single, "Wakanda."
ComptonAssTG & Teezy – "Other Side"
When it comes to West Coast street music — specifically, the southern California scene — there are very, very few rappers with more lyrical ability, aggression and menace than ComptonAssTG and Teezy. Thankfully, these two are starting to collaborate on an almost-regular basis. Teezy just dropped one of the best joint EPs of 2019, so let's hope he spends a few extra hours in the booth next time he links up with ComptonAssTG in the studio, allowing us to be blessed with a more extensive run of music from the blue-ragged pairing.
Young Thug – So Much Fun

Following up 2017's Beautiful Thugger Girls and 2018's Slime Language, Young Thug unveils a new full-length studio album titled So Much Fun. Thugger's latest contains 19 new songs, including collaborations with J. Cole, Travis Scott, Lil Uzi Vert, Future, Quavo, Juice WRLD, 21 Savage, Lil Keed and others.

Drego & Beno – "Slimed Out"

in 2018, Drego & Beno captured a great deal of attention and a sizeable share of the street-rap spotlight with the release of their Sorry for the Get Off mixtape and Drego's memorable appearance on Sada Baby's immensely-successful "Bloxk Paty" record. Now, preparing to drop an actual, full-fledged studio album known as Meet Us Outer Space, the pair are delivering a track that has the potential to go down as one of the best street singles of 2019, "Slimed Out." It feels like the majority of Detroit's hometown-rap-heroes are on this huge cut, and all of them show up in top form. If Detroit's current crop of talent can continue the present renaissance for a couple years longer, writers in coming decades will probably be able to pen longform pieces that make the argument for Detroit's modern movement being one of hip-hop's greatest eras.