Novak Djokovic Defeats Roger Federer To Win Wimbledon
Following the longest final in Wimbledon history.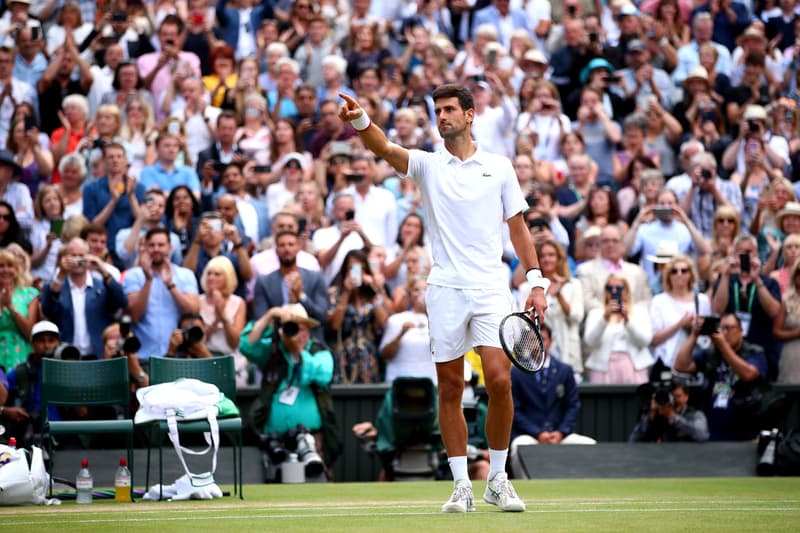 Following a five-set match on Sunday, Serbia's Novak Djokovic has defeated Swiss player Roger Federer in the Wimbledon men's final. The final proved to be the longest in Wimbledon's history, lasting four hours and 55 minutes and seeing 422 points scored. This title marks Djokovic 16th Grand Slam title overall, while Federer holds 20.
Djokovic came into the tournament as the top-seeded men's player and bested Federer, who was seeded second, 7-6 (5), 1-6, 7-6 (4), 4-6, 13-12 (3). The game marked the first time Wimbledon utilized a final set tiebreak, after introducing tiebreaks in last year's semifinal. This is the third time Djokovic has defeated the Swiss player at Wimbledon, with the two previously facing off in 2014 and 2015.
Saturday's women's final saw Simona Halep of Romania defeat Serena Williams for the championship.
For more sports news, see photos of the U.S. Women's Soccer team parade through New York City after their World Cup win.
Unbelievable. Unshakeable. Unstoppable.@DjokerNole wins his fifth #Wimbledon title in an instant classic, defeating Roger Federer 7-6(5), 1-6, 7-6(4), 4-6, 13-12(3) #JoinTheStory pic.twitter.com/S2Mx1yyJ3M

— Wimbledon (@Wimbledon) July 14, 2019
Will be a great party tonight in Serbia #Djokovic #Wimbledon2019 pic.twitter.com/oVK8WKdSjX

— Ruslan Trad (@ruslantrad) July 14, 2019
Tears in eyes ? Well played CHAMP Federer. You are the GOAT ?. Congrats to Djokovic for winning #WimbledonFinal. pic.twitter.com/yCTM3vJPd6

— JISHAN. (@iamsrkJishan) July 14, 2019