JAY-Z's Roc Nation Launches Meek Mill's Dream Chasers Label
Hova said "I know he can make music – you've heard it. I think he cannot only make music, but make stars."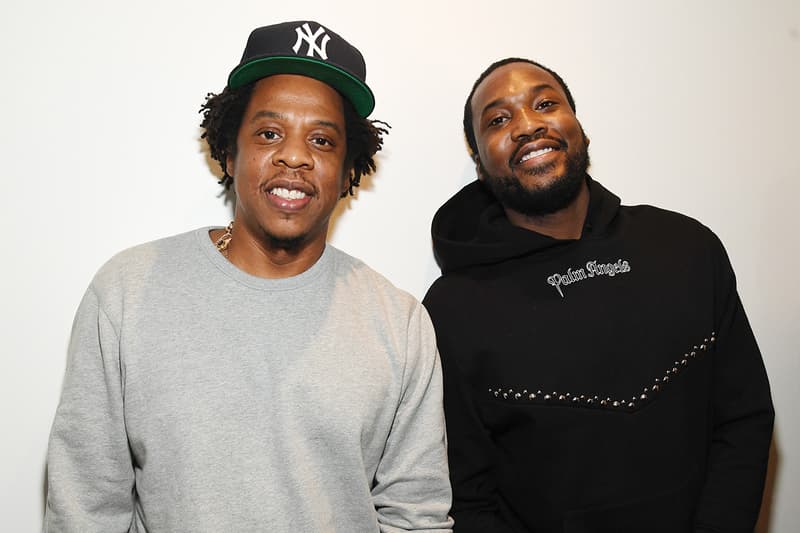 Meek Mill has partnered with JAY-Z's Roc Nation to launch his own label Dream Chasers. Meek will oversee the label and will build a roster of staff to help him sign and develop artists with longevity. The rapper also plans to open a recording studio for the label's artists and Dream Chasers will maintain its own operations, creative strategy, marketing and business affairs while under Roc Nation.
JAY-Z said in a press statement, "everything he [Meek Mill] has done leading up to this point shows he is ready to [lead] the next generation. We look at the big picture — this is way beyond signing artists and having hot records." JAY-Z also said that Meek has been forwarding him a lot of music, noting that he "has a super keen eye."
Meek developed Dream Chasers back in 2012 which saw the release of various mixtapes. Speaking on the label's progression, Meek said, "I think it's time for me to dive into the business. I'm 32 years old, I'm in a nice spot in the music business and I can help artists."
He added, "Coming out of prison, I felt I had a responsibility to lead the culture as much as I can… JAY-Z and others that came before me were like the snowplow that made it easier for me and others. I want to be the snowplow of the next generation, taking on those responsibilities, trying to move forward and push the culture forward."
JAY-Z concluded, "I know he can make music  — you've heard it. I think he cannot only make music, but make stars. Not only make stars but make films. What we lacked for so long was opportunity. We didn't own our businesses. We've never been in this position before, never had this sort of power. Hip-hop is 40-something years old so we've just now gotten to the point where we can really affect change. The music and culture we created — we've given it away for so long."
The Philadelphia rapper will continue to record for Maybach/Atlantic and plans to release new music ahead of his Legendary Nights Tour with Future.
In other news, Rolling Loud has announced that Meek Mill will join its inaugural New York City festival line-up.