Tina Charles Previews Another 'Spongebob Squarepants'-Themed Nike Kyrie 5
Inspired by Spongebob's pal Patrick.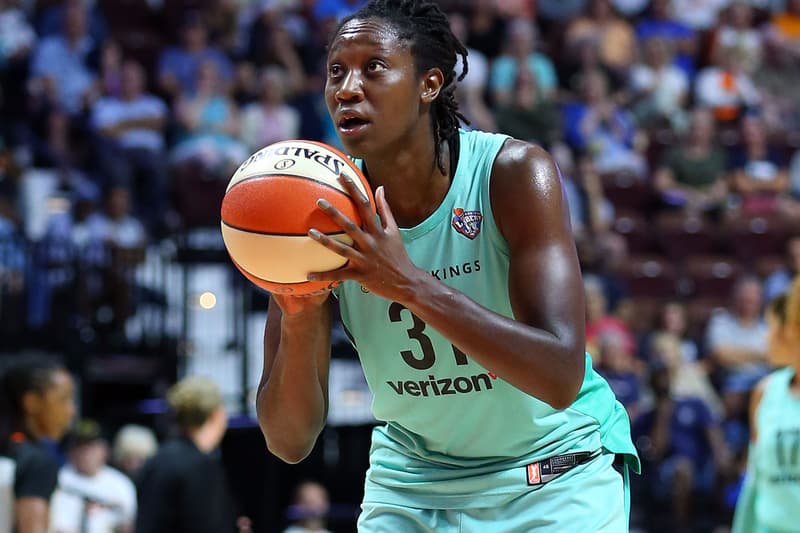 A few weeks after Kyrie Irving debuted a Spongebob-inspired Kyrie 5, another iteration of the Celtics guard's signature sneaker has been given a makeover inspired by a different Spongebob Squarepants character. This time, New York Liberty center Tina Charles wore a themed pair of Kyrie 5 that took cues from Spongebob's pal Patrick Star.
Sporting a bevy of referential details, the Kyrie 5 "Patrick Star" boasts a bold pink upper and striking green midsole, both informed by Patrick's pink skin and green swim trunks, with a bubble pattern across the upper that recalls both Patrick's skin and the undersea bubbles that appear throughout Spongebob. Stylized "NIKE" branding on the heel and a Nickelodeon logo on the vamp reinforce the collaborative nature, while the inside of the tongue boasts embroidered "PATRICK" text, as if the sneakers were Patrick's personal pair.
No official release information about any of the Spongebob-themed kicks has yet to surface — stay tuned for more information.
Elsewhere, a Spongebob prequel series was recently confirmed to be in development.