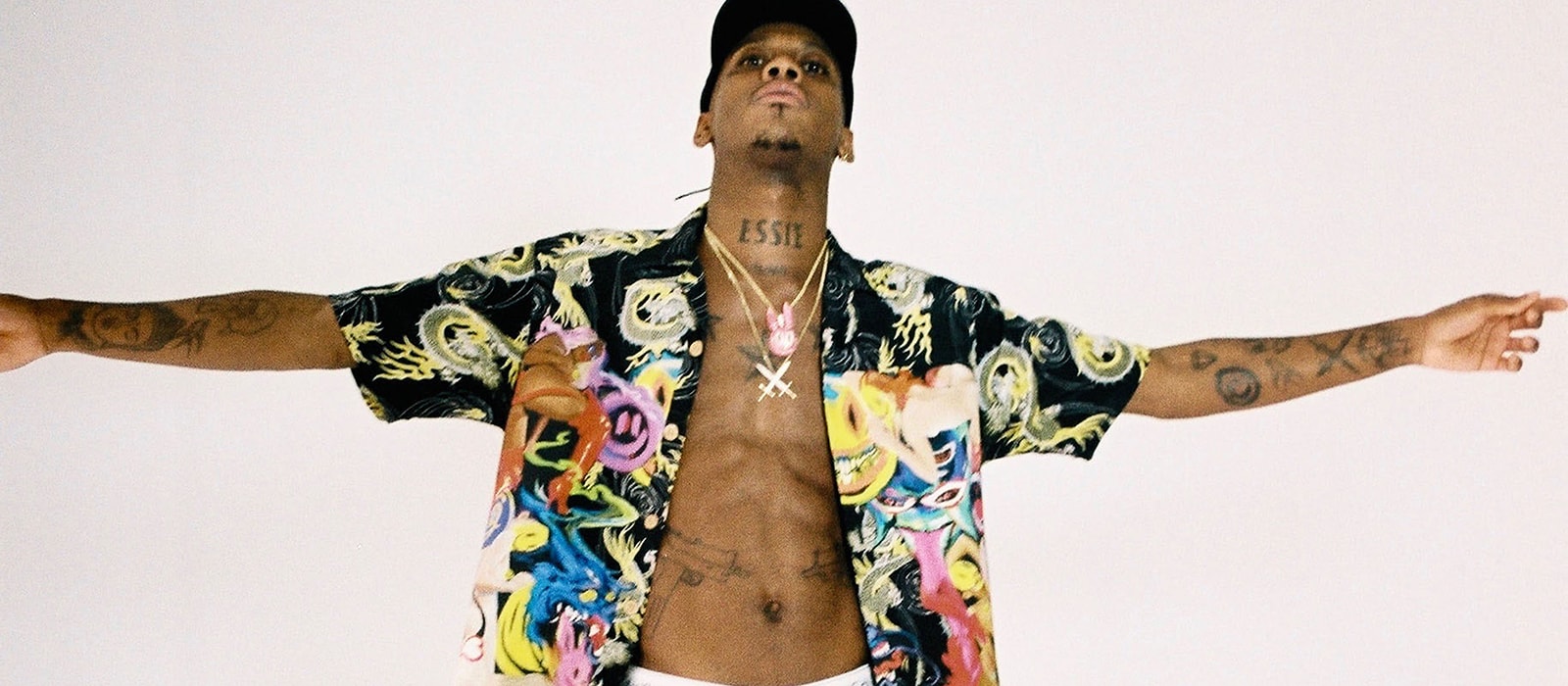 OCTAVIAN WANTS TO TAKE OVER THE WORLD
We caught up with the London rapper as he prepares for the big time.
It's been a little over a year since Octavian dropped "Party Here." The single announced the London rapper to the world — via Drake's Instagram caption — and saw him take the first steps on his path to world domination. Since then, Octavian has released two mixtapes (last year's SPACEMAN and last week's Endorphins), walked for Louis Vuitton and won the prestigious BBC Sound of 2019 award.
"It's been a crazy year, blessed with crazy luck and opportunity and growing in talent," says Octavian of the time since "Party Here" released. "It's just been learning curves and growing, trying to do everything differently. Where we're at now, my team is at its pinnacle. Everyone around me knows exactly where I want to go, exactly how far I want to push it. Everyone around me is as determined as me."
"I'm going to be the biggest in the world, but to get there, I have to go to America."
Having the right team around him is important for Octavian, because he's about to take the next step in his career. As he explains, Endorphins marks the end of one cycle, and the beginning of something bigger and better. "It's my shot at London, this is me, this is my music and I'm just having fun with it," he continues. "I was starting my album, but I want to put way more time into my album and make it really stand the test of time for years to come. For this mixtape, I just want it to be me making music and me having fun." The mixtape sees Octavian link up with a wide range of big names. As well as a spot from Skepta, the featured artists are mostly from America, with Theophilus London, Abra, Smokepurpp and A$AP Ferg all on the tape.
Speaking about this project and its features, Octavian explains that it was "a conscious decision" to focus more on American artists. "London music, I just think its same-y," he adds, "I feel like over there, there's more." The focus on America is part of a bigger plan for Octavian. "When I was younger I used to listen to 50 Cent and Eminem," he says, "and that was my dream. It wasn't just to be a rapper, it was to be one of the biggest. In order to do that, in this day and age, you have to compete with the biggest English speaking rappers in the world, who are in America. I want to embed myself over there so I can start to be in the right race. I feel like London is a great race — it's my home and I love London — but I don't think I'm in the right race."
"I've done everything in London, so I really understand it," he continues, "I understand that London loves safety and I'm not that. I need to go and prove to London that I'm bigger, that you can be more, that you don't just have to do the same things." The safety of the music in the UK is something that has impacted Octavian throughout his career.
The France-born rising star describes his time as an up-and-coming rapper as "pretty hard," adding "the music that I'm putting out has been better than the top music in the charts. I've had a battle of making music and putting my heart and soul into it, and then someone will make a tune that's not as great and it will pop off. That's what London is. I've had to really fight. One slip and I would have been gone, I couldn't ever stop."
This conservatism hasn't just applied to Octavian. Discussing a new generation of UK-based rappers, Octavian points to contemporaries he describes as "artistic" including House of Pharaohs and slowthai. In his mind, these artists have been overlooked in the same way that he has. "It's almost like they're being purposefully ignored." Continuing this, Octavian adds that he "always felt like an outcast to the UK," pointing to a positive mentality that he feels isn't reflected in his home city.
"I need to go and prove to London that I'm bigger, that you can be more, that you don't just have to do the same things."
"If you really want something, go get it," he adds. "I share that mentality with people I've met only in America. If you meet Rex Kudo or Virgil, they only talk positivity. There's no such thing as negativity. Over here it's just be scared, play it safe. Over there's not like that. That's why they get why they're going, and that's what I share with them." This mantra isn't new for Octavian, for as long as he can remember he has backed himself, and that's always been important. "I was poor, but I was like 'I'm going to be the biggest rapper, I'm on my way' and I didn't doubt that for one minute," he continues. "It's not easy to be like that, you get knocked down all the time by everyone around you. That's why I believe London is so pessimistic. Everyone around me was so adamant that I had to prove everyone wrong, one by one."
Octavian's move to LA is on the horizon, somewhere his positivity is reflected and his ambition is supported. "I'm going to be the biggest in the world, but to get there, I have to go to America." When he's on the other side of the Atlantic, he's going to continue working on his debut album — due out in February. At the moment, he's pretty tight lipped on details: "I'm keeping it under wraps. I'm going to go to LA and make a big, great album and then come back and prove to my own city that you're allowed to be different."