Giannis Antetokounmpo Scores the 2019 NBA MVP Award
Lou Williams, Luka Dončić and Pascal Siakam also win big at the awards.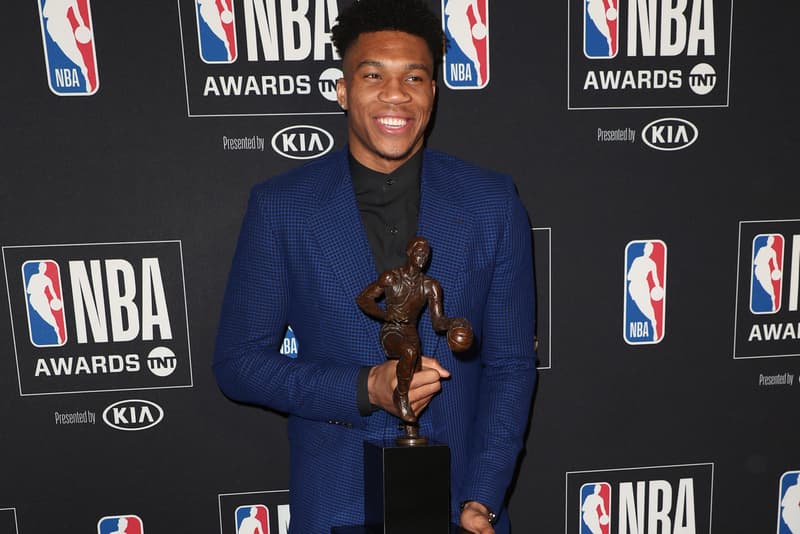 Giannis "the Greek Freak" Antetokounmpo has been crowned the NBA's Most Valuable Player of the 2018 – 2019 season, finishing third in the league in points (27.7), sixth in rebounding (12.5), 21st in assists (5.9), 10th in blocks (1.5) and first in player efficiency rating (30.95) along with leading the Milwaukee Bucks to an NBA-best 60-22 record this season. The 24-year-old superstar proves triumphant as he beats out Oklahoma City Thunder's Paul George and dethrones reigning MVP James Harden.
Aside from Antetokounmpo's MVP win, the league awarded Sixth Man of the Year to Lou Williams of the Los Angeles Clippers and Defensive Player of the Year to Rudy Gobert of the Utah Jazz for the second year in a row. The Toronto Raptors' Pascal Siakam was named Most Improved Player, while the Dallas Mavericks' Luka Dončić is Rookie of the Year. Mike Budenholzer, who just finished his first season as Head Coach of the Bucks, was awarded Coach of the Year.
Mike Conley of the Memphis Grizzlies took home the Twyman-Stokes Teammate of the Year Award and NBA Sportsmanship Award, the Washington Wizards' Bradley Beal was awarded the NBA Cares NBA Community Assist Award, Marcus Smart of the Boston Celtics received the Hustle Award and former MVP Derrick Rose nabbed the House of Highlights Moment of the Year Award with his impressive 50-point game during the season. Meanwhile, Robin Roberts received the Sager Strong Award, Bucks GM Jon Horst was awarded Basketball Executive of the Year and Samuel L. Jackson presented the 2019 Lifetime Achievement Award to Larry Bird and Magic Johnson.
In case you missed it, here's a full list of the 2019 NBA Draft Class.
Congratulations to @Giannis_An34 of the @Bucks on winning the 2018-19 Most Valuable Player! #KiaMVP #NBAAwards pic.twitter.com/l8SN27FFTG

— NBA (@NBA) June 25, 2019
@TeamLou23 of the @LAClippers wins the 2018-19 Sixth Man of the Year… winning for the second consecutive season! #KiaSixth #NBAAwards pic.twitter.com/kpw06F9Kfv

— NBA (@NBA) June 25, 2019
? @pskills43 of the @Raptors wins the 2018-19 Most Improved Player! #KiaMIP #NBAAwards pic.twitter.com/5hPCexZov1

— NBA (@NBA) June 25, 2019
? @luka7doncic of the @dallasmavs wins the 2018-19 Rookie of the Year! #KiaROY #NBAAwards pic.twitter.com/DpUweOY65b

— NBA (@NBA) June 25, 2019
? @rudygobert27 of the @utahjazz wins the 2018-19 Defensive Player of the Year… winning for the second consecutive season! #KiaDPOY #NBAAwards pic.twitter.com/rZBCIItC0Q

— NBA (@NBA) June 25, 2019
Mike Budenholzer of the @Bucks wins the 2018-19 NBA Coach of the Year! #NBAAwards pic.twitter.com/GdLytcP7KK

— NBA (@NBA) June 25, 2019
? @mconley11 wins the 2018-19 Twyman-Stokes Teammate of the Year Award and NBA Sportsmanship Award! #NBAAwards pic.twitter.com/LjTnAUjeLz

— NBA (@NBA) June 25, 2019

? @RealDealBeal23 of the @WashWizards takes home the 2018-19 @nbacares #NBACommunityAssist Award! #NBAAwards pic.twitter.com/wZEYKR8HBW

— NBA (@NBA) June 25, 2019

The 2018-19 NBA Hustle Award goes to… @smart_MS3! #NBAAwards pic.twitter.com/2dH1RfT5YF

— NBA (@NBA) June 25, 2019

"Make your mess your message…"@RobinRoberts is honored with the 2019 #SagerStrong Award at the #NBAAwards! pic.twitter.com/rRLUVTog3y

— NBA (@NBA) June 25, 2019

Congratulations to Larry Bird and Magic Johnson on receiving the 2019 Lifetime Achievement Award! #NBAAwards pic.twitter.com/Vqb0tDk3Eg

— NBA (@NBA) June 25, 2019
"Thank you for pushing me…"

Magic Johnson thanks Larry Bird for motivating him to be great as the two NBA Legends are honored with the 2019 Lifetime Achievement Award! #NBAAwards pic.twitter.com/XM1M9IZ8m6

— NBA (@NBA) June 25, 2019