ICYMI: Lil West, Scarlxrd, Chai, Burna Boy x DJDS, & More Share New Music
New heat that you may have missed.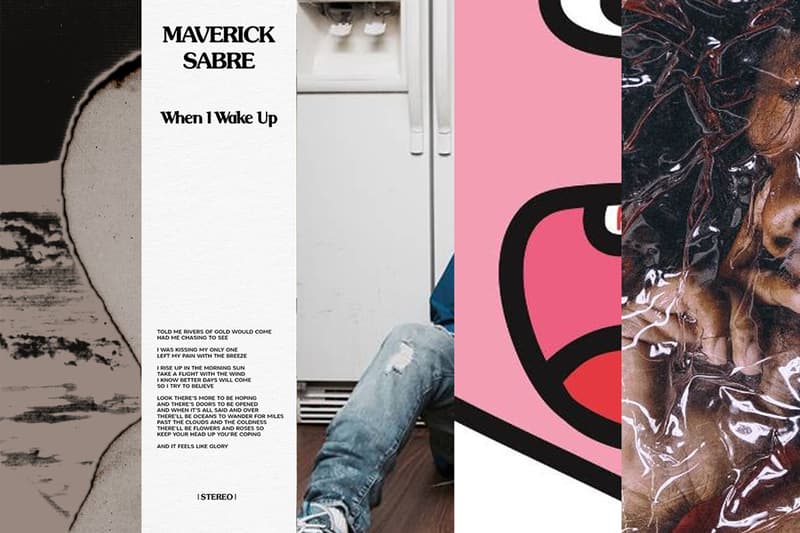 It's been a busy week of music, with a ton of artists are dropping bodies of work. To make sure our readers are all up to speed, HYPEBEAST offers ICYMI, a list of significant new projects, songs and videos that have been recently released but you may have missed. This week's selections include music from Lil West, Scarlxrd, Bernard Jabs, Chai, Deante Hitchcock, Splash Brothers, Gus Dapperton, Aaron May, Maverick Sabre, Burna Boy x DJDS and Maxo.
Lil West – Vex Part 1 [Nomad Music / Republic Records]
Shifting genres and flipping hip-hop upside down in the process, buzzing Delaware rapper Lil West releases his debut EP, Vex Part 1. The seven-track project is led by "No L's" featuring Yung Bans, "2Pennies" featuring Tommy Genesis and "Somedays," the undeniable hit that broke him out.
Scarlxrd – Infinity [A Lxrd Records / Island Records]
YouTube vlogger turned rapper, Scarlxrd intially acquired some fame in his teenage years under the alias Mazzi Maz but rebranded himself several years later and shifted gears towards a new image, briefly working with the band Myth City before starting the Scarlxrd Project in 2015. Scarlxrd developed a sound that moved from dark trap atmospheres in early singles like 2016's "Girlfriend" into metal-edged tracks like 2017's "The Purge" and "Heart Attack." He has magage to grow a solid following over the years and most recently, dropped his new project Infinity.
Bernard Jabs – Coldhearted [Def Jam]
17-year-old Bernard Jabs, who recently supported Pusha T on his DAYTONA tour, shared his Def Jam debut Coldhearted. Led by "Big Tymers" that dropped last year, Jabs has the talent to make a splash in 2019.
He is also the most featured artist on Def Jam's UNDISPUTED project, which released earlier this month.
CHAI – PUNK [Burger Records]
Japanese four-piece CHAI recently dropped their addictive new LP titled PUNK. According to CHAI: "PUNK for us, of course, is not the genre of music. PUNK to us is to overturn the worn-out values associated with 'kawaii' or 'cute' created up to this point. 'PUNK' is a word that expresses a strong sense of self. To be yourself more, to become the person you truly want to be, to believe in yourself in every instance!"
Deante Hitchcock – Just A Sample 2 [ByStorm/RCA]
Atlanta's own Deanté Hitchcock dropped Just A Sample 2 EP [ByStorm/RCA], the follow-up to his stellar 2017 EP, So Much For Good Luck.
The six-track project captures the antics of the young hopeless romantic from breaking up with his girl on "7:45" and becoming the subject of the "Side N**** Anthem," to professing his "Feelings" and undying love on "Never (Let You Go)." The EP features guest appearances from H.E.R., Childish Major and Kilo Ali plus production by Brandon Phillips-Taylor.
Splash Brothers – "Patiently" [Splash Brothers / Opposition]
Splash Brothers, a new collab project with Allan Kingdom, Topaz Jones, Haile Supreme, Brother KAMAU, and SIIMBA SELASSIIE, released their first track titled "Patiently." This is a must listen.
Gus Dapperton – "Fill Me Up Anthem" [AWAL Recordings]
Gus Dapperton, an exciting young artist from Warwick, N. Y., releases "Fill Me Up Anthem," the third single off his Where Polly People Go To Read LP that is due on April 19. The song joins his previously released album tracks, the drama-filled "World Class Cinema" and his slow-tempo love song "My Favorite Fish."
Aaron May – CHASE [WARNER BROS. RECORDS]
17-year old Aaron May released his solid debut project CHASE last month. The 11-track outing finds the Houston spitta flexing on a well-crafted LP that showcases his bright future.
Maverick Sabre – When I Wake Up [FAMM / The Orchard]
Maverick Sabre — a budding UK-based Irish singer-songwriter, social commentator, and expert storyteller — recently released his third album When I Wake Up. The new album is an acutely personal and poignant body of work which includes features from Jorja Smith and Chronixx.
Speaking on the album, Mav said: "This album is probably my most personal record; it's a reflection of the music I want to make with no agenda other than to release music that I'm passionate about, proud of and holds the messages and feelings that I am inspired by. I have spent the last two years creating a body of work that addresses topics which are so close to my heart and that have weight and importance to me; with every track I want there to be meaning attached."
Burna Boy x DJDS – Steel & Copper [On A Spaceship/Our Bad Habit/Atlantic Records/Loma Vista]
Afrofusion artist Burna Boy links with Los Angeles production duo DJDS to release Steel & Copper, their new collaborative EP that is out now. The EP continues to build off a strong start to the year for Burna Boy, as he released his latest single "Dangote" and provided a standout feature on "Location" taken from Dave's critically-acclaimed new album Psychodrama. DJDS dropped their genre-bending album Big Wave More Fire in 2018.
Maxo – Lil Big Man [Def Jam]
Maxo — not to be confused with Maxo Kream — released his major label debut Lil Big Man. The L.A. native released his first single "In My Penny's" earlier this month and has shown a penchant for excellent storytelling. Lil Big Man follows up 2018's SMILE EP.
Extra: Red Bull Music put out an amazing video featuring La Chat, Gangsta Boo, bbymutha and Rico Nasty about the evolution of women within Southern hip-hop.