These Are the Must-See Movies and TV Shows Premiering in March
The month will see the introduction of the most powerful Avenger yet.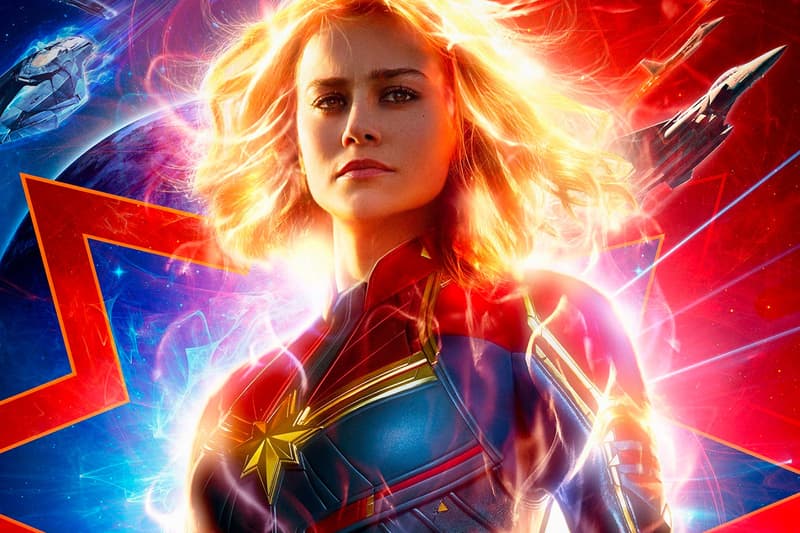 The next couple of months are going to have some supremely big releases, April alone will see the return of both Game of Thrones and The Avengers. However, March will set the tone of the stellar content with releases like Captain Marvel and Netflix's surprise Love, Death + Robots anthology series from David Fincher and Tim Miller. All this hot content will all culminate toward the premiere of Jordan Peele's follow-up to Get Out called Us.
Check out the list below, ranging from some of the must-see releases to the more under-the-radar films and TV shows to look forward to in March.
Movies
Captain Marvel (March 8)
Set in 1995, the film follows former U.S. Air Force fighter pilot Carol Danvers as she turns into one of the galaxy's mightiest heroes and joins Starforce, an elite Kree military team, before returning home with questions about her past and identity when Earth is caught in the center of a galactic conflict between two alien races, the Skrulls and the Kree.
Why it's worth your time: It goes without saying if you saw Avengers: Infinity War that you are almost obligated to see this film before Avengers: Endgame arrives a month later. It almost serves as the connective tissue between the two Avengers films. Similar to how Ant-Man and the Wasp cemented the Quantum Realm into the forefront of our brains, Captain Marvel is sure to bring up some important matters that'll mean something moving into Avengers 4. Plus, Captain Marvel is being teased as the most powerful being in the MCU, a lot is expected of this film. Mysoginist and hurt male feelings aside, if you've seen every Marvel movie up to this point and this is the only film of the bunch to give you pause, you should pack it up and go home before Phase 4 of the MCU begins, as it appears Marvel will have a new Captain leading the charge.
The Kid (March 8)
The film will follow a young man named Rio (Jake Schur) who's on an adventure to save his sister from their vicious uncle played by Chris Pratt. As a result, Rio and his family become involved with Pat Garrett (Ethan Hawke) in his hunt for Billy the Kid (Dane DeHaan).
Why it's worth your time: This is Daredevil's Vincent D'Onofrio's second directed film, and it stars the likes of his Magnificent Seven cast Ethan Hawke and Chris Pratt, two big names in the Hollywood game right now. The Old West is in a sort of resurgence as of late, and a story about Billy the Kid seems more appropriate than ever.
Triple Frontier (March 13, Netflix)
A group of former prestigious Special Forces operatives (Ben Affleck, Oscar Isaac, Charlie Hunnam, Garrett Hedlund, and Pedro Pascal) reunite to plan a heist in a sparsely populated multi-border zone of South America. But when events take an unexpected turn and threaten to spiral out of control, their skills, their loyalties, and their morals are pushed to a breaking point in an epic battle for survival.
Why it's worth your time: Even though the film hits theaters March 1, it's coming to Netflix March 13. And despite its star-studded cast, abnormal release schedule, and Hollywood blockbuster appeal, the best part about the film is that it can be witnessed all from the comfort of your home.
Us (March 22)
A tight-knit suburban family is threatened in their beach house by four masked "strangers." But the family soon discovers that their visitors are sinister counterparts of themselves.
Why it's worth your time: If you're a fan of horror and Peele's last effort Get Out, we're sure you're going to love this one. Although the director has already come out and said that the film isn't about race, we're still hoping it is. Peele appears to be playing with duality here, from the dual meaning of Luniz's "I Got 5 On It" to the dual figures in the film, it appears the theme will center on double consciousness. This theme could tie together well with W.E.B. Du Bois' concept of Double Consciousness, as Spike Lee's BlackKklansman touched on briefly last year.
The Highwaymen (March 29, Netflix)
From director John Lee Hancock (The FounderFormer), The Highwaymen focuses on the Texas Rangers Frank Hamer and Maney Gault (played by Kevin Costner and Woody Harrelson) who joined forces to capture the notorious outlaws Bonnie Parker and Clyde Barrow.
Why it's worth your time: We've always seen the situation from the outlaw's point of view, but now we get to follow the lawmen who took them down. In an age where gangsters with heavy artillery were gaining prominence, it's interesting seeing how law enforcement, who still ride out like cowboys, were able to take down this new form of criminal. It's also seeing how the term good guys and bad guys can be shifted in the eyes of the mainstream that glorifies killings.
Dumbo (March 29)
The owner of a struggling circus enlists a man and his two children to care for a newborn elephant. But when the children discover that Dumbo can fly, persuasive entrepreneur V.A. Vandevere ( Michael Keaton) and an aerial artist named Colette Marchant (Eva Green) swoop in to make the peculiar pachyderm a star.
Why it's worth your time: Dumbo will be the first of Disney's live-action remakes this year and will set the tone for those films as a result. It already looks to have all the winning elements, such as Tim Burton as director. He's used to telling whimsical, yet tragic tales of misfits. And you also have him reuniting with top talents Michael Keaton and Danny DeVito from Batman Returns. Only time will tell if these winning elements pull it all off in action.
TV
Leaving Neverland (March 3, HBO)
This two-part documentary explores the separate but parallel experiences of two young boys, James Safechuck, at age ten, and Wade Robson, at age seven, both of whom were befriended by Michael Jackson. The doc will be told through a series of gut-wrenching interviews with two now as adults.
Why it's worth your time: Director Dan Reed has received a slew of criticism from the Jackson Estate when the film premiered, calling it "a tabloid character assassination." Reed has been accused of using Michael's legacy in order to gain fame, as noted by his former girlfriend Brandi Jackson, Michael's niece, as well as the rest of the Jackson estate. No one can no for sure the true dealing that went down with Michael all those years ago, but a documentary series on it is definitely attention-grabbing, and a hot button issue made even more pertinent in today's society.
Arrested Development (Season 5: Part 2, Netflix)
Buster has been accused of killing his former girlfriend Lucille 2, played by Liza Minnelli and Part 2 picks right up with his trail for the murder approaching. The Bluths are also attempting to build a "smart" border wall that's sure to plunge the family further into debt. George Michael (Michael Cera) is also under fire for his Faceblock sham—drawing obvious paralells with Mark Zuckerberg.
Why it's worth your time: It's the second part of the first half of the season. Many believed it wouldn't come following the scandal involving Jason Bateman and Tony Hale defending co-star Jeffrey Tambor for verbally abusing Jessica Walter. The show itself is of legendary status, and although the disjointed fourth season left a lot of people sour on its comeback, season 5 is a return to form despite its split release.
Love, Death + Robots (March 15, Netflix)
Love, Death + Robots will showcase a full roster of stories will cover a variety of adult topics including racism, government, war, free will, and human nature. The anthology collection spans the science fiction, fantasy, horror and comedy genres and each short has a unique animation style
Why it's worth your time: The anthology series comes from David Fincher and Tim Miller, two heavyweights in the game with a nearly limitless supply of unique tales under their belts. The show itself is inspired by the same provocative comic books from the '70s that influenced both Miller and Fincher as kids. We're expecting this to be the next big breakout series on Netflix.
What We Do in the Shadows (March 27, FX)
Adapted from Thor: Ragnarok director Taika Waititi's cult classic of the same name, the series will follow four eccentric vampires in mockumentary-style fashion living in New York.
Why it's worth your time: It's a genre-bending series that looks to flip the horror cliches on its ear for laughs. Although a lot of what made the original film work came from Waititi himself, he laid a blueprint for the showrunners and producers to follow—hopefully successfully.