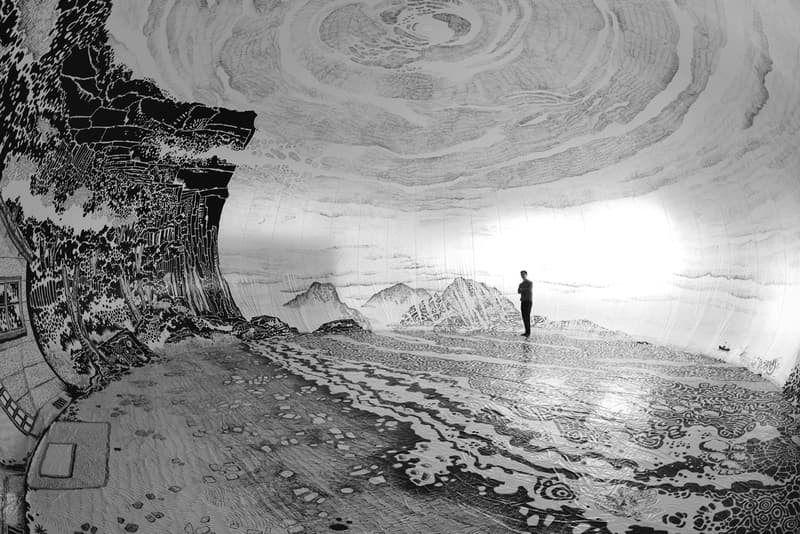 Oscar Oiwa Will Draw a Massive Mural Inside an Inflatable Dome
Spanning 2,700 square feet of surface area.
---
For the 2016 Setouchi Triennial, Japanese-Brazilian artist Oscar Oiwa created an immersive mural inside a 40-foot inflatable dome made of vinyl. Oiwa is widely recognized for his otherworldly artworks that are made using only a black felt-tip pen. Now, the artist is planning to create another massive piece entitled BLACK & LIGHT inside a similar structure located in New York City's Cadillac House.
Organized by Visionaire, the artist will draw a highly-detailed composition that features his signature, surreal landscapes, and characters: Light Rabbit and Shadow Cat. The inflated canvas spans a whopping 2,700 square feet of surface area. Oiwa will spend over 100 hours inside the space drawing the artwork.
The artist's entire process will be live-streamed on a screen outside the structure for anyone to view starting February 25 until March 8. Once completed, visitors are encouraged to explore the space.
Stay tuned for exclusive updates. In the meantime, check out Philip Colbert's first solo show in America called "Hunt Paintings" at the Saatchi Gallery in Los Angeles, California.
Cadillac House
330 Hudson St.
New York, NY 10013