Lightsaber Dueling Has Become an Official Sport in France
The lightsaber joins the foil, épée and sabre blade.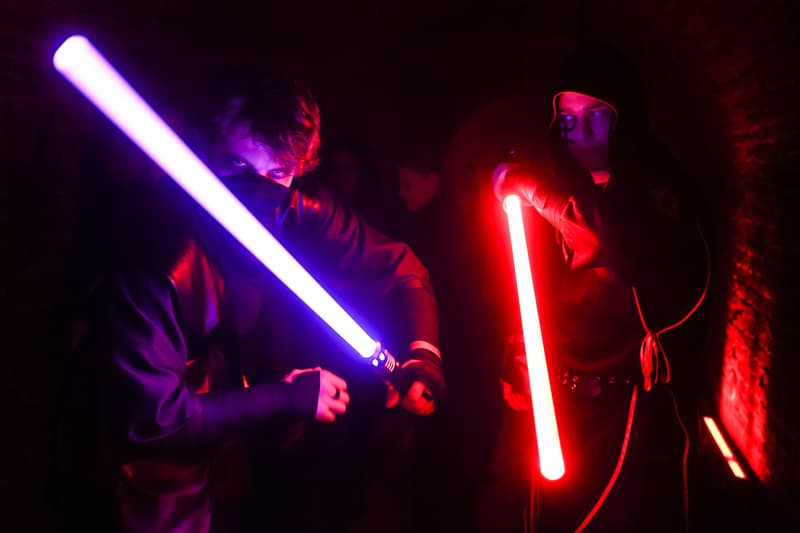 Star Wars fans can rejoice as lightsaber dueling has now become an official sport: only in France that is.
Announced today by the Associated Press, the French Fencing Federation has officially named lightsaber dueling as a competitive sport. This now means that along with the foil, the épée and the sabre blades, that are used by Olympic fencers, the LED-lit, polycarbonate replicas from the hit sci-fi franchise will join their rank.
France hopes that by the official introduction of lightsaber dueling, more people will become active considering the country has seen a recent spike in those interested in acting out scenes from Star Wars. To aid in the addition of the sport, the country has started equipping fencing clubs with lightsabers and training would-be lightsaber instructors, along with having already established a set of rules and etiquette.
"With young people today, it's a real public health issue. They don't do any sport and only exercise with their thumbs," Serge Aubailly, the federation secretary general told the Associated Press. "It's becoming difficult to [persuade them to] do a sport that has no connection with getting out of the sofa and playing with one's thumbs. That is why we are trying to create a bond between our discipline and modern technologies, so participating in a sport feels natural."
Though thousands of fans are likely to join in on the sport, it is very unlikely lightsaber dueling will be featured at the Paris Olympics in 2024.
In more sporting news, Kawhi Leonard, Russell Westbrook and more take us behind-the-scenes during 2019 NBA All-Star Weekend.
Lightsaber dueling: Some basic rules. pic.twitter.com/GNEKH5jPJg

— John Leicester (@johnleicester) February 18, 2019
In France, the Force is strong with lightsaber dueling pic.twitter.com/ShwXb5cZ2H

— John Leicester (@johnleicester) February 18, 2019