Banksy's 'Scar of Bethlehem' Reinterprets the Nativity Scene
A modified version of the Christmas set for the Walled Off Hotel.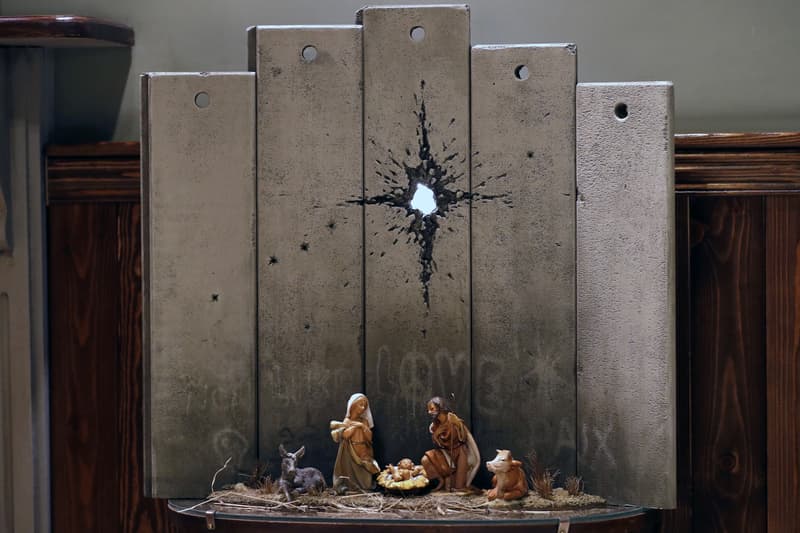 With Christmas just around the corner, Banksy has unveiled his newest artwork which reinterprets the traditional nativity scene. Scar of Bethlehem sees Mary and Joseph gathered around baby Jesus on the floor of a barn, as a large concrete wall is placed as the main backdrop. Strewn with bullet marks and graffiti with the words "Love" and "Paix" (peace), a shell explosion in four directions leaves a large opening emulating the Star of Bethlehem as it shines onto the family.
The artwork is located inside Banksy's Walled Off Hotel in the West Bank of Bethlehem and emphasizes the concrete walls that separate the area from Israel. The ongoing conflict in the region has remained a pivotal theme in the elusive artist's canon, ranging from the Defeated wall souvenirs to the controversial Alternativity play.
"It is a great way to bring up the story of Bethlehem, the Christmas story, in a different way — to make people think more" of how Palestinians live in Bethlehem," stated hotel manager Wissam Salsaa to the AFP.
Banksy opened the hotel in 2017  and sanctioned it an "all-inclusive vandals resort" to shed light on the Israel-Palestinian conflict while encouraging tourism and job growth in the area.
In related news, Banksy's former art dealer Steve Lazarides released a photography book titled Banksy Captured, with never-before-seen images of the artist executing some of his most iconic works.