Japan's Sacred World Heritage Site Shuri Castle Destroyed in Fiery Blaze
450 years of history damaged.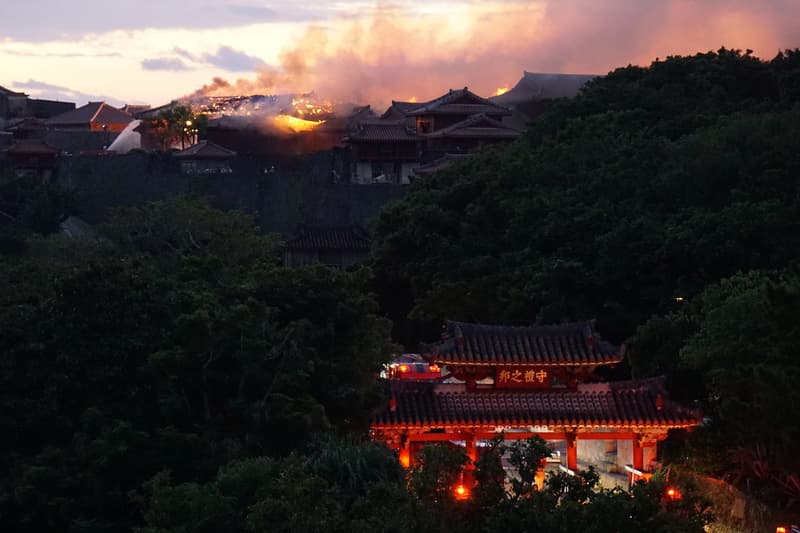 Japan's 450-year-old Shuri Castle, a UNESCO World Heritage site and sacred symbol for the Ryukyuan people, has been destroyed in a fire. The architecture has a history that spans 450 years and was the central religious sanctuary for the Ryukyuan Kingdom in Okinawa between the years 1429 and 1879. Locals watched clouds of smoke climbing up from the historic monument as fires consumed a total of seven buildings, one of which, unfortunately, included the austere main shrine, Seiden.
First reports of the fire arrived at the Naha City Fire Department around 2:40 a.m. JST. Upon arriving to the scene, additional support from other fire departments was requested, gathering an army of more than 100 fighters and 20 fire trucks to put out the flames until fully extinguished eight hours later. This incident happened to take place during the annual Shuri Castle Festival, where events were to be held until November 3. The cause of the incident is still under investigation — sources indicate that event staff had already wrapped up their preparation work before the fire even started, while security staff was the only ones present at the time of the incident.
This isn't the first time, however, that Shuri Castle was damaged. In fact, the castle underwent a series of incidents, with the previous in 1945 during WWII in the Battle of Okinawa, where it was almost completely razed to the ground. Today and yesterday's news is tragic because the Shuri castle was only just rebuilt in 1992 to its original appearance. In a statement, Mayor Mikiko Shiroma told the press that the city will "make [its] greatest possible efforts to do everything in [its] power to deal with the fire and its aftermath."
Stay tuned for more news as the story develops.
Elsewhere, Tokyo has been voted 2019's best big city to visit.