Best New Tracks: PARTYNEXTDOOR, Stormzy, Trippie Redd & More
Several essential new albums, videos and singles.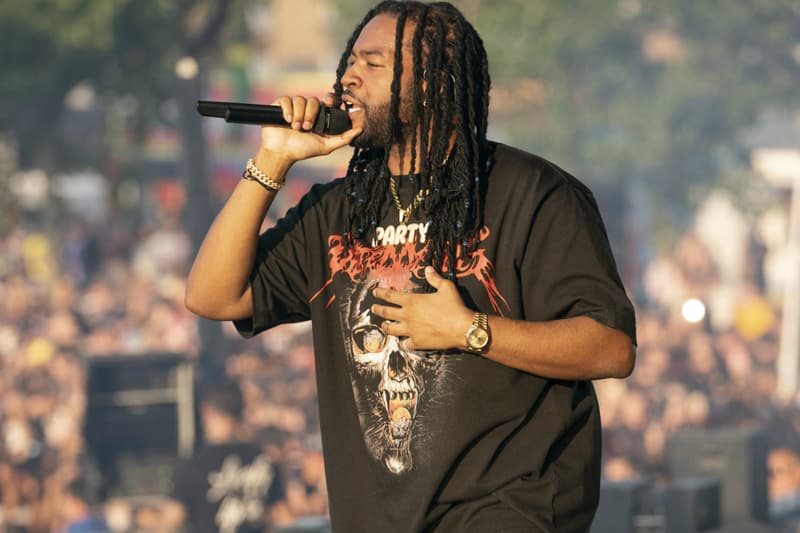 Lil Bean – "True Colors"
Fast-rising San Francisco rapper Lil Bean is adding to his current momentum by delivering a visual for his latest single, "True Colors." The aforementioned record comes to us from its creator's forthcoming studio project, Hood Hero. The video for "True Colors" was put together by director @Mota_Media. Hood Hero is made up of 13 songs, and will serve as the follow-up to Lil Bean's July tape Hood Chronicles. Lil Bean's new LP will also feature collaborations with fellow northern California artists ShooterGang Kony, Sage the Gemini and ZayBang, and is scheduled to see release on December 6.
"The term 'Hood Hero' is not me sayin I'm the 'Hero of my hood,' it's me sayin I'm a Hero from the hood," Lil Bean tells us in an exclusive statement, breaking down the narrative of his upcoming project. "I feel that we all heroes; we all Kings of where we come from and I think we should own up to that."
"Life's course taught me that some of your close friends can become your distant enemies, And over time whatever feelings someone feels towards you eventually will show," he adds, explaining the theme of "True Colors."
03 Greedo & Kenny Beats – Netflix & Deal
The follow-up to his Still Summer in the Projects LP from earlier this year, 03 Greedo's latest project is a collaborative effort alongside producer Kenny Beats. Dubbed Netflix & Deal, Greedo and Kenny Beats' new full-length release is comprised of 13 songs, including collaborations with Freddie Gibbs, OhGeesy, Vince Staples, Maxo Kream, Key! and Buddy.
"Netflix and Deal is based on movies I watched in my traphouse in Atlanta when I was hustlin'," 03 Greedo reveals during Netflix & Deal's "making of" documentary. "You know, there ain't no sh*t to do but to watch Netflix and bootleg movies and sh*t… I wanted to tie that shit into my life and just show that I feel like I was living a movie."
Lil Poppa – "On My Own"
Lil Poppa continues to soar through the ranks of the contemporary music scene. As he makes his way to the top of his craft, the fast-rising young star-in-the-making delivers his latest solo single, "On My Own." Notably, "On My Own" serves as Lil Poppa's first major release since the arrival of Under Investigation 2 project, which hit streaming services in March of this year.
"I was down to do whatever if it's 'bout cash / Hopped in some beef and now we screaming, 'F*ck the other side,'" Lil Poppa croons during the first verse on "On My Own." "Could've died from a homicide but I'm still alive / I'm still the golden child in God's eyes."
Key! – "Kirkwood Freestyle"
Following up his So Emotional project from summer, Key! teams up with Dro Fe, Purple K and the Working on Dying crew to deliver a swirl of hazy, acoustically-tinged melodies on "Kirkwood Freestyle."
"The whole point for me is to conquer everything I hear or comes to my mind, so I never tried to limit myself on it," Key! shared with during a sitdown for a July 2018 episode of our MIC/LINE podcast. "I like discovering new things and try to attack it. I don't feel anybody who makes music will have the same experience, so this should be an instrument. I'm the saxophone and this saxophone needs to go everywhere… I don't think about it as staying new or nothing, I just don't want to make the same song twice."
Trippie Redd – A Love Letter to You 4
Following up the August release of his sophomore album !, Trippie Redd delivers the fourth entry in his A Love Letter to You series, A Love Letter to You 4. Trippie Redd's latest full-length project is comprised of 21 new tracks, including past singles "Who Needs Love" and collaborations with YoungBoy Never Broke Again, YNW Melly, Tory Lanez, DaBaby, Lil Yachty and others.
"A person like me, because I'm so melodic, I can go anywhere with my voice … I could sing anything," Trippie Redd told us during an August edition of our MIC/LINE podcast. I just have random spurts of wanting to record … and I always want it to mean something, I always want it to be deep. At the same time, the music is made for your interpretation; it's not necessarily what I've been through … however you interpret the song, is however you interpret the song — it's you … I freestyle, I don't write … It's all about the vibe being right too."
PARTYNEXTDOOR – "The News" & "Loyal" featuring Drake
Following the 2017 debut of his Seven Days and COLOURS 2 EPs, PARTYNEXTDOOR returns with two new singles. First up is a solo effort known as "The News," while the other half of today's double-dose comes in the form of the Drake-assisted "Loyal." Both of PARTYNEXTDOOR's latest records are rumored to be part of his forthcoming studio album Club Atlantis.
Stormzy – "Own It"
For the latest single in support of his sophomore album, Stormzy liberates Heavy Is The Head's Ed Sheeran- and Burna Boy-assisted record "Own It." The song is one of 16 tracks that makes up Stormzy's forthcoming LP, and comes to us alongside its Nathan James Tettey-directed visual component. Besides Ed Sheeran and Burna Boy, Stormzy's Heavy Is The Head album also boasts contributions from Headie One, Tiana Major9, YEBBA and Aitch. Heavy Is The Head will see release on December 13 via #MERKY/Atlantic.
Mozzy & Tsu Surf – Blood Cuzzins
Mozzy and Tsu Surf have linked up for a new full-length project titled Blood Cuzzins. The aforementioned pairing's gritty new collaborative LP is made up of 14 new tracks, with guest appearances from Boosie Badazz, Styles P, BabyFace Gunna, Don Q, Teejay3k, 42 Dugg and more.
"I ain't going to lie, I feel like I'm the dopest gangsta rapper right now in this present moment," Mozzy told Okayplayer back in 2018. "I don't feel there's one gangsta rapper out there that could f*ck with me, as far as wordplay. I'm not talking about album sales. I'm talking about craft. I'm talking about cook-up."
Frank Leone – Flu Dogs
For his latest release, Frank Leone is sharing a two-track single titled Flu Dogs. Both of the songs that make up Flu Dogs are collaborations with Hanni El-Khatib, with Monster Mike, Leon Michels and Alex from BADBADNOTGOOD Appearing on project's first record, "Crown."
Rio Da Yung OG – "Too Legendary"
Last month, Rio Da Yung OG released one of this year's best street-rap projects, 2 Faced. Now, with his hot streak showing no end in sight, the Flint rapper is serving up an essential, Kardiak Films-directed visual for one of 2 Faced's strongest records, "Too Legendary."
Fredo Bang – Pain Made Me Numb
This past spring, Fredo Bang served up the Big Ape tape, delivering 20 songs to listeners. Now, for his latest major full-length release, the Baton Rouge star presents Pain Made Me Numb. Made up of 16 tracks, Pain Me Made Numb finds Fredo Bang reaching out to Derez De'Shon, DreamDoll and DJ Chose for collaborations, although the project is a mostly-solo affair. Fredo Bang's new LP is his first full-length for Def Jam, and third solo project overall.