RZA Wants to Help You Achieve Zen
The legendary Wu-Tang leader speaks about his role for Camp Tazo.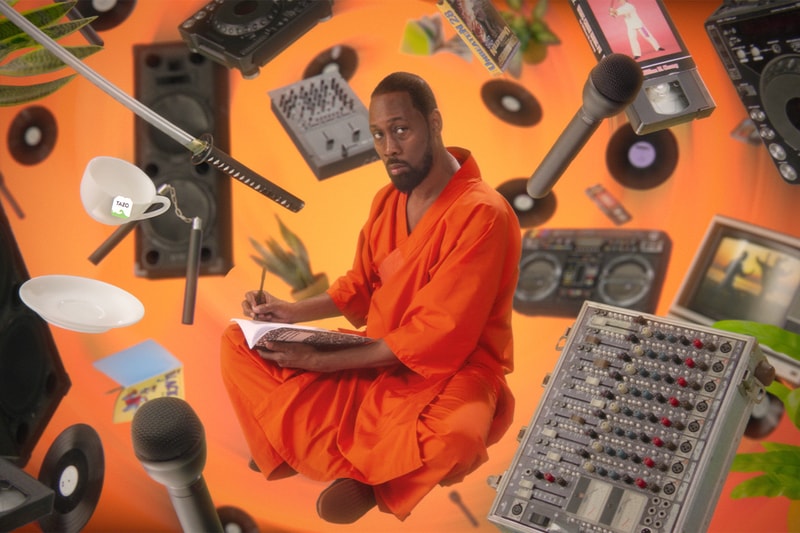 TAZO tea is harnessing the power of RZA for Camp TAZO: Zen, an overnight experience rooted in the brand's longstanding spirit of inspiring exploration and discovery. Set to take place in the legendary artist's home of Staten Island in February 2020, the Wu-Tang Clan de facto leader will be assuming the role of Camp Director, giving aspiring creators an in-depth look at his creative process and help guide them through inspirational workshops and activities to aid in harnessing their creativity and unlocking new hidden potential.
During the immersive two-day camp, RZA, using his own wisdom, will help guide 10 selected participants through a series of activities to free their minds, conquer doubts and seek the creative potential that exists within them. "We've got a whole menu that's basically focused on five pillars that will take you from the likes of still meditation to moving meditation, poses, and just different ways to change the perspective," he said.
"The idea to have people from different walks of life come to Staten Island, which I call Shaolin, and go through guided explorations to help unlock their creative potential, to have people just let go of the hustle and bustle of today and of being creatively motivated by economics — I've been in the situation where my creativity was motivated by economics, and I know that that was a stagnant time for me in all reality. I look back on it and I just say, 'Wow, I was stagnant creatively because I took away the natural motivation, the natural Zen of creativity,' so the chance to talk about this and share my journey, as well as to spark others on a journey is right where I'm at, both spiritually and as a creative force. It's just perfect timing for me."
"It takes focus to actively achieve Zen in your life, but it's a meaningful way to chase the creative passions that can be truly fulfilling, beyond the daily hustle and grind that can overcome us," RZA added. He continued, "As we go through Zen — the word 'Zen' first came from China called 'Chan Buddhism' and the Japanese adapted it as 'Zen,' and that's the word that's more commonly known throughout the world — it means awareness. It means complete awareness of yourself, and we're striving to get people to that complete awareness of their creative ability."
HYPEBEAST caught up with the decorated artist to talk about his partnership with TAZO, his recent work on Hulu's Wu-Tang: An American Saga and the Wu-Tang Clan: Of Mics and Men documentary, and getting on the path of creative enlightenment.
How did your partnership with TAZO Tea begin and what was it about Camp TAZO: Zen that piqued your interest in taking on the role of Camp Director?

It came in through my agency from the business side of things, but as far as Camp TAZO and being a part of it, it was the idea of spreading Zen philosophy that sparked my interest. Zen, to me, is very important, especially in today's time and I think people need to have that self-awareness about themselves.
I learned that Steven Smith, the late founder of TAZO, was — aside from being a philanthropist — an explorer with an ambition to better the world through his product. As a first way of doing things, he was combining different leaves and creatively brewing teas that set us in certain moods, and even certain qualities from some of the tea's healing powers. I think that things of that nature go all the way back to ancient Asian culture, but knowing about the kind of man he was and knowing the way I am, I felt the synergy in that. I felt that the Zen flavor would definitely match the RZA and what the RZA is all about, and when we got on the line to discuss what the plan was for this version of Camp TAZO, it just really resonated with me.
Can you give us a general description of how your personal approach to creative expression will materialize during Camp TAZO: Zen?
For instance, I lived in Brooklyn for a part of my life and I would visit my cousins in Fort Greene. I just looked at it as a hood, you know? As stone buildings where we go and we get into trouble, and I never seen it no more than just this concrete jungle. As a mature man, I had the chance to go back to Fort Greene because a lot of that area is now being used for movies and that nature, and I was able to look at it again and realized, "Wow, all along this has been oceanfront property with one of the best views of Manhattan and the bridges." I mean, it's extremely beautiful, but as a kid, sometimes you walk through the city and your eyes only gaze upon what's at eye level. You're not seeing all these marvelous things around you.
That's the same thing with creativity. When you realize that the creative force is like electricity, it can power anything. In my house, I have a juicer, I have a toaster, all these electronic gadgets, but they're all powered by one source. Creativity is similar to that. Zen is similar to that. If I understand that, it's my privilege and honor to share that with others so they can unlock their potential. The more of us that have this awareness who utilize it in our day to day lives, the more light there is in the world. Each time Edison was able to add another city to the grid, there was more light added to the world and that's what we're looking to do creatively.
Is there a specific area or situation during your active years with the Wu-Tang Clan that you'll be including as part of your approach for Camp TAZO: Zen?
Definitely. One specific area is Wu-Tang Clan's stagnation point. Our Enter the Wu-Tang (36 Chambers) album is considered the best piece of work. But it's not only considered our best piece of work, it's actually a pivotal moment in hip-hop. In the entirety of hip-hop history, it's in the top 100 albums. In the entirety of music, it's in the list of Rolling Stone's top [500] albums. It's there. When we created it, we created it without any economic input. It wasn't a hustle to create it. It was a natural desire to wake up in the morning and go to the studio, you know? Method Man — he came to my house, he didn't have to be paid to come to the studio.
After we had success, it got to the point that we wouldn't go to the studio unless you gave us a budget. I got to the point where I wouldn't even make a beat until somebody made an offer. It's like a beautiful car that sits. The sediment of the engine will destroy the car, no matter how beautiful it is, because it's not being utilized. Removing the cause of utilization, which for me at that particular time was economics, allowed [me] to create again. It actually changed when I started in film because it was such a desire to do something — a freedom, and that's important.
We'll use stories like that as examples because we know that during this camp process, we'll be inviting people who submit their videos to let us know about them, and we're gonna be choosing a limited amount. But what we'll be able to identify is the hustle, bustle — the things that we do every day that keep us away from our creativity — we're going to try to identify that and those individuals through this exploration and release them from it — unlock their hidden potential.
During this camp, you'll be guiding people to conquer the obstacles that stand in their paths. What would you say is the biggest obstacle you've been able to conquer in your own life?
I think the obstacle that I conquered in my life was limitations. Not just about economics, but also self-inflicted limitations. At one point I thought that just because I was a rapper, I'm supposed to only rap. Because I'm in hip-hop, I can't make classical music. I had to break my own limitations and break my own stereotype.
I had to realize that before you call me a hip-hop artist or jazz artist or blues artist, remove the word in front of it and just call me an artist. By calling myself an artist first, I realized that I can take art and put it in any form or any vessel I desire. If I want to draw or paint — I've never painted a picture that the public has seen, but guess what? I plan on painting. My wife and I talked about taking a summer to just paint, and to let the artistic nature flow. So my biggest obstacle was self-inflicted limitations.
What do you think is the most important stepping stone that everybody needs to take in order to get on the path of creative enlightenment?
The first thing is to know that it exists. When you know a destination, you can start heading to that destination. Some people out here may not feel like they're creative. There may be a guy whose only job is to shovel snow. He may not think he has creative energy in him, but he does, because we're all a result of creation.
The next step is finding what part of you is naturally drawn to some form of art. Some people's creative energy is listening. With a gift like that, you could do A&R because a good A&R could tell between a hundred songs that that one song is the one. Other people could be the voice, but they can't tell whether the song is good or not. There was a beautiful film I watched recently called The Mambo Kings where these very talented guys didn't know how to arrange their song. There was this other guy who was good at arranging yet didn't know how to perform the song, but each one of them had a piece of the puzzle that made great music.
Wu-Tang: An American Saga just premiered in early September on Hulu. What were the hardest parts of writing and executive producing a series that's based on your own life?
I guess the hard part is that it's a very tedious job. So much creativity and management has to go into it and as a showrunner, you have to be creative and business-smart. You have to be able to solve problems and you have to solve budgets. I thought that a director was the pinnacle of creativity because the director has to know the script, control the script, know the camera, know the lights and all these different things in order to make his story cohesive for a movie, but the showrunner is even above the director. The showrunner actually has to know what fits the story that has to be told, and the director may not know all the nuances of the story because the showrunner is looking at the entire course of the journey. So for me, it was challenging but it was very stimulating.
But I will say that if I didn't already unlock my creative potential, I wouldn't have been able to do this. Making albums and making sure it reaches its deadline was almost like a college course that prepared me for the task I do now. Acting in a film creatively prepared me to be a director of in order to understand how the actor feels.
The point I'm making is that art is like music — a wave. Music can go through a trumpet, flute, violin, guitar, drum, but it's all still music. The composer has to understand which instrument is needed for the sound he wants to give even if the melody could still the same, but what instruments play that melody? That's the creative freedom that you have to unlock, and by unlocking it within myself, doing this show was just another extension of that same energy.
In a recent interview, you revealed that there were some things in the Wu-Tang Clan: Of Mics and Men documentary that you didn't even know about each other until the creation of the visuals. What do you believe is the most important thing you've learned as a group from creating the documentary?
That's the whole thing about perception and perspective. I was able to get a different perspective by listening to some of the brothers tell their versions of the same story. The important thing I learned is that our stories coexist, and more importantly, that we're men, and men keep things close to their hip. We're proud men, honorable men, and we don't cry, we don't break down, and some of the things that were private to us, we held for a long time.
When Ghostface Killah said he was depressed, I would have never seen him as being depressed because he has such macho, muscular energy, therefore he had to hide that when he was around us. We didn't see that ODB was crying for help. Doing this documentary, we started revealing things to the camera that we kept bottled in. I didn't cry while watching it, but some of the members did because it was such a revelation. That's what I meant when I said there were a lot of things we didn't know about each other that we were made aware of through the documentary, and that's beautiful.
Film has been the bulk of your work within the last 20 years. What differs in the mindset of RZA the hip-hop producer and RZA the film composer?
The most important difference is that as a producer, I'm producing what my will desires and it's almost an individual pursuit. In a film, it's the will of the director, the demands of the film and the embodiment of the entire story. You kind of have to allow yourself to be an instrument, and that's a big difference.
When I'm producing, I've got the beat and this is how it sounds — that's it. But when it's composing, it's like, "Wait a minute, you can't just throw it in right there." The scene needs an emotional movement. The scene needs elasticity, so the music needs to be elastic. In fact, it may only have to be a drum. Maybe only a high hat is going to work for this scene versus everything that's happening in action and dialogue.
That's a totally different mindset, and fortunately, I was smart enough to research Bernstein, Mancini, Quincy Jones — I was able to research some of the great writers and composers of the past and some of my peers to help me mentally prepare to face the challenge. It's a very challenging job to be a composer.
Would you say becoming a film composer takes more creative energy out of you rather than being a producer?
I wouldn't say more, I'd say a different form of creative energy. But I will say this, you can see more in this capacity. To make a song, a song is gonna be three minutes. Maybe I could write a song in a day, but some of my best songs took three to five days. Doing a film score, that's six, seven, nine months sometimes. There's definitely a huge difference.
Inspiring creatives who seek a new opportunity for exploration can submit a video application at campTAZO.com for the chance to participate in Camp TAZO: Zen with RZA. Applications close November 11.