Essentials: Roy Choi of Kogi and 'The Chef Show'
The famous chef and TV personality shares his must-have items.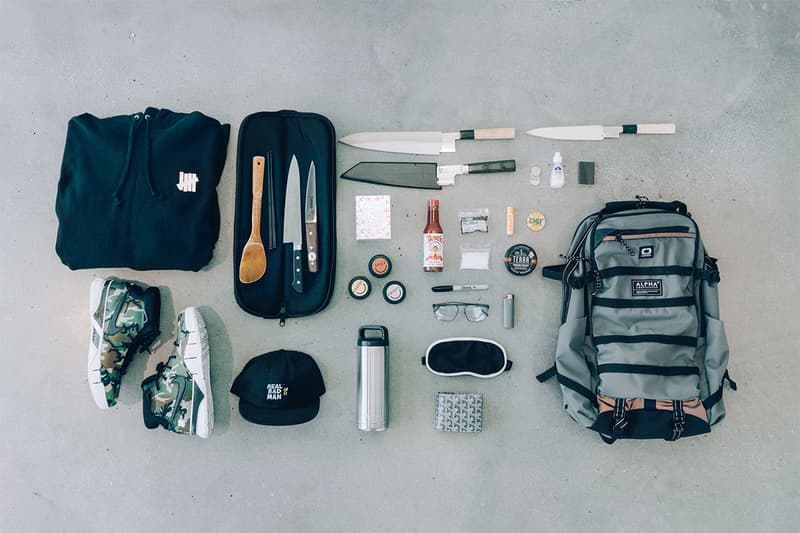 Whether you know him from his Kogi Food Truck or his new Netflix cooking series The Chef Show, you're likely familiar with some part of the Roy Choi empire. The Korean-American chef has become a household name in the U.S. and abroad thanks to the way he revolutionized food truck culture, and the numerous bars and restaurants he's opened since. For the latest edition of HYPEBEAST Essentials, we sat down with Choi in his hometown of Los Angeles to find out what items the chef and TV personality carries with him each day.
Naturally for a chef such as Choi, good knives are a key part of his gear. He acquired his current set when filming 2014's Chef movie with Jon Favreau, which was modeled on Choi's career. "I had my old knives since 1997 and when 2013 came around and we had to find knives for the movie, I decided maybe it's time for me to get some," Choi explained. "I keep stuff for a long time and am very frugal with myself." The knives are not the only cooking utensils the chef brings with him on a daily basis, however — there's also a wooden spatula and a pair of chopsticks in nod to his Korean heritage. "It's how I grew up eating and cooking," he added. "Food to me tastes better when cooked with a worn wood spoon or spatula. I feel like it transfers soul — or maybe splinters!"
It should come as no surprise that in addition to his tools of his trade, Choi also carries with him an array of condiments and seasonings. To The Chef Show co-host, the small bags of salt and pepper are just as important to him as the three little tubs labeled "Spicy," "Cheesy," and "Sweety." The spices are a prototype Choi is developing for a new company he's starting, with the mixes essentially "taking the whole spice rack at the market and distilling it down to three magical potions." A bottle of Tapatío hot sauce rounds things off for the chef, who calls himself a "hot sauce fiend." Why Tapatío specifically? "It's that LA shit," he said, though he also has 14 other bottles from different brands at any given time in his fridge.
Growing up on the streets, Choi explained that a black hoodie and a pair of nice sneakers have always been crucial to his style. "UNDEFEATED is my family," he said, as he happened to be wearing the UNDEFEATED x Nike Zoom Kobe 1 Protro during HYPEBEAST's visit. "Clothing is not about what's special but about what you got now and how you rock it," the chef added. Fashion's not the only way the chef keeps himself looking fresh though: he also carries with him a Burt's Bees lip balm, a small bottle of eye drops and Diptyque's Londres candle.
Finally, and perhaps the most important item in his entire selection of essentials, is the The Chef Show coin, which Choi carries with him wherever he goes. For Choi, the show is special because of his friendship with co-host Jon Favreau and the rest of the team behind the series. "It truly became a family affair with his closest team members and mine," Choi said. "The exposure of Netflix as a platform has given me a new wind in life, an exposure I've never experienced yet on this scale and it's pretty damn exciting, especially when it's because of something honest and meaningful that inspires people to cook and change lives." The coin reminds him to "never to lose sight of the truth."