Kellogg's Joins GLAAD's Anti-Bullying Campaign With "All Together" Cereal
As "a symbol of acceptance."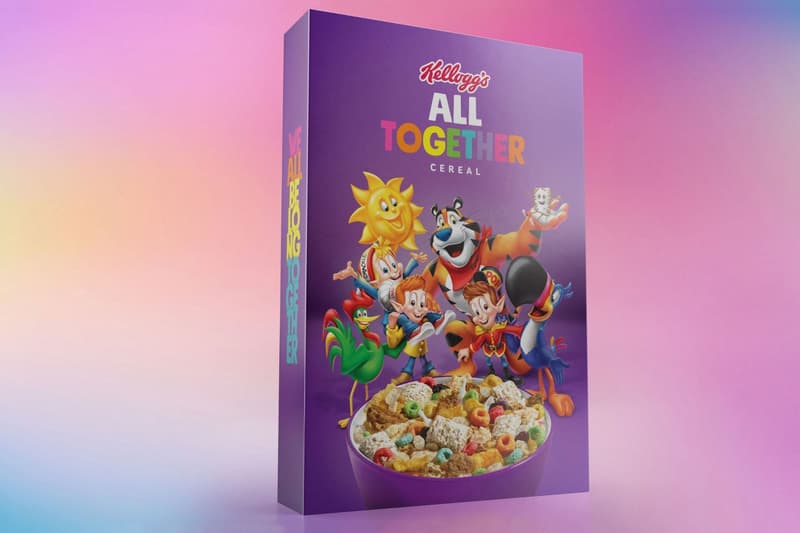 To support GLAAD's current anti-bullying campaign, Kellogg's has released a new inclusion breakfast option featuring six of its cereals and mascots dubbed "All Together."
The new concoction includes Raisin Bran, Corn Flakes, Rice Krispies, Frosted Flakes, Froot Loops, and Frosted Mini Wheats packaged in the same purple box. "We all belong together," Kellogg's said in a statement. "So for the first time in history, our famous mascots and cereals are offered exclusively together in the same box for All Together Cereal. It's a symbol of acceptance no matter how you look, where you're from or who you love."
Kellogg's All Together cereal will be available for a limited time in honor of Spirit Day, an anti-bullying campaign that has millions of people wearing purple to stand up against bullying. Along with producing the special cereal, Kellogg's has also pledged to donate $50,000 USD to GLAAD in support of the group's efforts.
GLAAD is an LGBTQ+ media advocacy organization. According to GLADD, more than 70% of LGBTQ+ students say they've been verbally harassed and close to 60% report feeling unsafe at their schools due to their sexual orientation.
Interested fans can head over to Kelloggstore.com to purchase a box of All Together now for $19.99 USD, while supplies last.
For more food and beverage news, check out "The Science (and Art) of Fermented Foods" featured in the latest issue of HYPEBEAST Magazine.
Thank you Kellogg's for acknowledging LGBT communities and donating to them as well. What a keystone keepsake collectible with money raised going into LGBT causes. — Kellogg's new 'All Together' cereal celebrates LGBTQ youth https://t.co/TC6dPbHBAk

— Tamara Ching (@ChingTamara) October 18, 2019
As part of #SpiritDay we are launching a new "All Together Cereal" and donating $50,000 to support GLAAD's anti-bullying and LGBTQ advocacy efforts. Get your limited edition box of ALL TOGETHER cereal at https://t.co/oFb3iSGmvZ pic.twitter.com/QwumdUdLuP

— Kellogg Company (@KelloggCompany) October 17, 2019
Kellogg's is partnering with the Gay and Lesbian Alliance Against Defamation (GLAAD) to release a cereal called "All Together," mixing cereals and their mascots to support anti-bullying and LGBTQ advocacy work. https://t.co/BcRLqiAHQQ

— CNN (@CNN) October 18, 2019