UPDATE: Ariana Grande Attempts to Fix "7 Rings" Tattoo, Now Says "Japanese BBQ Finger"
Well, this is embarrassing.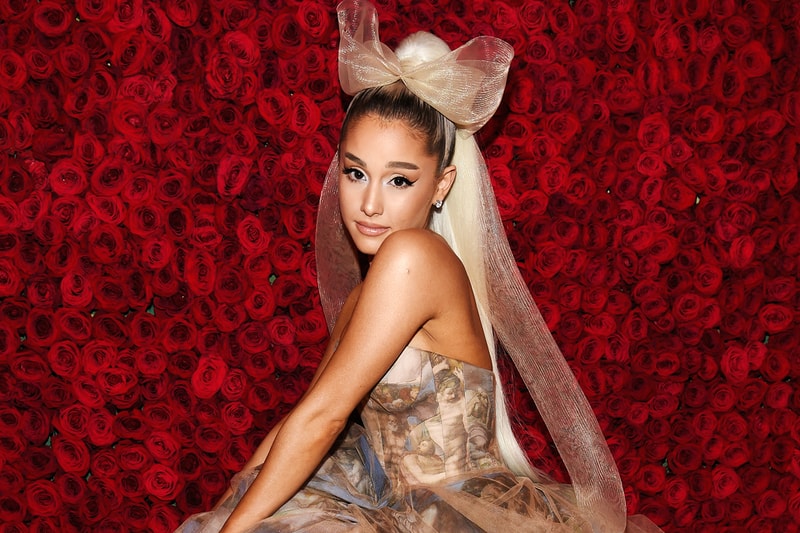 UPDATE January 31, 2019: Shortly after the Internet blew up over Ariana Grande's miswritten "7 Rings" tattoo, the pop star reached out to her Japanese tutor to attempt to fix the mistake. But when Ariana posted a photo of her "fixed tattoo," native Japanese speakers were quick to notice that she had placed the correcting character beneath instead of above the existing tattoo. The attempted fix now makes the tattoo roughly translate to "Japanese BBQ Finger."
Why… how… now Ariana's tattoo reads "Japanese BBQ finger" ? pic.twitter.com/zC2LxSKJtI

— Eimi Yamamitsu | 山光瑛美 (@eimiyamamitsu) January 31, 2019
Original Story: Ariana Grande recently got a tattoo to celebrate her new "7 Rings" single going No. 1 on the Billboard Hot 100 but encountered one major problem. What she thought said "7 Rings" in Japanese kanji actually translate to "Small Charcoal Grill." She revealed the new tattoo on her Instagram page.
According to Kotaku, the kanji character 七 means "seven" and 輪 means "ring" or "wheel." Unfortunately, when you put them together as 七輪, it means: shichirin, which is a small charcoal grill used for Japanese barbecue.
Once Japanese fans started pointing out the error, Grande deleted the photo of her tattoo off her Instagram and tweets explaining the mistake.
Indeed, I left out 'つの指' which should have gone in between," she wrote in a since-deleted tweet. "It hurt like fuck n still looks tight. I wouldn't have lasted one more symbol lmao. But this spot also peels a ton and won't last so if I miss it enough I'll suffer thru the whole thing next time. Also… huge fan of tiny bbq grills."
The music video for "7 Rings" also features a title card in Japanese, which is correctly written as 七つの指輪 — nanatsu no yubiwa, or "seven rings." Ariana Grande's upcoming album thank u, next drops Feb. 8.
【Instagramより】
アリアナがまた日本語のタトゥーを追加!今度はなんと漢字で「七輪」?
「みんなこれは私の手じゃないって思っているみたいだけど、本当に私の手よ?」とコメントしています。
「七つの指輪」を略して「七輪」かな??とても気に入っているよう?#アリアナ pic.twitter.com/wR55jgu7FU

— アリアナ・グランデ JP公式 (@ariana_japan) January 30, 2019
アリアナが七輪のタトゥー入れてる笑 pic.twitter.com/9Jj4Fs2hIE

— at (@aoi80550747) January 30, 2019
ariana grande really got a tattoo in japanese that says "portable grill" instead of "seven rings" and is playing it off by saying "it still looks tight"…. she literally just admitted to only seeing japanese as an aesthetic pic.twitter.com/rIAM1nOMeB

— zach @ i7 au ? (@floorb6) January 30, 2019