EXCLUSIVE: Ye Ali Breaks Down His 'TrapHouseJodeci' Album in its Entirety
Recapturing R&B's art of storytelling.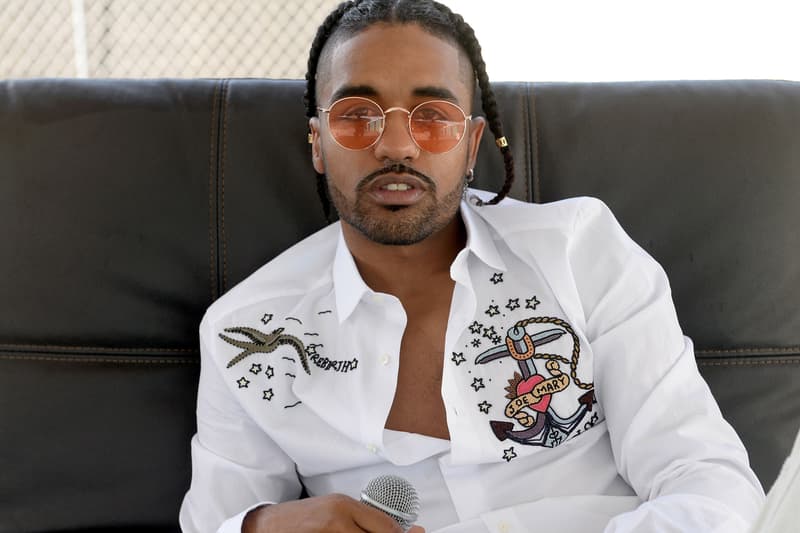 With R&B and modern soul music enjoying a creative and commercial peak right now thanks to artists ranging from Ty Dolla $ign and The Weeknd to Frank Ocean and PartyNextDoor, the wide-spanning genre holds several spots for well-constructed, new projects. Enter Los Angeles-based artist Ye Ali, who emerged on the general public's radar in 2014 and has been spending the past couple of years building up to his proper, formal introduction.
Yesterday, Ye Ali finally dropped off his debut studio album, TrapHouseJodeci. Many months in the making, the project presented 13 completely new, original records from the "Late Night Flex" singer. The style-shifting production on the LP came to us from Ye Ali's close, go-to collaborator Bizness Boi, as well as hit-makers-for-the-stars Da Internz and more. Collaborations came in the form of a lean, careful selection of artists that includes K Camp, K Forest and Wes Period. By his own admission, TrapHouseJodeci is Ye Ali's "first concentrated effort towards a project" and his first step towards establishing a complete, focused body of work. Its influences include everything from Roger & Zapp to modern rap to the most memorable moments in R&B's past three decades, and its creator was methodical during its making. "It was the first time I was in the studio with the producer the whole time, building the songs from the ground up," Ye Ali says his new release's tracks.
From a few first listens, the easiest comparisons can probably be made with PartyNextDoor and other current, trending acts. But, Ye Ali shares the same penchant for weaving together narratives and delivering mini R&B audio-books as his contemporary Ty Dolla $ign. Like the FreeTC crooner, Ye Ali's new sound is one that seeks to recapture R&B's own art of storytelling and soundtrack your bedroom romps.
To pull back the curtain behind Ye Ali's debut album, we linked up with Midwest-born talent for a comprehensive, thorough breakdown of every part of THJ. Speaking exclusively to us about each of the album's songs, Ye Ali reveals the backstory behind his first real full-length studio project.
1. "Ammunition"

That's produced by Ricci Rierra, Los Hendrix on guitar, Neenyo from Toronto on drums. That's pretty much a sensual introduction to the project and sets the mood and storyline for some of it it. It's very heavy on guitar and jazzy melodies — that was a first for me to venture into a lot of live instrumentation. That track was one of my favorites just because it's the first track I've ever done like that and approached like that. It's very minimal in production and such a great, standout song.
Neenyo — he did a lot of work on the Drake and Future collab album — he reached out on Twitter. I never knew him, never met him, but when he came to LA and got in the studio and showed me what he did, we ended up collaborating towards the end.
I've been known to have very sensual, teasing songs. I'm not afraid to venture off into the bedroom. This kind of highlights a lot of peoples' favorite aspects of me, which are the more sensual, slick-talking, story-mode type of stuff. It's a very relatable song, because everyone's been in the situation where you're "about to get it on" and you're not sure if you have protection. Then, you check and you find it and you're good and it's like, "okay, back to what I was doing." It's like that split second that everyone has where they're not sure where they can even do it for the night, then you realize that you're all good. I always wanted to tell that story — every guy can relate to panciing and not being sure. It was fun exploring that
2. "Menu"

This is one of the few samples on the project but it's from one of my favorite songs growing up. A lot of times in life you have too much on your plate, too much on the menu, too much to choose form. This is me realizing that I have a lot of options on my plate right now, so it's about that time where I can ptu those feelings out of being overwhelmed with choices — whether it's who I date, my goals or what I'm doing in my personal life. It was fun to touch on that, and the production is insane — that's a pretty fun, upbeat one that people will enjoy.
3. "What to Do"

This song came about a few months ago. I was at K Camp's house with my producer Bizness Boi and the rest of my guys; we both did our verses and he jsut ended up doing the hook and it was really crazy. It was probably the first session we ever had and the chemistry was great. He's known for those club bangers, so I thought we could meet somewhere in the middle. "What To Do" is going to be one of those I'm going to love to perform a lot. It takes you to different places: it takes you to when you get to the club, to when the bottles come, to when you party, to when you decide who to take home, to the last song, to the last call for alcohol. It takes you from Point A to Point B and both of our verses have a storyline. It was fun how we went back and forth — this was one I just found and took it to the next level with K Camp.
4. "Fulla Diamonds"

This is one of the more personal records. The timeline follows me from when I got to LA, being homeless in LA, sleeping in a car in LA, when I met up with my producers in LA. It's basically the last year and a half of my life. The only reason I was able to stay on this road was because of the people I surrounded myself with, like my producers, my engineers, the people around me who are are sold. It's called "Fulla Diamonds" because it's cool if you have one tooth that has a diamond in your mouth, but it would just be a lot better and brighter with a mouth full of diamonds. That's just how I feel about my people around me and my producers and that ones that I keep close and around me. We're like a mouth full of diamonds, it's hard not to see us shine. I did it when I was really going through it; this is one of those staples on here.
5. "Sing To It"

This is produced by DJ Swish, he did a lot of YG's last album — a lot of my favorite records. When I heard that album, I had to find out who that producer was. I found out who he was and reached out to him. He came over to the house and did a few songs and this was one I really liked. It was meant to bring a real west coast feel and it does, but not in the way people would expect when you use an LA producer. He thinks outside of the box production-wise when it came to my songs. It wasn't what I expected and that's what made it really good and we got some west coast flavor. It's such an R&B song and it's really fun to hear a producer who worked with a west coast artist like YG and crafted that [Still Brazy] sound and how we just collaborated effortlessly. We got along as people before we even heard each other's music. That's another one I'm going to love to perform.
6. "Flights & Breakups"

That features Toronto artist K Forest. It's really self-explanatory: "Flights and Breakups." I've been broken up via landing, via takeoff, kind of in the air. If you're an artist you can relate to people not wanting you to leave and giving you ultimatums when you do leave, then it being a different story when you land somewhere else. I was able to expand and expound upon the idea and bring in an artist who knew exactly what I was talking about when I explained the concept. We [K Forest] did it over the internet, we've never met, and we did it about a month ago. He's really talented, and we are able to touch on an issue a lot of people can relate to.
7. "Giuseppe"

That is a crazy record. It's produced by Da Internz, who produced for Rihanna, Jeremih, Nicki Minaj, lots of smash-hits from those artists' catlogs. We did two songs in a day, we've only had one session ever. We did this three or four months ago, and both songs they recorded that night are on the album. "Giuseppe" is an ode to the woman who likes to step out and look good and isn't afraid to push the envelope. It's for girls like that and girls who have that attitude.
8. "Rodeo"

I had a lot of fun on that record. I'm a big fan of Teddy Riley, Roger & Zapp, Keith Sweat and that era of music, so we incorporated influence based off that. It's not something a lot of people do now. They do an exaggerated version of what I did, so it was really good to just capture that version of being stuck in the 80's. I also rapped on the song, so it showcased more of my rapping ability and my ability to switch flows and cadences.
9. Dedication

"Dedication" is also by Da Internz and going to be a lot of peoples' favorite records. Originally when I made it, I wanted to put John Legend on it. Mind you, I don't know John Legend, never met John Legend, but he just popped in my mind. I was like, "if I make this song good enough, he'll hear it and maybe not want to get on the song, but want to work with me." With that idea, I had John Legend in mind, or someone very classy who was trained as a singer and pianist who would just kill it. I wrote it with my friend Travis Bruce and we did that record as a dedication to every listener, every fan, every understanding person. It's just an appreciation of the people who understand you and your life. You can play this for your grandparents.
10. "Autograph"

This is one of those classic R&B songs where you think you're knowing what you're getting, and you think it's over, and it turns another corner and takes you to another room. It just continues and gets brighter and bigger, and by the end of it you can't believe you just witnessed one song because we just took you through it. It's one of those five-minute records you can play on your sex playlist or in your car or wherever with whomever to get the mood popping.
11. "Oceans"

That one is me like people have never heard me. It's sort of like pop or something that would have been played on Miami Vice. It's something I feel that Ready For The World would have covered. It's almost like a rock song, but very much R&B. I always wanted to do a song like this, and I was able to just capture a crazy moment. You can interpret this several ways after you listen to it, and it's definitely one of the standout records.
12. "Songs About You"

This is about still writing songs about somebody, no matter how successful you are or where you are or where they are in life. You often still use the same people as inspiration, regardless of how far removed they are. I think a lot of people are going to like this, because it's more of a realization that touches upon this one subject and brings it the forefront. I was really happy to write this record.
13. "Casual/My Room"

Since this is the final track, it's a roller-coaster in this sense: I know this is the last song and you can tell that I know, so I'm going to make sure I take you on a last roller-coaster before I end it and end it on such a crazy note that the next project is going to be intense. I'm proud of that one; I surprised myself with that. I feel like I made a very, very entrancing song — it's something you can get lost in. It starts off so modern, and the production on it is just so fun that I couldn't help but kind of reach back to 1992 for inspiration and do some different things on there.