Kid Cudi Says Jaden Smith Is "The Chosen One"
Discussing a collaborative album, mutual successes, and more.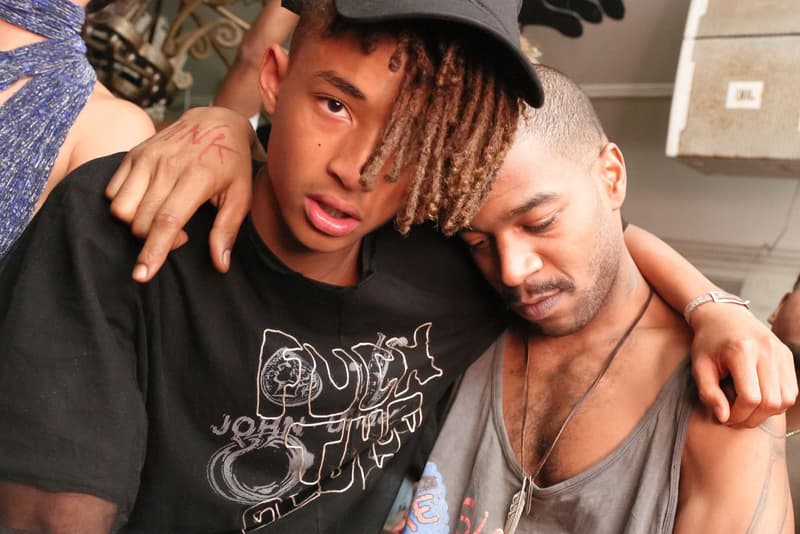 When it comes to breaking convention in fashion, music, and art, Jaden Smith and Kid Cudi are two names that surely come to mind. The SYRE rapper recently landed on the cover of VMan's The New Vanguard Issue and sat down for an exclusive interview with "Big Bro" Cudi to talk about mutual successes, environmental issues, and blurring the lines of the aforesaid genres. Smith is helming major roles in upcoming Skate Kitchen and Life in a Year with both films to premiere this fall.
VMAN40: The New Vanguard Issue will be available to purchase starting August 23. Pre-order a copy now at V Magazine's online shop and head over to VMan's website to read the full interview with select excerpts below.
On fashion
Kid Cudi I'm fantastic. Well, let's get right to it! How do you approach fashion?
Jaden Smith I actually pull a lot of fashion inspiration from you. It's a rock-and-roll vibe, with a lot of denim. I love flannels; you put me onto that. I like picking a time in history, or a kind of music, and I try to model my outfit after that.
On masculinity
KC Is the definition of masculinity changing?
JS I feel like the definition is not changing, but the way [masculinity] is shown is changing. People are getting hurt, losing their lives over petty things, and that has to do with people just trying to prove a point of being overly masculine. Everybody just needs to get along. We need to come together. That's definitely a point from your music that I always listen to: Let's all just get along. It's gonna be totally fine if we do that.
Pursuit of Happyness and "Pursuit of Happiness"
JS I really didn't think I would be talking about it 10 years later. It was really interesting being young and on set, specifically with that movie, because we were constantly in homeless shelters. I had no idea films could really live on and have that type of longevity.
KC It's a beautiful moment to see, father and son. That movie was really impactful—it's one of my favorites and is definitely something that touched me. I'd definitely say it subconsciously had a hand in me creating "Pursuit of Happiness."
On a collaborative album
JS Obviously, Kids See Ghosts, Cudi, is absolutely amazing. I really love it.
KC I'm glad you fuck with it, bro. Thank you. I worked really hard on it. Can you imagine the day Kanye asked me to do the album with him? I thought he was joking; maybe it was a moment he was excited about the idea, and after a couple months, he'd just be over it. [Laughs.] It took me a minute to realize, "Yo, I'm making an album with my big bro. This is a dream of mine."
JS That's so cool.
KC Having to go toe to toe with him in these songs was crazy. It was a lot of pressure, but it was fun. I was up for the challenge. Everything I've been doing led me to this point.
JS I'm so happy that finally happened. We would always talk about that happening one day.
KC Yeah, man! Maybe one day we'll do an album, bro.
JS Oh, stop playing, Cudi! I'll have to get a few more albums under my belt. I'm going to have to grow—but that would be the biggest dream of mine.