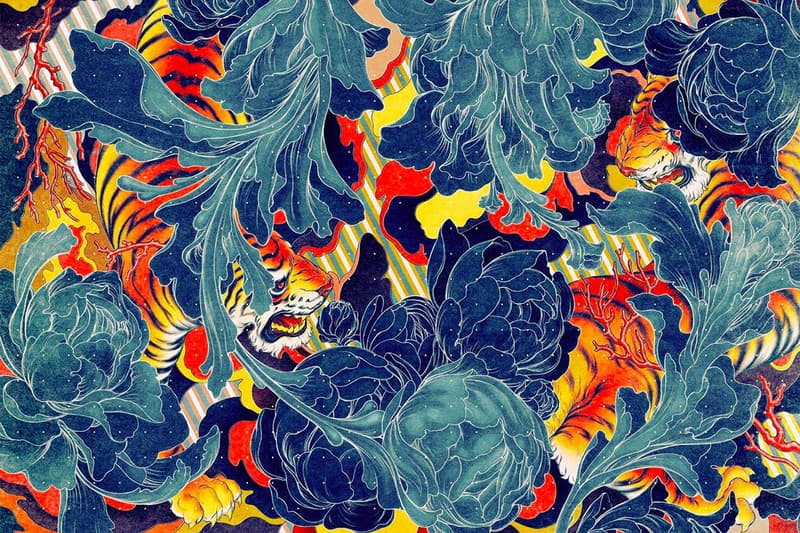 Best Art Drops: James Jean Print, Todd James Coloring Book & More
Including 'Beautiful Losers' exclusive merchandise.
---
There are a plethora of options when it comes to deciding on the best paper to use for art prints. For one, artists often select Giclée paper for the exceptional color-matching to the original artwork and it's considered the highest quality of fine art reproduction. On the other hand, artists may opt to go with watercolor prints for affordability — depending on the size of the print, it can cost as little as $1-to-$3 USD each.
If you're looking to purchase a print from your favorite artist, you may also want to consider the techniques used to print the piece — inkjet, screen prints, etc. — and whether or not the surface is coated or uncoated, as per Shutterbug. Coated paper is mainly used for photography, illustrations and works with vivid tones, while uncoated paper is normally utilized for books and magazines.
James Jean and Dirty Robot are two artists listed in this week's best art drops that have used premium paper for their prints and original artworks, respectively. Read on to learn more and let us know your favorites.
James Jean Releases Time-Limited Edition Retroflect Print
Release Date: Available on James Jean's official website
Release Price: $220 USD
James Jean recently unveiled his upcoming limited print, Retroflect. The signed and numbered artwork draws inspiration from the iconic scene between K and a massive representation of Joi in Blade Runner 2049. Each giclée print is sized at 33-1/2-inches tall × 23-inches wide. Topping off the details is a transparent holographic stamping laid on top of the silkscreened print. Conclusively, a new snowflake embossment made up of a lone horse surrounded by dead trees and swords is also observed in the piece.
Priced for $220 USD, the Retroflect giclée print is now available on James Jean's official website until 7:59 a.m. PDT on August 22.
RVCA Presents "NOW & THEN: A Decade of Beautiful Losers"
Release Date: August 24 at The Hole NYC and RVCA's online shop
Release Price: $35-$55 USD
To celebrate the 10th anniversary of Aaron Rose and Joshua Leonard's iconic Beautiful Losers documentary, RVCA is organizing a group show featuring original artworks and collaborative merchandise spanning 11 styles, all priced at $35-$55 USD. Participating artists include Ari Marcopoulos, Barry McGee,  Mark Gonzales, Shepard Fairey, Tom Sachs, and more. "The film captured the characteristic spirit of a community of artists affiliated with the Alleged Gallery in Manhattan in the early 1990's," said RVCA.
The Hole NYC
312 Bowery
New York, NY 10012
Todd James Drops Dungeons & Dragons Adventures Outlined Coloring Book
Release Date: Available now at D&D's official website
Release Price: $17 USD
Renowned visual artist Todd James just released a slew of intricate illustrations for a coloring book entitled Dungeons & Dragons Adventures Outlined. The book spotlights otherworldly scenes and monsters from the cult game, such as goblins, dragons and more. The book is available to purchase for $17 USD at D&D's official website.
KATSU Teams up with Alife on a Special Capsule
Release Date: TBC, this week
Release Price: TBC
Notorious graffiti artist KATSU just teamed up with Alife on a special capsule. The artist is known for using drones to spray paint his ubiquitous skull tag on billboards, advertisements and posters mounted on public walls, while hiswork touches on commercialism, privacy and digital culture. Official details on the collab are pending, but expect the capsule to drop sometime this week at Alife's website.
Daniel Isles aka Dirty Robot Releases New Original Artwork
Release Date: Available now on Dirty Robot's website
Release Price: $300 USD
British illustrator Daniel Isles, aka Dirty Robot, just released new original artwork. The pieces are a part of the artist's 365-day project, comprised of illustrations created using black inks on 135gsm premium stock paper. Futuristic subjects mixed with nostalgic motifs are predominantly purveyed in the works. Head over to Dirty Robot's official website to learn more.