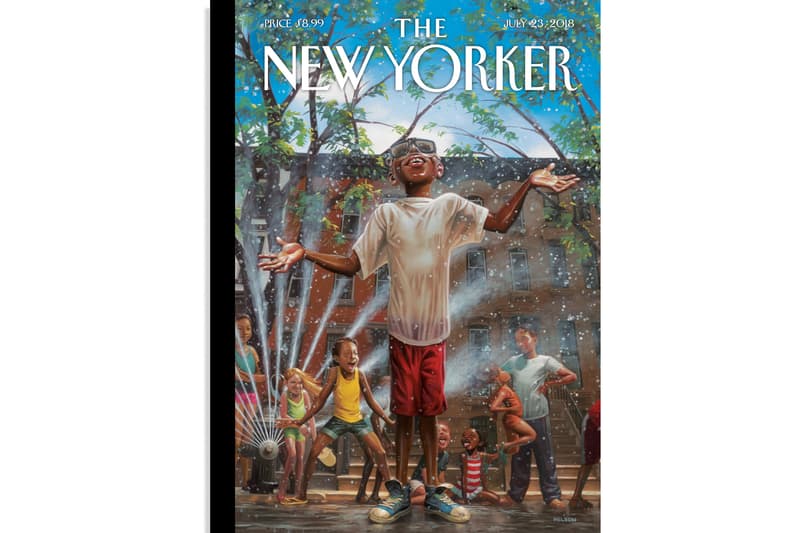 Kadir Nelson Creates New 'Summertime City' Illustration for 'The New Yorker'
Gracing the magazine's latest issue.
---
Kadir Nelson is a celebrated painter, illustrator, and writer who is widely known for his pieces that draw upon African-American culture and history. Nelson has produced works for the United States House of Representatives, Michael Jackson, Coca-Cola, Dreamworks, and created the album artwork for Drake's Nothing Was The Same. The artist was recently commissioned by The New Yorker to create an illustration for the publication's July issue.
Entitled Summertime City, the illustration spotlights children playing near an open fire hydrant near a Harlem neighborhood stoop. The artist "has often turned to that borough's streets for inspiration, with past covers featuring a game of stickball and a father and daughter sharing a moment on a stoop," said the publication. Find the issue at select retailers Stateside and head over to The New Yorker's official website to learn more.
Check out key excerpts from an exclusive interview below and then head over to The New Yorker's official website for more. The issue is available at select retailers stateside.
In related news, take a look at this week's list of best art drops.
When you sketch those images, are you trying to capture a specific memory, or an ideal? The goggles here are so specific.
I was poring over photographs of neighborhood kids playing in the street, and I found an old photo from the nineteen-sixties of a kid wearing goggles as he basked in the spray unleashed by a fire hydrant. It made perfect sense to me. If you can't make it to the pool or the beach, why not still wear goggles? It was so imaginative and practical. For some kids, the fire hydrant is the pool or the ocean.

Who are your influences, in terms of artists who have depicted city life?
There are plenty of artists who have painted lovely city scenes, including Rockwell, Eakins, Hopper, and Ernie Barnes. But the urban images I paint are actually informed not by them but by photographers like Gordon Parks and James Van Der Zee, mostly for historical accuracy.