Best New Tracks: A$AP Rocky, Tyler, The Creator, Lil Uzi Vert, Blood Orange & More
Sheck Wes and Trippie Redd make this week's list as well.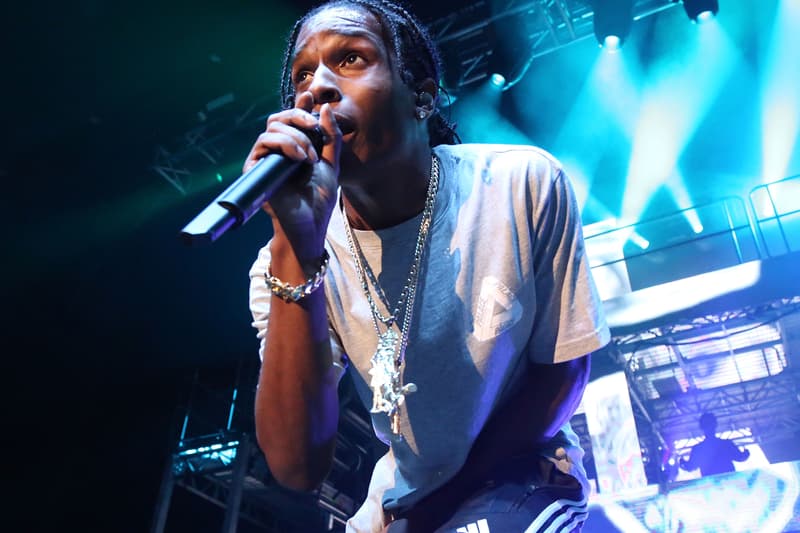 We've reached the end of the week and compiled another round-up of this week's best new music. This time, A$AP Rocky and Tyler, the Creator both made headlines for various music drops, including a collab and video for their WANG$AP teaser "Potato Salad." Pretty Flacko also linked up with YG for the Bompton rapper's new single and video, "Handgun." Tyler dropped a solo track titled "Quartz," linked up with $ilkMoney on "NAGA" and remixed Playboi Carti's "R.I.P." Lil Uzi Vert, Blood Orange, Mac Miller, Sheck Wes and more dropped notable tracks as well for a strong end to July.
Check out this week's best new releases below.
A$AP Rocky & Tyler, the Creator – "Potato Salad"
By far the biggest music news of the week comes from A$AP Rocky and Tyler, The Creator, who are teaming up on the upcoming project titled, WANG$AP – a play on Tyler's Golf Wang label and A$AP Rocky's name. They teased the project with the song and video "Potato Salad," which is part of the new AWGE 3 DVD. The visual finds both artists in Paris freestyling over Monica's 2003 song "Knock Knock." Jaden Smith makes a cameo as well.
Lil Uzi Vert – "Introvert" & "Everything Lit"
Lil Uzi Vert's "Introvert" and "Everything Lit" have been teased as snippets in the past but earlier this week, the two tracks have surfaced in their entirety. Even though the songs are not new, the release has fans conspiring if the Philadelphia rapper is building anticipation to the followup to Luv Is Rage 2. In additional to these two tracks, Uzi has been releasing a string of other releases and uploading peculiar social media activity. Recently, Young Thug and Lil Uzi Vert linked up for their collaboration "Up" following weeks of teasing.
Mac Miller, Thundercat, Syd & Snoop Dogg – "What's the Use"
Mac Miller plans to drop his fourth LP on August 3. In anticipation of the release, Mac Miller dropped a single titled "What's the Use?," which is a collaboration with Thundercat, Syd and Snoop Dogg. In addition, Dam-Funk and Vancouver beatsmith Pomo also helped produce for "What's the Use?" "I just like having something that comes on and makes people want to move in a different way," Miller tells Zane Lowe about the track.
YG & ASAP Rocky – "Handgun"
YG dropped his new song and video "Handgun" shortly after sharing the release date for his upcoming project, Stay Dangerous (August 3). The single and visual features A$AP Rocky; other guest features on the album include Nicki Minaj, 2 Chainz, Big Sean, Quavo, Ty Dolla $ign, Mozzy and YoungBoy Never Broke Again. It will also includes previously released singles "Suu Whoop" and "Big Bank."
Blood Orange – "Charcoal Baby" & "Jewelry"
Blood Orange released two new videos this week – "Charcoal Baby" and "Jewelry." They are singles from his forthcoming studio LP Negro Swan. The former is co-written by Porches' Aaron Maine and its video is directed by Crack Stevens. the latter stars Janet Mock with Kai the Black Angel and musician Ian Isiah making appearances alongside Hynes. Negro Swan comes after 2016's Freetown Sound and is is out on August 24 via Domino.
Tyler the Creator – "NAGA" with $ilkMoney & "Quartz"
Divine Council rapper $ilkMoney and Tyler, The Creator teamed up for a track titled "My Forte" earlier this year. Now, the two have connected once again for a new song titled "NAGA." The record looks like it will appear in $ilkMoney's forthcoming record, I Hate My Life And I Really Wish People Would Stop Telling Me Not To. In addition, Tyler also dropped a hidden track off his Cherry Bomb album, "Quartz." The track contains vocals from Syd and Austin Feinstein and features filtered vocals from Tyler.
Sheck Wes – "N****s Ain't Close" featuring Lil Yachty
Not too long after he modeled pieces on Helmut Lang's Fall 2018 offering, Sheck Wes dropped a new track titled "N****s Ain't Close." Featured on the Redda-produced track is Lil Yachty. The new song follows Sheck's 2018 songs "Do That" and "Chippi Chippi." The Cactus Jack Records/G.O.O.D. Music signee is expected to drop his upcoming MUDBOY album. Be sure to read Sheck Wes's story in the latest issue of HYPEBEAST Magazine #22: The Singularity Issue.
Denzel Curry – TA1300
Today, Denzel Curry finally dropped the final act of his three-part album, TA1300. "I wanted to make this shit theatrical and I wanted people to understand what part of the album they were in," Curry explained. "You're going to have a light part, you're going to have a gray part, then you're going to have a black part." The song features production from the likes of DJ Dahi, Ronny J and more. It also includes collaborations with J.I.D and singer Billie Eilish.
Trippie Redd – "Black Magic" & "BILAP" featuring Chief Keef
Trippie Redd shared "Black Magic" and "BILAP" after initally teasing the tracks on Instagram. "Black Magic" features production by Ricky P and the ChopSquad-produced "BILAP" is a Chief Keef collaboration. "Black Magic" finds Trippie flexing his skills as a rapper more heavily on this one while still giving listeners a bit of his melodic side. The tracks will hold fans over until his project Life's A Trip.