2018 FIFA World Cup Crowns Kylian Mbappé as Best Young Player
While Luka Modrić is named player of the tournament.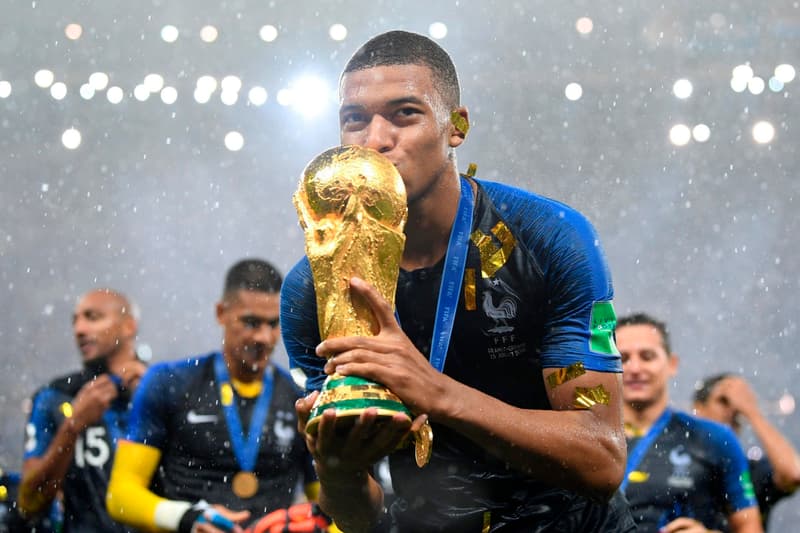 After losing the 2016 EURO Cup Final to Portugal two years ago, France finally found redemption last night as they defeated Croatia 4-2 to be crowned the 2018 FIFA World Cup champions.
Following the thrilling final, FIFA went on to award the tournament's outstanding players starting with the World Cup's Best Young Player being crowned to France's 19-year-old prodigy Kylian Mbappé. The prize for best goalkeeper went to Belgium's Thibaut Courtois while the tournament's top scorer went to England's Harry Kane with his six-goal haul. Finally the adidas Golden Ball for the tournament's best player was awarded to Croatian legend Luka Modrić, whose sensational presence during the past four weeks helped to take his country to their first ever World Cup final.
Take a look at the full list of 2018 FIFA World Cup winners below. Also be sure to check out our interview with Mbappé where he opens up about his sneaker obsession and love of football.
2018 FIFA World Cup Awards

adidas Golden Ball Award – Luka Modrić
adidas Silver Ball Award: Eden Hazard
adidas Bronze Ball – Antoine Griezmann

adidas Golden Glove Award: Thibaut Courtois

FIFA Young Player Award: Kylian Mbappé

adidas Golden Boot Award: Harry Kane (six goals)
adidas Silver Boot: Antoine Griezmann (four goals)
adidas Bronze Ball: Romelu Lukaku (four goals)

FIFA Fair Play Trophy: Spain
adidas Golden Ball Award:

?Luka MODRIC (#CRO)
?Eden HAZARD (#BEL)
?Antoine GRIEZMANN (#FRA) #WorldCup pic.twitter.com/KQSRiwUznh

— FIFA World Cup (@FIFAWorldCup) July 15, 2018
FIFA Young Player Award:

?Kylian MBAPPE (#FRA) #WorldCup pic.twitter.com/v4eMfItkkP

— FIFA World Cup (@FIFAWorldCup) July 15, 2018
adidas Golden Boot Award:

?Harry KANE (#ENG)
?Antoine GRIEZMANN (#FRA)
?Romelu LUKAKU (#BEL) #WorldCup pic.twitter.com/iLzORGpmcd

— FIFA World Cup (@FIFAWorldCup) July 15, 2018
adidas Golden Glove Award:

?Thibaut COURTOIS (#BEL) #WorldCup pic.twitter.com/S5xB7RBBdP

— FIFA World Cup (@FIFAWorldCup) July 15, 2018