The Best Memes From the 2018 FIFA World Cup: France vs. Croatia
The month-long tournament comes to a close.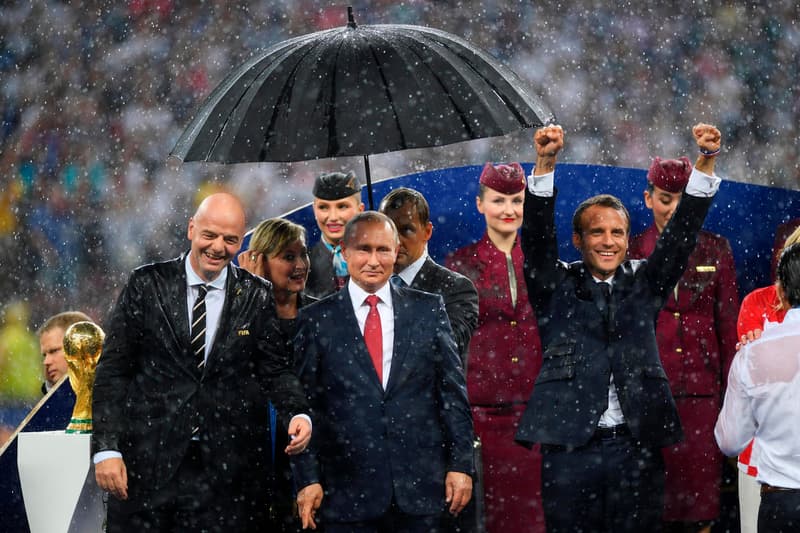 Over the past month, all eyes were glued to Russia as the nation played host to the biggest tournament in the Beautiful Game, the 2018 FIFA World Cup.
On Sunday night, the climax of the month-long tournament saw France defeat Croatia 4-2 in the Finals, making it one of the World Cup's most exciting fixtures to date; seeing everything from an own goal, a handball penalty, a goalie blunder, and 19-year-old Mbappé following in the footsteps of Pelé.
As the 2018 FIFA World Cup has officially come to an end, let's take a look back at the best memes the Finals had to offer. Also be sure to check out our Destined series featuring Dele Alli, Suárez, Chicharito, and Gabriel Jesus.
There's two kind of people in this world… the Putins and the old drenched combover kind of men #WorldCupFinal pic.twitter.com/nkC4gEF4L3

— Diego Carvalho (@Itsdiegocarv) July 15, 2018
Putin having his own Umbrella Guy while everyone else gets soaking wet in the rain is an absolute power move pic.twitter.com/KAoi8gXhUk

— Clemquon (@TheClemReport) July 15, 2018
Supporters in the upcoming #WorldCupFinal pic.twitter.com/Rh6oHOUWWP

— Bollywood Gandu (@BollywoodGandu) July 15, 2018
Tomorrow.#WorldCupFinal pic.twitter.com/b9aPy21rTs

— HNS | CFF (@HNS_CFF) July 14, 2018
Croatian President Kolinda Grabar-Kitarović Just Won People's Heart Yet Again. Standing In Rain Without Any Umbrella And Hugging The Players To Appreciate Their Game. ?? #Croatia #WorldCupFinal #CROFRA #FRACRO #FrancevsCroatia pic.twitter.com/Y312o7w7ZF

— Dr.Bharath chari???? (@chari6762) July 15, 2018
Sir how many umbrellas should we bring?

Putin: Just one. They didn't let us win. Let them soak! #FRACRO #WorldCup #WorldCupFinal pic.twitter.com/RM0Qzv1xW6

— The Writer Formerly Known As Elnathan (@elnathan_john) July 15, 2018
Putin is made of sugar pass it on #WorldCupFinal pic.twitter.com/rN0uclw2vt

— Luke Smith (@LukeSmithF1) July 15, 2018
It's coming Wakanda ?#WorldCupFinal pic.twitter.com/5FIoAuS1es

— Nabeel chaudhry (@Nabil_chaudry) July 15, 2018
#WorldCupFinal
France was like… pic.twitter.com/B8r0BdChSz

— Vee (@encycloVeedia) July 15, 2018
F stands for
Football
FIFA
Finals
France
Four#Worldcupfinal #FRACRO #FRA pic.twitter.com/xG1rLI4wYx

— Dr. Gill (@ikpsgill1) July 15, 2018
French Fans Now ???#WorldCupFinal pic.twitter.com/5BpVTaclut

— Enes Kanter (@Enes_Kanter) July 15, 2018
There's the most bravest woman in the world #WorldCupFinal pic.twitter.com/er9tiERl8m

— Roastbeef Johnny (@roastbeefjohnny) July 15, 2018
What a beautiful match it is.#WorldCupFinal #FRACRO pic.twitter.com/AL0ktxnmuG

— UVSSVH (@HassanEjaz986) July 15, 2018
The referee had decided that it wasn't a penalty, then he rechecked the VAR monitor and saw this #WorldCupFinal #FRACRO pic.twitter.com/5UaMQIxaot

— Howard Jeff (@howardjeff10) July 15, 2018
#FRACRO man of the match pic.twitter.com/9jygOwLSoL

— Raph (@RaphaQt) July 15, 2018
When you ask any Croatian fan about VAR:#WorldCupFinal pic.twitter.com/ZLE3Lodq9S

— Boring… (@graphicalcomic) July 15, 2018
When realize World Cup is done and you have to go back to playing your defensive position at Manchester United ??#WorldCupFinal #FRACRO #FRAKRO pic.twitter.com/1TzSwPOi9b

— dennisthemenace?? (@dennis_matovu) July 15, 2018
Handball. Penalty kick. Fortnite dance for the whole world to see. Griezmann is having himself a match pic.twitter.com/zM40nJGMK9

— Barstool Sports (@barstoolsports) July 15, 2018
mbappe pic.twitter.com/rGKydAOToZ

— Gifs (@giphz) July 10, 2018
This is Mbappe walking. pic.twitter.com/u1tOMN0OvN

— – (@AnfieldRd96) July 10, 2018
France fans right now: 'MBAPPE FOR PRESIDENT!'#FRA pic.twitter.com/2YWB4Xqcjc

— Eurosport UK (@Eurosport_UK) July 10, 2018
? Imagine being 19 years old…

? …and being in #WorldCup Final.

? Kylian Mbappe is living the dream. pic.twitter.com/JHjnaKexnt

— SPORF (@Sporf) July 10, 2018
Well done Croatia. Sorry England #EnglandvsCroatia #WorldCup2018 #England #werecominghome pic.twitter.com/TRWNIVvJFg

— Aki Anastasiou (@AkiAnastasiou) July 11, 2018
They're going home. pic.twitter.com/BfMp1C0ELN

— B/R Football (@brfootball) July 11, 2018
When #ENG said 'it's coming home' but now they're going home ✈️? pic.twitter.com/E2pyjuE4zc

— ShotOnGoal (@shotongoal247) July 11, 2018
Its coming home
It coming home
I coming home
Coming home
Oming home
Ming home
Ing home
Oing home
Going home
E going home
Re going home
Y're going home
Ey're going home
Hey're going home
They're going home

Safe flight #ENG pic.twitter.com/sGW9rP48za

— Ryan ???? (@Ryanpedro11) July 11, 2018
England: It's coming home ?

The rest of the world: They're going home ✈️

— Michael Saunders ?? (@Angelo_vo) July 11, 2018
they're going home, they're going home… England's going home!! pic.twitter.com/Wbx16ehuCM

— Ameen (@ameenharrdien) July 11, 2018
England is like an ex that persuaded you to have a drink with them to talk things through and argh god they're actually really lovely aren't they? So funny, and you always had so much in common, maybe you were wrong about them….WAIT, THEY HAVEN'T CHANGED AT ALL

— Jess Brammar (@jessbrammar) July 11, 2018
I think we all know who jinxed England pic.twitter.com/RK2jLjycw0

— Ryan Broderick (@broderick) July 11, 2018
When you lose in the World Cup, they send Trump to your country the next day to remind you that things could always be worse.

— Ken Jennings (@KenJennings) July 11, 2018
On the upside, Gareth Southgate is now free to be Prime Minister #ENGCRO

— Jeremy Vine (@theJeremyVine) July 11, 2018
Ivan Perisic helps kick England out of the #WorldCup pic.twitter.com/eOKvVqeZHX

— B/R Football (@brfootball) July 12, 2018
— Namita (@nnstats) July 11, 2018
Croatia this #WorldCup. #CRO⁠ ⁠ pic.twitter.com/7bXyXFEfq0

— Football Memes (@FootballMemesCo) July 12, 2018
?? #ENGCRO #WorldCup #ENG pic.twitter.com/n2rq9vUL9q

— Pakchikpak Raja Babu (@HaramiParindey) July 11, 2018
#ENGCRO pic.twitter.com/sJDbIm6XV4

— Znoon Suliman (@ZaelnoonS) July 11, 2018
Patiently waiting for kick-off… #ENGCRO

Just under two hours to go… ⏱️ pic.twitter.com/KXmtfNGzll

— Chelsea FC (@ChelseaFC) July 11, 2018
#ENGCRO dirty game play from Croatia Boooooooo ?? pic.twitter.com/DyLmeZ51Tg

— mandy austin (@mandygoxhill) July 11, 2018
Everyone seeing that Kyle Walker replay… #ENGCRO pic.twitter.com/yQGfm0x5Lm

— Match of the Day (@BBCMOTD) July 11, 2018
— discourse inferno (@trillotto) July 11, 2018
The cameraman trapped under Croatia's goal celebration is the most precious thing. He's so happy! (and he gets a smooch)#ENGvCRO #WorldCup pic.twitter.com/tuj46aB4NE

— Adam (@Ajas95) July 11, 2018
So this is what happened when that cameraman was mobbed by Croatia's celebrations… ?#ENGCRO #WorldCup pic.twitter.com/hndgyrdkiF

— Match of the Day (@BBCMOTD) July 11, 2018
#ENGvCRO mood: pic.twitter.com/U51jSvaXUv

— Jason Cole (@jrcoleTO) July 11, 2018
Thierry Henry right now… #FRABEL #WorldCup pic.twitter.com/j4uBgoDFPw

— Anthony Derbyshire (@antsd1970) July 10, 2018
?? ? Thierry Henry sneaking in to the french changing rooms at full-time…#FRABEL#FRA pic.twitter.com/RGzeTHVYwf

— The Sportsman (@TheSportsman) July 10, 2018
Thierry Henry is an assistant coach for Belgium… Hess how he feels about France winning 1-0 over Belgium to go the World Cup final pic.twitter.com/kGJ12yozGk

— Stri:(a (@StrikaNation24_) July 10, 2018
Thierry Henry on the Belgium bench rn pic.twitter.com/2suJEGe6IR

— Bruh Report (@BruhReport) July 10, 2018
#Mbappe making sure #Football fans don't miss #Neymar too much today. What a pity #FRABEL pic.twitter.com/iFXdz4Yikt

— Zephyr (@Crypto_Zephyr) July 10, 2018
⚽️ Come on boys! Make us proud! ?????????? #fusionlifestyle #southend #ENGSWE pic.twitter.com/nwfxEQCtzF

— Southend Leisure (@Southend_Centre) July 7, 2018
Just hold on, it's coming home ???????? pic.twitter.com/7Jx3R8aocP

— george c (@ColeG_) June 29, 2018
Harry Kane holds the key to disassemble the Swedish defence #r4today #ENGSWE pic.twitter.com/7UOvuuvzMH

— Bob Hawkins (@salvatorRosa) July 7, 2018
New range arriving in England soon ? #SWEENG kicks off at 3pm! #ItsComingHome #GotGotNeed ??????? ?? pic.twitter.com/mQULFycJV3

— Panini UK & Ireland (@OfficialPanini) July 7, 2018
HARRY ON HIS WAY TO STEAL YOUR GOALS #ENGSWE pic.twitter.com/boVkOuVZhG

— BBC Three (@bbcthree) July 7, 2018
When Belgium play France ? pic.twitter.com/1OPpyDEs38

— B/R Football (@brfootball) July 6, 2018
Uruguay without Cavani…#URUFRA pic.twitter.com/UnhOfmF0Ji

— keval (@KevalThakkar9) July 6, 2018
Mbappe: Bro, how do you keep winning so many free kicks?

Neymar: Keep rolling until they notice you.

Mbappe: pic.twitter.com/dPME54Nk2F

— Troll Football (@TrollFootball) July 6, 2018
Nothing can go past Hugo Lloris, be it ball or dragonfly.
Man, is the real life, ben 10.#URUFRA #WorldCup#WorldCup18 #France pic.twitter.com/DaU9gPOYHn

— WWE (@WWE_NEWS_NBC) July 6, 2018
The drama queen ? ?? #BRABEL pic.twitter.com/Y1QVKueWQg

— Praize_Kcee? (@Praize_cassey) July 6, 2018
Neymar, Messi & Ronaldo at the start of the World Cup vs at the end of the World Cup #BRABEL #BELBRA pic.twitter.com/1OHgNaSbkg

— Roar Of The Kop (@_RoarOfTheKop_) July 6, 2018
Neymar on his way to the airport #BRABEL pic.twitter.com/BmZxebB1d8

— Simon Smith (@simonfromharlow) July 6, 2018
Putin: Buy the Whole Country Croatia before penalty shootouts.#RUSCRO #FifaWorldCup2018 pic.twitter.com/YMOKEQgluk

— Shekkhar Dalmmia (@ShekkharDalmmia) July 7, 2018
#RUSCRO When you realise you wasted all that bribe money? pic.twitter.com/HL7R7lKk09

— Carsontuwei?? (@carsontuwei) July 7, 2018
To the "don't mix football with politics" crowd: the second Russian equaliser against Croatia was scored by a Brazilian who was only cleared to play for the national team when Putin personally intervened #CRORUS

— Matthew Garrahan (@MattGarrahan) July 7, 2018
Subasic carrying on after pulling a muscle ? pic.twitter.com/1K8DHlbSBI

— ShotOnGoal (@shotongoal247) July 7, 2018
Russian PM Dmitry Medvedev (right) is not amused by the celebration by Croatian president Kolinda Grabar-Kitarović (left in red & white) #RUS #CRO #WorldCup pic.twitter.com/gn0K1FX6Sd

— Marcus Gilmer (@marcusgilmer) July 7, 2018
IKEA has already signed up Jordan Pickford.#eng #swe #ENGSWE #WorldCup pic.twitter.com/OHuJ5osT47

— Pog (@ThisIsPog) July 7, 2018
Let us pray #ENGSWE #SWEENG pic.twitter.com/irYCc3iUr0

— James Burke (@Shaburke) July 7, 2018
#URUFRA Mbappe out here challenging Neymar for the World Cup Oscar

— Grace? ??????????? (@grace_is_kawaii) July 6, 2018
Neymar: "just walk past him then go down as if he's hit you"

Mbappe: "but there'd be no contact"

Neymar: "exactly"

#URUFRA pic.twitter.com/3QFCebPrVU

— Jack (@JackBryantt) July 6, 2018
Neymar to mbappe : proud of you brother.. You doing great. #WorldCup #URUFRA pic.twitter.com/E8RnRF3Hkr

— Abhay (@Woh_ladka) July 6, 2018
#URUFRA 2nd goal ??? France? Uruguay fans pic.twitter.com/sd7uUYa21Z

— Avaansh  (@DesiDimag) July 6, 2018
The next time Neymar plays… pic.twitter.com/JYWMbZo5GC

— World Cup (@EPLBible) July 2, 2018
? SPOTTED: Neymar is still rolling from his "injury" before!

He wants that Mexican yellow card bad…#WorldCup pic.twitter.com/NCZHlDDMnD

— The Sportsman (@TheSportsman) July 2, 2018
Neymar was incredible last night pic.twitter.com/gXcPnobaAV

— Jeremy Vine (@theJeremyVine) July 3, 2018
The judges agree, Neymar's diving has been a disgrace… #WorldCup pic.twitter.com/wJy0wGkpVM

— Sportsbet.com.au (@sportsbetcomau) July 3, 2018
On a level of 1 to 8 what level Neymar do i feel like? 6 #WorldCup pic.twitter.com/BCXCiEe32u

— Rodriguez ???? (@RRWWE) July 2, 2018
Neymar family reunion.#WorldCup pic.twitter.com/hDClQkpmEi

— El Ídolo (@rawflows) July 3, 2018
Neymar was incredible last night pic.twitter.com/gXcPnobaAV

— Jeremy Vine (@theJeremyVine) July 3, 2018
When someone touches Neymar.. #BRAMEX pic.twitter.com/BrUcXPrUUi

— عمر زمان (@Omar_zmn) July 2, 2018
? Lost 3-2 in the 90th minute to Belgium.

? Cleaned the dressing room, left the floor spotless….

??….and left a "Thank You" note in Russian.

? Pure class from Japan. ?? pic.twitter.com/SAyppZ5jwW

— SPORF (@Sporf) July 3, 2018
Spain are OUT of the World Cup ? pic.twitter.com/IM2TfDs96C

— B/R Football (@brfootball) July 1, 2018
How to dance like Shakira #ESPRUS pic.twitter.com/rlu1JPMimO

— J? (@_JNews_) July 1, 2018
"You can release De Gea's family now. He kept his word." pic.twitter.com/4ig9xzMtoL

— Witty Footy (@Witty_Footy) July 1, 2018
Pique defending a corner kick #ESPRUS pic.twitter.com/BzMLv6Ocgw

— $ (@neondrugs) July 1, 2018
Spain's striker waiting for someone to make a forward pass. #WorldCup pic.twitter.com/vgA8OGXIHu

— Historical Sport (@HistorySport_) July 1, 2018
HANDS UP IF YOU THINK FOOTBALL'S COMING HOME pic.twitter.com/8CkZLsD5ip

— Jonny Sharples (@JonnyGabriel) July 1, 2018
Michy Batshuayi goal celebration: off the post, off the face ??? pic.twitter.com/Rv3uh6STKo

— Ryan Rosenblatt (@RyanRosenblatt) June 28, 2018
Great goal from Januzaj – but Batshuayi has just immortalised himself in the form of internet memes. pic.twitter.com/JXar2T5hFy

— Richard Conway (@richard_conway) June 28, 2018
Every England fan ? #ENGCOL pic.twitter.com/vdhKawridR

— World Cup Goals (@A1Futbol) July 3, 2018
taxi pls mate
yeah it's for football
home
ta#ENGCOL pic.twitter.com/8lNKWn30fd

— Kierran Fletcher? (@KIERRANNN) July 3, 2018
The hand of a new God… pic.twitter.com/vwuSCHAFmG

— Chris Moyles (@ChrisMoyles) July 3, 2018
— ryan (@VintageLanzini) July 3, 2018
Messi and Ronaldo at the airport tomorrow #URUPOR pic.twitter.com/xhNfc3JiHK

— Dexter?⏺ (@da_illusion007) June 30, 2018
Yeap.
Both will meet at the Airport.#URUPOR pic.twitter.com/VxL551hz65

— HB-PAK (@HeartBeatPak) June 30, 2018
Ronaldo spent 4 more hours in Russia after Messi left. That's all he needs for Balon D'or #URUPOR pic.twitter.com/WsBarg2GW6

— King of the Beardless (@Danlerd) June 30, 2018
Ronaldo is so jealous he wants to do whatever Messi does

Messi Went Home , Ronaldo Is Also Going Home Now. #URUPOR pic.twitter.com/Rn2FzkSO7e

— Awodwa Rigala (@a4wodwa_sa) June 30, 2018
Mbappe was 10 times better than Messi pic.twitter.com/sXjXuEESm5

— Thabo Moyane (@OfficiallyThabo) June 30, 2018
CR7: how many goals will you score against Messi?

Mbappe: pic.twitter.com/r5BAr6StgH

— Uiisira (@uiisira) June 30, 2018
Messi Twitter if Mbappe was Leo. pic.twitter.com/ZYKgaKV7Pd

— M•A•J¹³ (@Ultra_Suristic) June 30, 2018
— Elliot?? (@Zurrbs) June 24, 2018
Maradona is the best. pic.twitter.com/bFgTOUW33l

— Jimmy Conrad (@JimmyConrad) June 26, 2018
WAKANDA FOR EVER ??‍♂️??⚽️

#maradona #VamosArgentina #ArgentinaVsNigeria #WorldCup #MundialRusia2018 #Russia2018 #messi #argentina pic.twitter.com/qKvSWMo7zD

— Josh Juanico (@JoshJuanico) June 27, 2018
Maradona is confirmed from WAKANDA! pic.twitter.com/ErNReHCa9A

— SGAG (@SGAG_SG) June 27, 2018
Find someone who holds you in situations like the guy is holding Maradona.. pic.twitter.com/FnuDNvMzsD

— Helmet Man (@Ixhtiyaque) June 27, 2018
#Maradona
Is this the real life?? pic.twitter.com/BFEFYPmu2s

— Ju C. (@lunazul90) June 27, 2018
yeah england won and all but this bloke managing to hold two pints in one hand and a flag in the other has all the talent #ENGPAN pic.twitter.com/QmjEkO5Cpg

— chlo (@ChloeStreet_) June 24, 2018
Ronaldo on hearing he's no longer the top goal scorer
#ENGPAN pic.twitter.com/DNgR04Yq87

— lakhan (@lakhan809470) June 24, 2018
Panama are a *little* bit physical#WorldCup pic.twitter.com/ugzVDLujNZ

— Indy Football (@IndyFootball) June 24, 2018
TONI KROOS HAS THE CLUTCH GENE pic.twitter.com/YDO2nNQty7

— FOX Soccer (@FOXSoccer) June 23, 2018
mfw Kroos shot that beautiful goal and redeemed himself pic.twitter.com/m9Qf1sCb0O

— Merm — Nastassja. ???‍♀️ (@mermaidere) June 23, 2018
#kroos just scored one of the most amazing goals I've ever seen pic.twitter.com/55KXG7kZ4r

— Dr SID (@IamDrSID) June 23, 2018
a summary of the croatia argentina match yesterday #ARGCRO #meme #EUMemeOfTheDay pic.twitter.com/mCf4n8im0a

— English For Everyone (@euradioenglish) June 22, 2018
Dirk Nowitzki, speaking for every Germany fan. pic.twitter.com/GdA8Yt0Bxm

— SportsCenter (@SportsCenter) June 27, 2018
Putting money on Germany, easy win… pic.twitter.com/ZbtIZG44DJ

— Alexander Morse (@Morsebro15) June 27, 2018
The Senegal warm-up is even better with Ducktales music. pic.twitter.com/4VvyxeyOC4

— Kristian (@vonstrenginho) June 25, 2018
Pepe gonna Pepe… #PORMAR #bbcworldcup #worldcup pic.twitter.com/QiSCGF0wMn

— Match of the Day (@BBCMOTD) June 20, 2018
This is the only wall Mexico is paying for. #Ochoa #GerMex pic.twitter.com/Yjx3syaYW0

— Danny Ramirez (@dannyramirez) June 17, 2018
EVERY MEXICAN AFTER SEEING MEXICO WIN GERMANY !! pic.twitter.com/7Wq4kBvQJ4

— #999 (@Whos_Miguel) June 17, 2018
Gary Lineker: Football is a simple game. 22 men chase a ball around for 90 minutes and at the end, the Germans win.
Mexico: Hold my Tequila. pic.twitter.com/seIaVzXGlW

— Soccer Memes (@SoccerMemes) June 17, 2018
Russia won. Iran won. Saudi lost. Poland lost. USA didn't qualify. This World Cup is literally Putin's dream come true. LMFAOOOOOOOO. ??????????

— fatimah?? (@fatimahhh17) June 19, 2018
Overly Enthusiastic Cristiano Ronaldo Accidentally Rips Off Upper-Body Skin After Scoring Goal https://t.co/B54qbNNY4i pic.twitter.com/Tn1B77by5V

— The Onion (@TheOnion) June 20, 2018
Senegal's Aliou Cissé with one of the great World Cup coaching celebrations. You may meme this if you would like, internets. pic.twitter.com/zVkaWiotky

— Miriti Murungi (@NutmegRadio) June 19, 2018
Aliou Cissé is me when the DJ finally plays my song and then switches to the remix before the first verse even finishes. pic.twitter.com/FMoPHmlvxL

— Miriti Murungi (@NutmegRadio) June 19, 2018
This game is basically all the Swiss players running everywhere with Neymar pic.twitter.com/9dzwtd3MDG

— Jeremy Vine (@theJeremyVine) June 17, 2018
Neymar for you! pic.twitter.com/hQBsW6TzPE

— Limale Danny Mainest?? (@limale_danny) June 18, 2018
Neymar diving be like ? pic.twitter.com/aFSMweoAQ6

— ?? (@theesmaarkhan) June 18, 2018
Japanese fans clean up stadium after their win vs Colombia…#Russia2018 #Inspiring #Japan #football #WorldCup #mademesmile #learnfromjapan #inspiration #JPNCOL #JPN #Fans pic.twitter.com/qil7RHmU5v

— Aulty (@aulty) June 19, 2018
Eu tô passando mal de rir. HAHAHAHAHAHAHAHAHAHAHHAHAHAHHAHAHAHHAHHAHAHAHAHAHAHHAHAHAHAHAHAHAHAHAHAHAHAHAHHAHAHAHAHAHAHA pic.twitter.com/Dr23h6wmve

— ??Marquinho Pistola ?? (@MARCOPENA13) June 18, 2018
How the world is looking at Egypt right now ?? #WorldCup #RUSEGY pic.twitter.com/KantjHqwQX

— 9GAG Football ⚽ (@9GAGFootball) June 19, 2018
The VAR is ready and waiting for the game #RUSEGY pic.twitter.com/AjVo3yuZku

— Mike Jobson (@mikejobson) June 19, 2018
LOOK: Mosquitos invade pitch at England-Tunisia game https://t.co/WCVG0GUqGC pic.twitter.com/gMAJj1KTlP

— TSD Soccer (@TSD_Soccer) June 18, 2018
Rare picture of Messi posing with Ronaldo #PORESP #WorldCup pic.twitter.com/NSqGwhsyeS

— 9GAG Football ⚽ (@9GAGFootball) June 15, 2018
Dear Ronaldo,
How did you go about scoring an Hatrick against world class defenders last night?

Yours Faithfully,
Lionel Messi.#ARGISL #ARG #Iceland #WorldCup pic.twitter.com/Rxi7LkH36C

— Newcity(®)phenomenon (@newcityrel) June 16, 2018
chega, agora a FIFA foi longe demais!! pic.twitter.com/Aj56ezUPsC

— Leonardo (@LeonardinoSPFC) June 17, 2018
incredibly good. absolutely demolishing a hypebeast icon in the naiive spirit of joy and respect. i live for this https://t.co/qlF6iuaOai

— ཊལབསརངཧ (@David_Rudnick) June 16, 2018
"You two have anything to do with this?" pic.twitter.com/hKXXVv0pmr

— Brian Floyd (@BrianMFloyd) June 14, 2018
And the World Cup Fever is TRULLY ALIVE… pic.twitter.com/BIjlBLYI0o

— Hon. Otiende Amollo (@OAmollo) June 13, 2018
There are a few things that bug me about @11Freunde_de's World Cup special issue. But you've got to hand it to them, their meme game is strong pic.twitter.com/LeUUrV5zfI

— Katrin Scheib (@kscheib) June 6, 2018