Watch Highlights From Ariana Grande's One Love Manchester Concert
With appearances from Justin Bieber, Katy Perry and Miley Cyrus.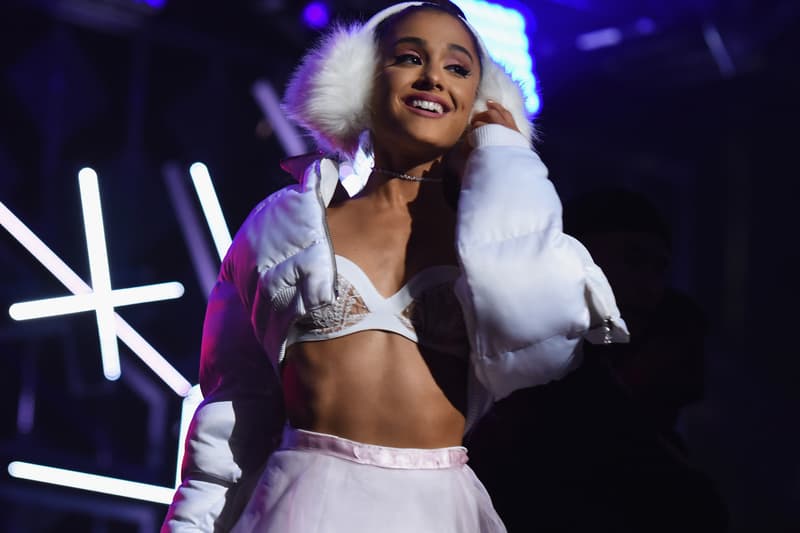 After the tragic bombing at Ariana Grande's Manchester concert on May 22, the pop superstar called upon the biggest names in music to come together to help raise money for those impacted. Today, the One Love Manchester benefit concert was held inside Manchester United's home stadium Old Trafford, and thousands gathered to watch some of their favorite artists come together for a good cause. Streamed live on Twitter, the concert was a moving display of musical talent that started off with Marcus Mumford's performance of "Timshel."

After Mumford's performance, Manchester locals Take That took to the stage, where they performed two songs, "Let it Shine" and "Giants."

Up next was English pop icon Robbie Williams, who was overcome with emotion during his performance of "Angels" in front of the estimated crowd of 50,000 people.

Manchester we're strong #OneLoveManchester pic.twitter.com/PlD0im5CdL

— Robbie Williams (@robbiewilliams) June 4, 2017

Miley Cyrus made three on-stage appearances at the concert, performing once with Pharrell for "Happy," a solo performance of the song "Inspired," and a rendition of "Don't Dream It's Over" with Grande.



Other notable performances from the One Love Manchester concert include Justin Bieber's performance of "Cold Water" and Katy Perry's performance of "Roar."


When Grande took to the stage, she performed a handful of songs, including one of her earlier tracks "The Way" with Mac Miller and "Where is the Love" with the Black Eyed Peas.


Towards the end of the show, Grande performed her own rendition of "Somewhere Over the Rainbow" before bringing out every performer of the night for the grand finale of "One Last Time."


All of the proceeds from the One Love Manchester benefit concert are being donated to the British Red Cross, and early reports are estimating that £7 million GBP ($9 million USD) is the accumulated total so far. On top of ticket sales, companies sponsoring the event have been matching all online donations. "We expect to raise another one and half million pounds from ticket sales tonight and then further funding from the TV rights and merchandising," told chief executive of the British Red Cross Mike Adamson to the Associated Press. "So, we're really looking to appeal that's going to move towards £10 million GBP"
We'll be matching all fares to & from #OneLoveManchester & donating to @BritishRedCross #ManchesterEmergencyFund https://t.co/ajYqmBAjxY pic.twitter.com/dccMspDJAi

— Uber UK (@UberUK) June 4, 2017

To see every performance in full, head over to the BBC Music YouTube channel and visit the Red Cross UK website to make a donation.