Frenzy Friday Feature: Rochambeau; Using Garments as a Collaborative Canvas
Learn how the brand develops collections with artists like Aaron Curry.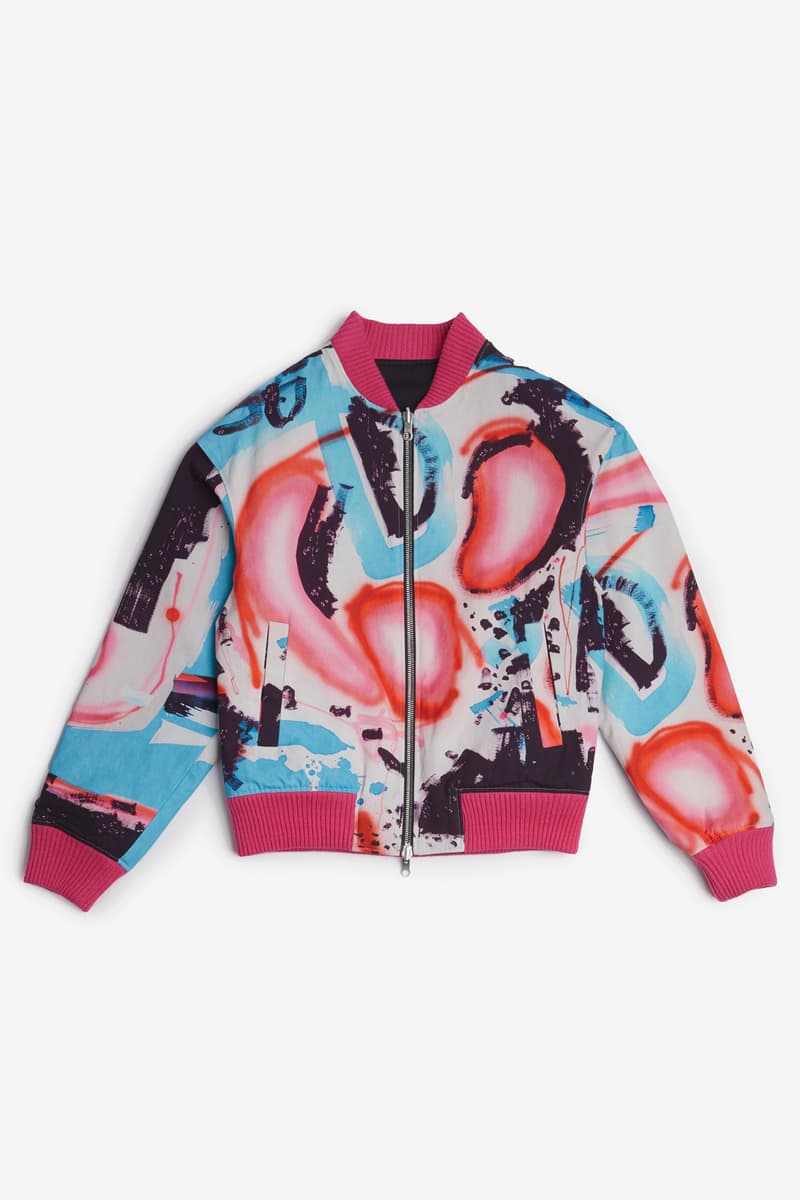 1 of 3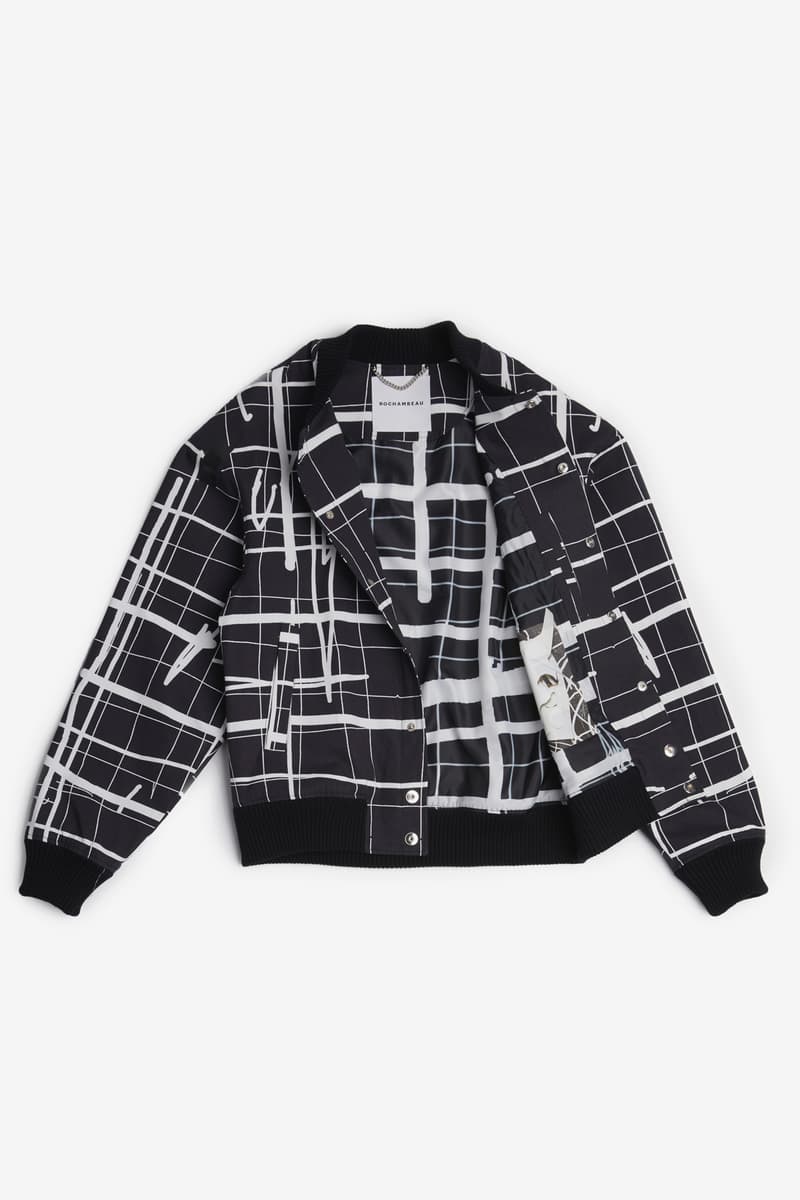 2 of 3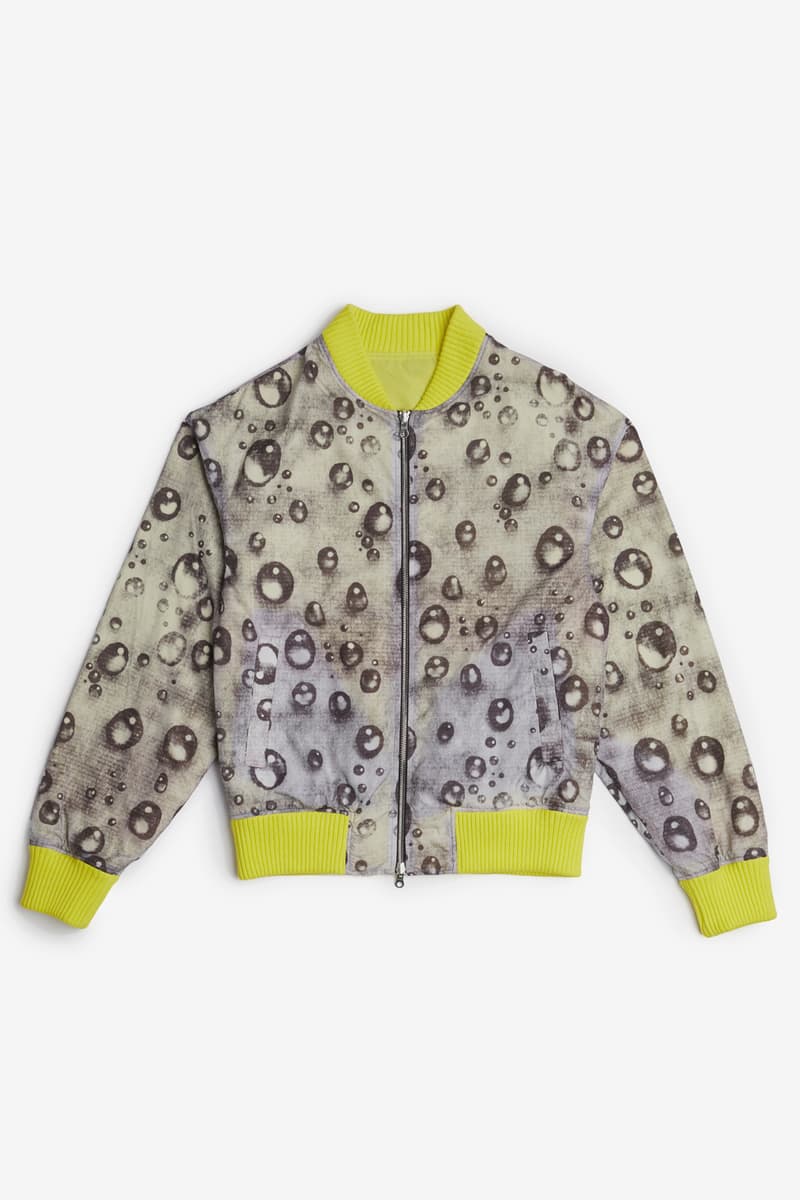 3 of 3
For the latest Frenzy Friday Feature, Rochambeau makes its foray onto Shopify's Frenzy app for an exclusive drop. Once wanting to have their brand available in department stores, the duo, Laurence Chandler and Josh Cooper, shifted their focus to using their garments to tell stories. Since then, the imprint has been collaborating with artists for capsule collections as a medium to express and expand its work– most recently with Aaron Curry. HYPBEAST caught up with the label to explore this coalescence of art and fashion and to see what is in store for the future of the New York-based label.
What led you to fashion?
In the early 2000s in NYC, the way you made a name for yourself and friends was to start a brand. We were all hanging around our boy Vinny Ponte's skate shop, Rival, and watching a scene develop with brands like King Stampede, Mighty Healthy, Mishka and aNYthing, and we wanted to have a part in that.
Going to Magic in '06-'07 was a realization that there was a business behind these brands, but also we were always being inspired by what we were seeing overseas with high fashion. We felt like the real shit was happening there, but we were rooted in NYC and basically learning how to make a hoodie.
Around '08-'09 the world blows up and all of the small brands and stores were put out of business almost overnight. It was a sign to us that if our brand was going to be real, then it needs to be a full collection like what we were seeing in Paris and Milan. As naive as that was at the time, we decided to launch Rochambeau going into 2011.
We got some great early stage opportunities and support, from people like Jenne Lombardo who was running the MADE program, and from there we put on some crazy early stage fashion shows/presentations. The brand grew by tapping our networks of artists, designers and creatives to develop each season, which then evolved into having ongoing dialogues with more recognized contemporary artists. The things that we were inspired by and looked up to are now what defines the fashion industry at large. It's been dope to see this evolution over the last decade.
Tell us what goes on in your mind when designing.
Telling a story with the brand has always been important to us. There is nothing better than someone digging into a graphic or a reference included in the collection and having it lead to the world of an artist that we worked with. As the brand has grown, we've started to go outside our network of friends and approach major artists we are inspired by, and it's validating when they are open to working with us.
For example, for our Fall/Winter 2017 collection, we were looking at the NYC punk scene but we wanted to approach it in a way that hadn't really been done before. So we wanted to see who were the artists that were inspiring that scene at the time, and it kept coming back to DEVO and the work of Mark Mothersbaugh.
We reached out to a friend who was the curator at the MCA in Denver and he connected us to Mark — we immediately hit it off. This led to the development of a full collection culminating in a runway show that recreated one of DEVO's iconic performances in the 1980s. Mark was largely known for his work with music — DEVO, creating the music for Pee Wee Herman, the Rugrats and all of Wes Anderson's films — but we tapped into his graphic work. So if you got a piece from that collection and looked into the visuals, you were introduced into Mark's vast works as a visual artist.
When someone reaches out and says that they didn't know that element of Mark's work until they saw the collection, that is always a major goal for us. There's never a random graphic or detail, it all plays into telling a bigger story that is at the forefront of the design process.
The brand is undeniably tied to the culture of New York, how do you interwork the city's essence within the garments?
It sounds cliche, but the energy of NYC is what fuels the brand. No matter where we travel, coming back into NYC creates the mentality that we use to drive the brand. Every day is a mix of ideas and executions, and it still feels like NYC is the only place where it can happen to this degree.
We also were part of a partnership with the City of NYC, called the Fashion Production Fund, which, at an early stage, allowed us to produce our collections here. This led to creating relationships with factories here that would not have been easy to find without it.
Right now, we are building the Spring/Summer 2019 collection. We have been driving out to Yves Scherer's massive studio in Yonkers and working on concepts at night with him, drinking green tea and eating carrots, then in the morning, putting those ideas to life. Also, we're sourcing new fabric references and trims in the garment district, producing samples in LIC and coming back to our studio to update moodboards and direction. The entire concept to design to production is down within a 30 block radius.
How do you decide what artists you will work with for your collaborations?
We are constantly going to gallery shows and openings, doing artist studio visits, finding hidden shows and looking into what an artist's work is referencing or inspired by. In a way, our collections have more to do with the art world than even the traditional fashion world.
It's a constant and evolving conversation based on what is feeling most relevant at the moment of design, and it's not even about following the traditional fashion calendar anymore. At any given moment we could be working on our main season collection, and a series of collabs and exclusives with younger artists. It's basically wanting to work with artists and finding a unique way to do it. We never just take an artist's work and print it on a garment — it's a fully collaborative process.
We had the opportunity to be part of MADE LA last summer and had wanted to work with Yung Jake. Together, we created a collection inspired by one of his upcoming shows and produced a collection referencing '90s trends mixed with digital references — think tribal wires with USB cords. It was really out there, but it worked. We brought it back to NYC for a huge event and had performers, like SmokePurpp and Smooky Margielaa, perform in a huge digital installation.
Speaking more towards these collabs, how do you sustain the brand's identity as the label intertwines its aesthetics with an artist's style, such as with Aaron Curry?
Whenever we collaborate with an artist, it's about finding out how the artist wants to work together. With Mark Mothersbaugh, we dug into his archives for references, with Yung Jake we created something completely new, with Aaron Curry we referenced an epic gallery show and with Yves Scherer, we are creating a collection based on the idea of clothing that cool dads would wear.
It's important to be open to the artist and their concepts. The clothing is almost like a medium to express and expand their work. This keeps new drops feeling refreshed and moving forward. What we create is not concerned with a trend, but instead is based on a conversation between the artist and the brand. We also accept that fact that this means that some collections are not going to be for everyone. In a world overrun with trends, we're just fine with that.
1 of 2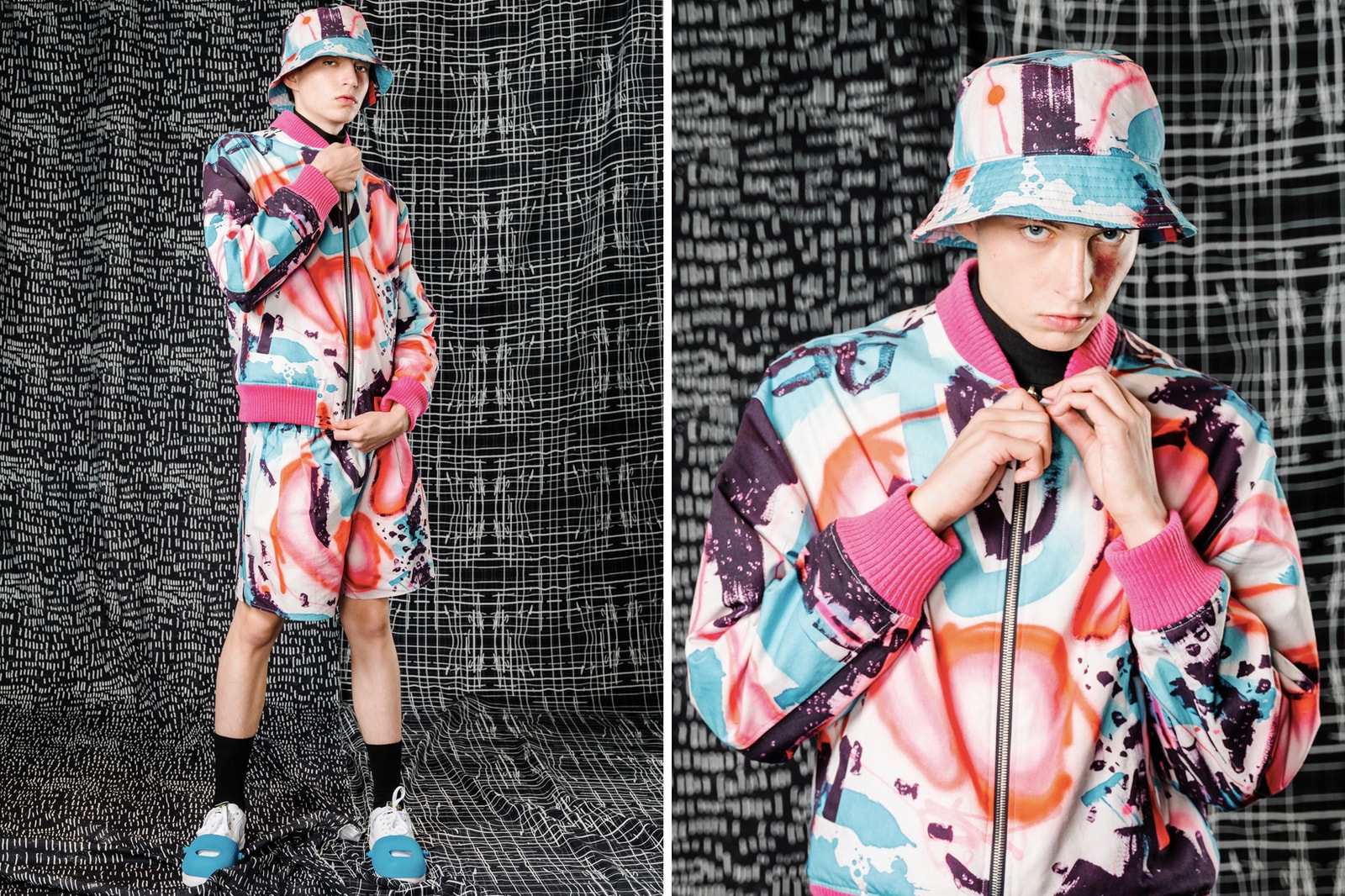 2 of 2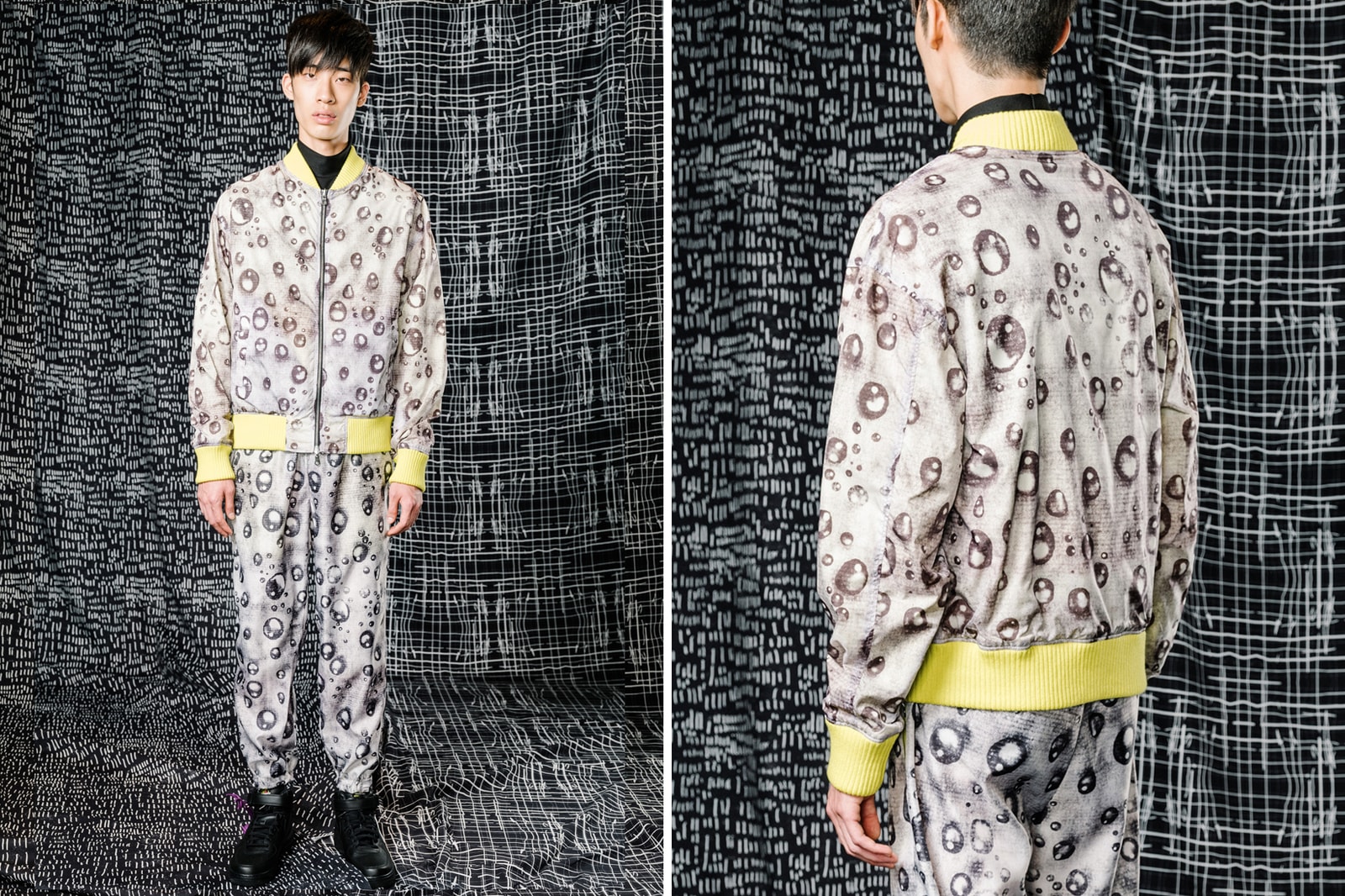 As the imprint has never been one to follow trends of the industry, how are the fads of the time considered when designing?
When we first launched, our goal was to be in department stores. We wanted to do fashion shows, you know, follow the path. But since then, we've gained a real confidence in what we've produced and where the brand should live. Things have changed, and it's the boutiques we're in that are open to supporting our vision, whether that's with build-outs or programs to launch the collection.
We might be in Hong Kong Basel for an exclusive program for Lane Crawford creating a customization setup at The Webster, or an in-store activation with Club 21 in Singapore. This means our collections are not driven by fads or trends, we are more concerned about executing our ideas in ways that feel authentic.
What would you consider as the highlights for your current collection?
Working with Aaron Curry has unquestionably been the highlight, as his work is prolific. I remember the first time meeting him after his "Melt to Earth" show in Lincoln Center. It was bigger than life. To reach out to Aaron about the idea of working together and then having the chance to be in the studio building out pieces of the collection and collaging appliqués together in the studio — mimicking how he creates his actual collage works — was next level.
With your expectant release on the Frenzy app, what can people come to anticipate?
The exclusive bombers that we designed with Aaron Curry for our Frenzy drop reference the work from Aaron's show "Two Sheets Thick" at David Kordansky. It was really important for us to take direct reference from the visuals in that showcase as a framework for clothing. These are literally pieces morphed from his works — you're basically wearing elements of his paintings.
Frenzy is an opportunity for people to have access to Aaron's work in a way not previously possible unless you had the money involved in purchasing one of his works.
What are your thoughts on streetwear today?
It's been wild to see it progress into where it is today. There is an interesting article called The Death of Subculture by Aaron Rose. It talks about how back in the day you had to really work to be part of a particular subculture and really seek it out, and it was only a small amount of like-minded people participating and now that's gone. The internet has made every niche area of culture instantaneously accessible for reference.
That is why Rochambeau is creating pieces that explore the art world, and it's not for everyone. Each season may connect with some people and not others. But that goes back to the original inspiration that leads to the creation of the label — wanting to have something that no one else had. Telling a story.
Any future collaborations?
Our Fall/Winter 2018  is made in collaboration with Yves Scherer, an amazing Swiss sculpture and painter. Much of Yves' work references celebrity culture. There's a bit of an obsession with Emma Watson and we have found cool ways to build that into a wild collection. We are planning to debut it in September during NYFW in NYC.
For more information on Rochambeau, head over to its website, and download the Frenzy app to shop the brand's latest drop here.