Nike & UNDEFEATED's "The Fives" Collection Receives Backlash for New Logo Design
Boosted from the U.S. Naval Academy?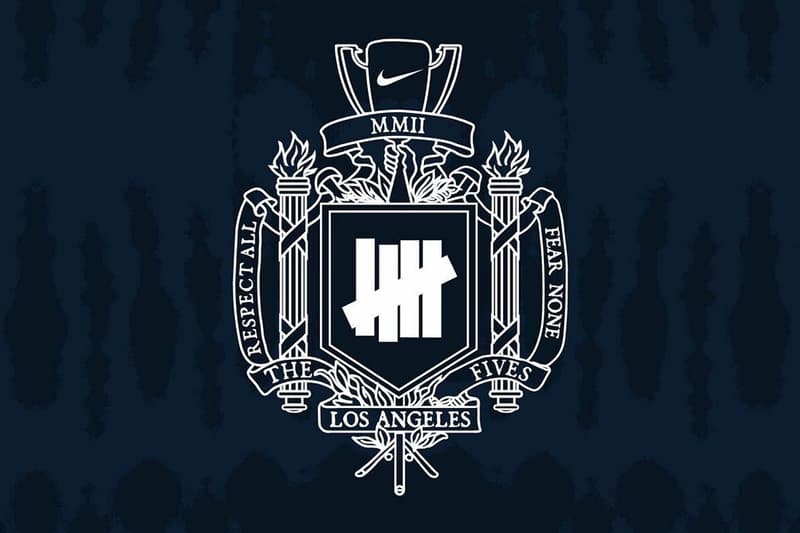 Earlier this week, UNDEFEATED unveiled its latest project with Nike titled "The Fives," paying homage to this year's FIFA World Cup tournament. And now, in a perplexing turn of events, both imprints are facing social media backlash for use of a logo that bears an uncanny resemblance to that of the U.S. Naval Academy's coat of arms.
A study of both symbols goes on to reveal some striking similarities. The collaborative streetwear logo features UNDEFEATED's signature five-strike insignia on a mid-positioned shield and comes surrounded by marked banners highlighting such phrases as "Respect All" and "Fear None" with a Nike-branded trophy sitting on top. The Naval Academy's design, on the other hand, also spotlights a center shield, neighboring banners and a trident symbol perched above.
According to the Capital Gazette, Naval Academy representative Jenny Erickson stated:
"Our legal department is looking into this and we don't have any additional info at this time, but we certainly noticed the similarities, too."
"The Fives" sportswear collection is scheduled to make its debut on June 16, with no word yet on if the launch has been postponed in light of the recent events. In the meantime, peep the images below and compare for yourselves.
In other collaborative style news, Anti Social Social Club teams up with Rotiform on a mini-rim and hoodie capsule.
Nike x UNDEFEATED Present "The Fives" – 6.16.18 pic.twitter.com/DCHyW4ufOI

— UNDEFEATED (@UNDEFEATEDinc) June 11, 2018
Hmmmm that looks awfully familiar….who stole the logo, UNDFTD or Nike? pic.twitter.com/xHS020zei8

— At (@Diesel_Kicks) June 13, 2018
I hope you didnt pay much for this logo. Its been around a while. Since the late 1800's. Lots of men and women have died so you can infringe a trademark and be stupid. And by the way Navy's clothing of choice is Under Armour. pic.twitter.com/jU32d6iyiB

— WHEN DID I EAT THAT? (@whendidieatthat) June 13, 2018