Allan Kingdom Debuts 'Peanut Butter Prince' & Breaks Down the EP
Introducing the first release on Anthony Kilhoffer's 1st Gen label.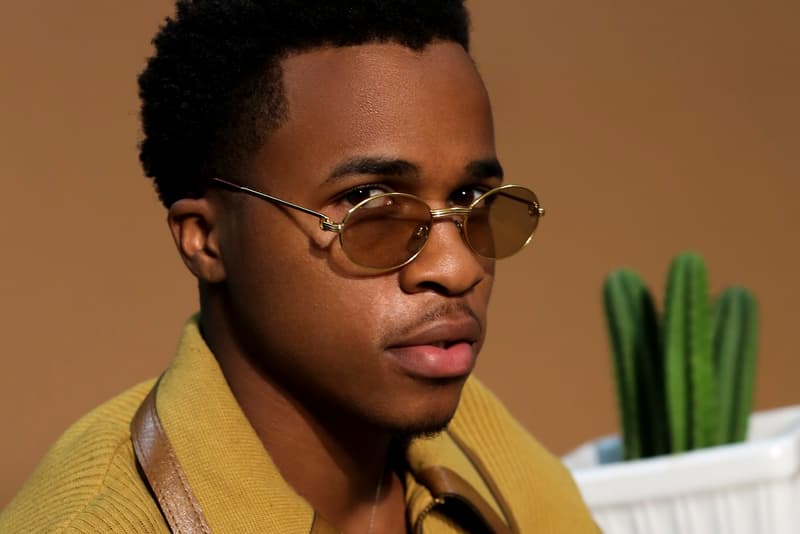 At the age of 24, Allan Kingdom is already a veteran of his craft. Now, having evolved far beyond the sonic confines of his collaborative work with Thestand4rd and Kanye West and his criminally-slept-on 2016 full-length Northern Lights, the Midwest-reared jack of all trades looks to reconcile the classic sounds of past eras with today's musical landscape. Taking his inspirational cues from the iconic figures that shaped funk, soul and R&B, Allan Kingdom delivers up a new project titled Peanut Butter Prince.
Made up of six new tracks, Peanut Butter Prince is being released as the first project from legendary producer, songwriter and studio wizard Anthony Kilhoffer's (Kanye West, Kid Cudi, Jay-Z) new 1st Gen label. A joint venture between the aforementioned outfit and Allan Kingdom's own Yebo Inc. imprint, the EP is also being distributed via Stem. Notably, Kilhoffer assumed the role of executive producer on the effort, ensuring a high standard of production and an exceptional, cinematic sound.
Peanut Butter Prince marks a noteworthy turn in direction from Allan Kingdom, who adopts a more pop-tinged, balanced style for the EP. Specifically, the themes of the project deal with love, life, lust and everything in-between; Peanut Butter Prince is Allan Kingdom's six-part breakdown of what it means to be young and on the move. The release also features its creator's own brief interpretation of Bootsy Collins' timeless 1976 masterpiece "I'd Rather Be With You," which is always welcome. To learn about the effort and the creative processes behind it, we linked up with its creator to discuss his influences, current plans and more.
When did you start putting this EP together?
Basically, Kilhoffer just hit me up on Twitter to work. We got together, and the first time we met up, he just asked me what my vision was. I just explained to him exactly what I wanted to do with the EP — the exact sound I was going for, the imagery and everything. Then, we started working and that was it. After we started working together, it was easy.
What was that vision?
I just wanted something everyone could relate to, but at the same time felt empowering I feel like a lot of stuff now is exaggerated: it's either too soft or too hard. And, just soulful; I've just been told I have an old soul, so I wanted something soulful that would hit home … not too soft or too hard, just right in the spot.
I was kind of getting bored with what's going on now. I'll listen to what's going on now, and when I get tired of it, I'll just go in the past and find something new. Bobby Womack, Issac Hayes, and all those types of artists. I remember just hearing some of those songs that I used to hear growing up, and listening to them again just brought back memories of being a child.
When I listened to the project a couple times, I heard an older soul and pop influence, but it's eclectic and accessible.
I feel that. I just wanted to mix it with what I was already doing. I just wanted to use that vibe that a lot of people aren't tapping into right now, and I feel like it's missing from modern culture right now.
Being that Kilhoffer has a pretty impressive lineage and resume, what was it like to work with him on this project?
It was dope. The musicians I worked with were a huge part of it too. I'm used to working with live musicians … when I first started making music, I was working with live musicians — doing shows and writing with them. I'm already sort of used to working with people who made music that I listened to growing up, so that didn't phase me too much.
What were the studio sessions with Kilhoffer like?
It would be me, him, the piano player and a guitar player. It was basically just a jam session. We would just start jamming, and I would just tell them what to keep and what to take out, and I would just write to it and we would have a song.
So no one came in with any preconceived ideas? You guys were just there making music?
Yeah, pretty much.
With this being the first project going through Kilhoffer's 1st Gen, explain how that came about.
It's a joint release through his label and mine, Yebo Incorporated. I've been dropping my singles through that. It's cool, we both are going on our own new frontiers. I know he's trying to do his own thing and break away from the G.O.O.D. Music umbrella probably. I've had a couple of my own imprints of my own throughout the years, so it's a new chapter for me, but in a different way, it's a new chapter for him too, because he's finally stepping out and doing something on his own.
What do you think motivated him to make you the main artist he wanted to start the venture with?
I feel like it was just timing. He told me a lot of times that he believes in the project and believes in me as an artist. I think when you see something that you think is great, you want to be a part of it. So, I think it's just you wanting to be a part of something that you already think is great.
If you had to choose, what would you say are your personal favorites off the project?
I think "Don't Wait" and "Fall For You" are my favorite ones right now. But, it might change over time.
How important was the visual aspect of this project to you?
I think it was really important, because I realized how much it mattered. I found that out from actually starting to go to record stores — I just started. The art just makes you want to listen to it, so I started to apply that approach to this project.
One thing I noticed: on the second track, you sort of did your own version of Bootsy Collins' "I'd Rather Be With You" towards the end. Is that what you mean by going back to those old sounds and styles?
Definitely. I think there's just a lot of real shit that's been lost in music, and it was just cool to bring it back. There's so many cool things that I agree with, that are from the past, that I think can be tapped into again.
How was it to do your own version of that song? That's a pretty big record.
It was dope. It's not like I thought of doing it, but that influence just came out while I was writing. It's just the music I was listening to, so that was the melody that came out.
With your own imprint Yebo Inc., what are your plans? Is it just your releases or do you want to build it?
It's just mine for now, but I want to build it. I'll probably just address that in the future; for now, I'm just releasing my own stuff on it.
Are you planning on anything else with your partnership with Kilhoffer and 1st Gen? Are there any specific projects you're working on right now?
I'm working on a couple things, and I'm just working on them by myself. If people want to partner with them, and if it's the right thing to do, then I will. You don't want to overdo it … we'll see, I kind of just go with the wind.
Lastly, could you see yourself releasing anymore group collaborations with you and Thestand4rd and do you guys still keep in contact on a consistent basis?
Not really (laughs). We're still cool, but probably not (laughs). No bad blood or anything, that's just how it is.