Fans React to Wayne Rooney's Possible $16 Million USD MLS Move
Joining D.C. United.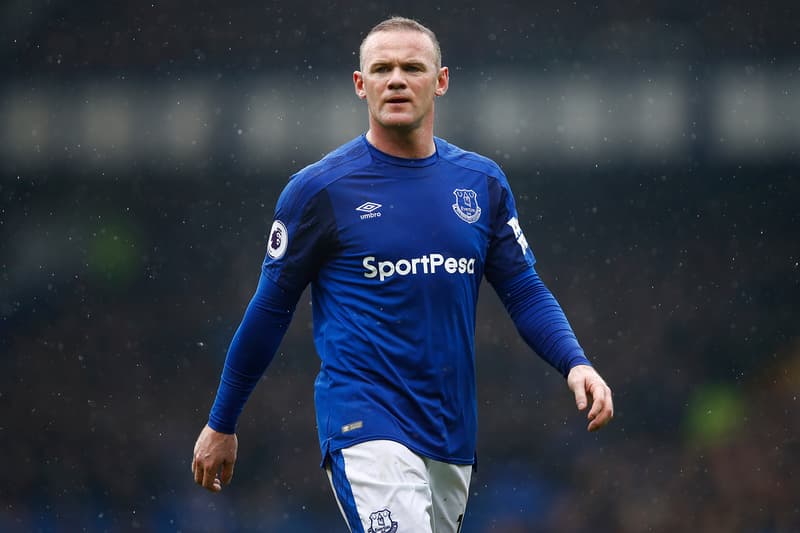 Football star Wayne Rooney could well be on his way stateside as reports have begun surfacing stating the current Everton F.C. player will be joining the MLS.
According to both BBC Sport and Sky Sports Rooney has "agreed to a deal in principle" and would see him signing a £12 million GBP (approximately $16.2 million USD) deal with D.C. United. Rooney's new deal will pay him over $400,000 USD a week, which will be subsidized by both Manchester United (who are still paying Rooney's current wages) and Everton, his boyhood club. With three teams paying his wages, this would make Rooney the highest paid player in the MLS.
Rooney's move to the states will further add fuel to criticisms of the MLS being a retirement league. Below are a few fan reactions to Rooney's transition to the MLS complied by Complex.
Check out the reactions below. In case you've missed it, BAPE and adidas's latest team-up is for the football fans.
Breaking: Wayne Rooney will join D.C. United for £12 million ($16.2M) after agreeing to a deal in principle, according to multiple reports. pic.twitter.com/VCqglzBW7Z

— SportsCenter (@SportsCenter) May 10, 2018
In regards to @WayneRooney joining @dcunited, I am told the sides are close but no deal is in place. Potential resolution is probably a week or so away. One source says it's still 50/50. #dcu #mls

— Steven Goff (@SoccerInsider) 2018年5月10日
Wayne Rooney moving to the MLS one year after rejoining Everton. Rather sad to see him completely gone from England, but his time has been up at the top level for a number of years now. Will go down as a Premier League legend.

— Liam Canning (@LiamPaulCanning) May 10, 2018
I don't follow soccer. I know who Wayne Rooney is. I am more likely to go to a DC United game if he's on the team. That is why they signed him.

— Grant Paulsen (@granthpaulsen) May 10, 2018
Still totally fine with Zlatan coming to MLS at a bargain price, but 2018 Wayne Rooney and Fernando Torres at steep prices? Not so much.

— Grant Wahl (@GrantWahl) May 10, 2018
WAYNE ROONEY to MLS!!!! ? wow @dcunited WOW.

— Brittany Arnold (@BrittanyMArnold) May 10, 2018
I can't believe @WayneRooney's apparently gonna leave the Premier League for the MLS. I'm fucking gutted. What a terrible decision. I hope he somehow changes his mind and decides to stay. Wazza is way too young for this.

— David. (@PeakRooney) May 10, 2018
Welcome to the U.S. @WayneRooney. Think I know which MLS team Im supporting now. See you soon :)

— Sadikshya (@Sadikshya_) May 10, 2018
491 Premier League games
208 PL goals
103 PL assists
????? x PL
??? x League Cup
? x FA Cup
? x Champions League
? x Europa League
⚽️ @ManUtd all-time record scorer

Good luck in the US, @WayneRooney pic.twitter.com/kMh8DkidM0

— UTDST. (@utdstreet) May 10, 2018
Wayne Rooney has agreed a deal to move to DC United. Not sure Washington is a big enough town for Wazza and Donald Trump.

— Paddy Power (@paddypower) May 10, 2018
July 2017: Wayne Rooney: 'I've come to help Everton win a trophy'

November 2017: Sam Allardyce appointed Everton manager

May 2018: Wayne Rooney: 'Bye!' pic.twitter.com/z1ghaTiVsr

— The Irish Guy (@HITC_SPORT) May 10, 2018
the Wayne Rooney that DC United think they're getting

vs.

the Wayne Rooney that they're actually getting pic.twitter.com/Wz7gk6acZh

— amadí (@amadoit__) May 10, 2018
Wayne Rooney is the only player to score 200+ goals and provide 100+ assists in the Premier League.

208 goals ⚽️
103 assists ?️

A true Premier League legend. ? pic.twitter.com/jTiiQxmvQw

— Squawka Football (@Squawka) May 10, 2018