Tory Lanez Comes Alive in London
Rolling with the #Swavey one through the English capital.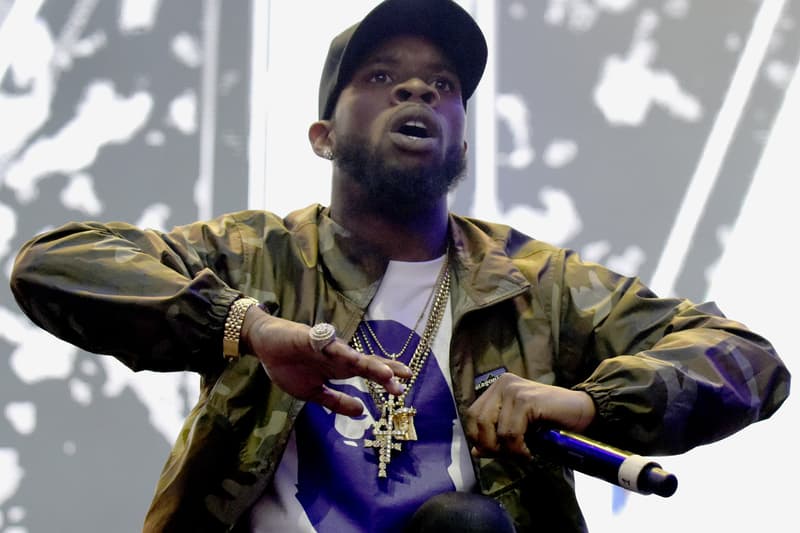 On his first night here (not too long after landing from Miami actually) Tory smashed legendary Camden venue KOKO to pieces; there's no other way to put it. Even if you went there with expectations of him putting on a good show, there's no way you would have expected him to spend 90% of the time, "with the people" as he puts it. Not fulfilled with simply crowd walking and surfing the lower levels, he pulled himself up into the sound booth – where there's clearly a climb of around 20ft – to sing a couple of acapella tracks with the crowd; drawing for Poison and Pony. That's not even it, later during another crowd surf and along with the help of some lucky fans in the stalls; he was dragged up to the balcony level. Not having a clue where the way back down to the stage was from there, he ends up chilling on that level for a minute, before being carefully; I think, although I'm not really sure but he definitely ended back on the shoulders of the standing crew where he started.
There's a good 20 songs packed into his set and the above jungle gym activity saw Diego last for at least ten minutes, not that anybody noticed. I'm sure that they would have happily let the tune ride out until the end of time. Appearances from the UK's Krept & Konan, who he's been in the studio with, might have been the longest period of time Tory was on stage for, and even then he was going absolutely mental. Some people are just meant to be stars, like you could tell that there was no where else in the world he wanted to be other than there; listening to that 1,500 strong crowd yelling his bars back to him, as he literally walked on their hands across the venue.
It was nuts basically, especially when you consider his first show out in London, just last August was at a 300 capacity venue. Tonight was supposed to be held at another venue, which had a cap of 800 but was hastily moved to KOKO, which holds 1,500 and sold out in a matter of minutes. It is all to be followed by an additional sold out gig of around 1,700 in Brixton, the following night.
Tory is slightly hungover but still on time to meet with the team, ready to hit up radio stations across the city. He's even ahead of his manager, which he later points out, and we guess it's not a common occurrence judging by the air of Sascha's sarcasm. But considering hours earlier he watched an inebriated Lanez walk horizontally to his hotel room with a sly wall hug, he's doing fine.
The first stop is Radar Radio, London's rising underground station, where he's interviewed by Jade Avia for her Hungover show and faced with another glass of Henny. Convinced this is the British way of dealing with a hangover, he gets involved. I'm sure the fact he's flirting with the presenter helps too as Jade directs him to look into her eyes when they cheers or you get years of bad sex. Tory immediately screws up his face; confused by these weird British traditions and also appalled that anyone could ever think that would happen. "You can call any girl that I've been with and ask them anything", he begins to assure her; as they go off topic before continuing the interview.
There are a couple of 'tings' as they say in the new Toronto that are off subject during the interviews, mostly because he's bored of being asked about them but more so I guess because he's got more than enough to talk about in his own right; being a successful producer, songwriter, self-taught singer and rapper. 15 mixtapes deep and with a debut album about to drop; Tory is not twisting his words right now, it's all pretty straight forward. "They're gonna have to put a bullet in me to stop me, I'm tryna be the best!"
Next up is legendary London station Rinse FM, the once pirate, now legal station that helped spawn genres like grime and dubstep, where Tory is met at the door by an obvious super fan who clearly can't believe it's him as she plunges into his arms. He's talking to fellow artist and Rinse signee Katy B, who's currently hosting a takeover show. They're sharing stories about pre- stage antics as she narrates the KOKO gig for the Rinse listeners; there are zero nerves and ultimately no ritual at all for Tory whereas Katy, the singer who's performed at sold-out stadiums is nervous each and every time. He definitely seems more awake now, as we step back into the car for the journey to BBC Radio, he plugs in his headphones clearly vibing, with the occasional, "this kid is fire". Before Sascha chimes in to confirm you can almost guarantee he's talking about himself. Which he is but as soon as he hits the Bluetooth and shares some exclusive tracks from his forthcoming album, I'm inclined to agree. Requests start coming in thick and fast from the team to play this, that and the other as we hear a Wayne Wonder sampling track that has summer anthem written all over it. Then comes a hard London On The Track-production chopping up a Kehlani sample; followed by a rather heartfelt tale about forgiveness where Tory reflects on pressing his girl to get an abortion. The last track we hear though, which I'm guessing is called "Another One," is packed with heat, there are some serious bars on there, let's just leave it at that.
At Charlie Sloth's drive time show for BBC Radio 1Xtra, there's a freestyle he wasn't warned about, so they reschedule to do it out at Summer Jam, where of course Tory is performing in a matter of weeks. The interview is pretty straight forward, larger-than- life Charlie trying to catch some tips on how to bag chicks and hailing up Tory's prevailing success – there's basically multiple bombs being dropped throughout their chat. Straight to the last radio drop of the day at Capital Xtra, preceded by a sneaky blunt break, Tory drops some stories for Manny Norte. The 23 year-old recalls how Diego first got played in a club out in Miami – after money exchanged hands with the club DJ he went from salty to sweet in a second. It was there, amongst the likes of Diddy, Future, Drake and others that Diego began its swift ascent to instant classic; followed by the zero budget, Zac Facts visual. Alongside referring to 'we' during the interview, which he points out doesn't actually mean his One Umbrella team but just him and the 55 voices in his head. And it's true, Tory and his team don't stop working. In each ride to the next promo spot, they're breaking down exactly how the show went and how much merch sold; as if it could have gone any better I think to myself a little bemused. Matt, who's handling the creative and visually documenting the tour is constantly bugging out over the graffiti throughout East London, wondering how to integrate it into the forthcoming album drop. Having already listened to a handful of bangers off of the album, Sascha is still sure they want a couple of more before he can even think of marketing aspects. Tory seems cool, calm and confident about it all, but definitely gets involved in the chatter too. Don't get it twisted though; there are also constant jokes too muddled in amongst the business side of things. Sascha gests after some heated or as Tory would say 'spicy' phone calls fighting for his artist, like a good manager does only to come off the phone and feel the warmth from him too. They all crack up about it; before Tory hilariously depicts exactly how easily he could have finessed one of the ladies he crossed paths with earlier.
There's like an hour of down time before we head back out to tonight's show in Brixton. The people carrier is packed and the traffic is wild, so batty watch becomes an actual thing as they take in the sights on the streets. Before cussing each other out about who's most suspect, from blonde hair dye fails to piercings to what just seems like a reach at braids. This all seems to be happening whilst Tory is simultaneously stuck on the phone with his homie back home, who seems to be having woman issues. Not ideal when you're running late to the venue where you have to do another filmed interview before jumping on stage, it's a good thing he doesn't have any ritiuals because there wouldn't be time to even think about them. Referring to his multi talented ability to both spit and sing as being almost a superpower and his performances being somewhat like an act of sorcery – Tory is insistent to the sold-out crowd to live out your dreams. "Sh*t I'm a 5'5" high school dropout stood up here on this balcony!"
And that's how he ends the set today, there's no dramatic mic drop like at KOKO, he just disappears from somewhere randomly up in rafters later finding his way backstage for a shower. Another successful show, another stream on the socials of people in disbelief of his engagement with the crowd, @CLINT419 pointing out "Tory Lanez could be a WWE legend".
Keep an eye out for our sit down with Tory Lanez tomorrow and if you're over in Europe, beg, borrow or steal your way to one of his shows if you know what's really good for you.