A $2.11 Million USD Whiskey Sets New World Record for Most Expensive Bottle
The honor goes to a rare Macallan.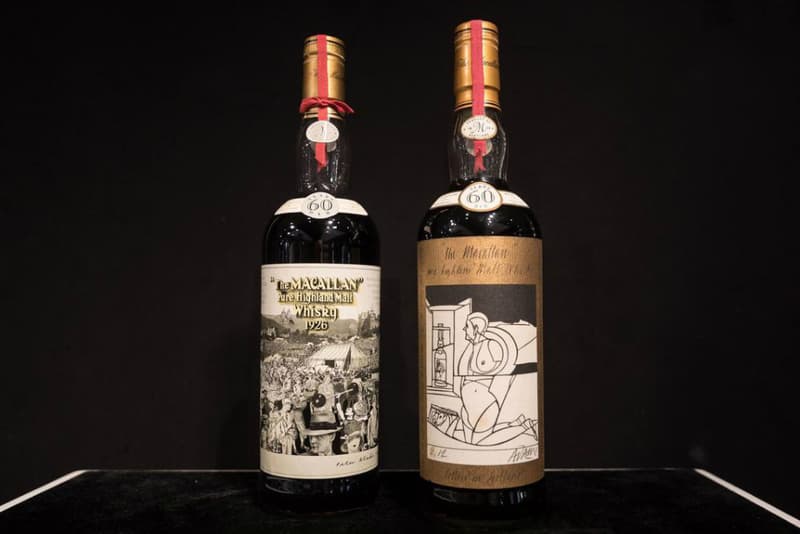 The sale of two ultra-rare bottles — which was originally announced back in March — of Macallan whiskey has shattered a world record. As multiple media outlets have reported, two bottles of 60-year-old Macallan whiskey have been auctioned off for a combined total of $2.11 million USD, beating out previous estimates to grab the record for "the most expensive bottle to sell at an auction."
The bottles were not originally produced for the retail market, and received their names in honor of British artist Peter Blake — a co-creator of The Beatles' Sgt Pepper's Lonely Hearts Club Band cover — and Italian painter Valerio Adami — both of whom played a significant part in the design of each bottle. The whiskeys have not been seen in public for 30 years and were sold at the Bonhams auction in Hong Kong. The identities of the buyers were not revealed.
"These bottles are some of the oldest whiskies produced by Macallan in the 20th century," reads a statement from Daniel Lam On-tai, the individual in charge of fine wine and whiskey for Bonhams. "They were not meant for sale. They were given to very important clients of Macallan."
The previous record was set by another rare Macallan whiskey back in 2014, when a 60-year-old, six-liter "M" whisky sold for $628,205 USD at a Sotheby's auction.