Donald Trump's Re-Election Campaign Is Using Kanye West's Support for Fundraising
"Make America Great Again."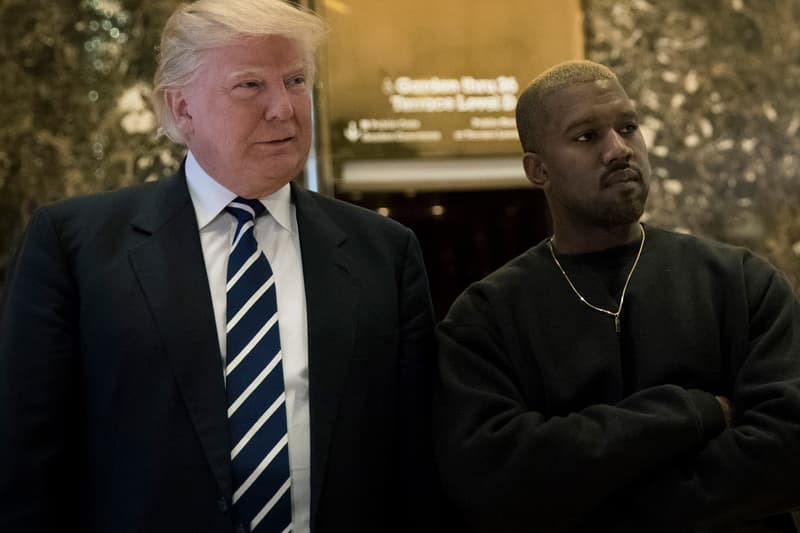 Kanye West's ongoing Twitter rants and support for President Donald Trump continue to make headlines. And it seems this time, West's support is helping Trump's re-election campaign.
Journalists Julie Bykowicz of The Wall Street Journal and Amanda Hess of The New York Times both posted a text message that was sent out by the Trump campaign to supporters on Thursday. The text message is in attempt to fundraise for the re-election campaign using Kanye West's recent outspoken support of President Trump. The text also contains links to "Make America Great Again" hats for sale.
"Groupthink is a mandate in today's society and when a free thinker like Kanye West speaks truth, they attack him," the text read, echoing many of Kanye's recent "philosophical" tweets. "We support Kanye speaking his mind, even if sometimes we do not agree on the issues," it continues. "Do not let them silence you. Get your red MAGA hat today."
West ended his yearlong Twitter hiatus on April 13 and soon began posting tweets complimenting Trump for his "dragon energy" and showing off a "Make America Great Again" hat signed by the president. Trump has in turn thanked West on Twitter and praised him during a Fox & Friends interview for having "good taste." Check out the text below.
It also seems Drake, Kendrick Lamar, Travis Scott, Justin Bieber and more have unfollowed Kanye West on Twitter due to his support for Trump.
Presto! Trump campaign now fundraising off the Kanye tweets. This text to supporters links to campaign MAGA hats for sale. pic.twitter.com/BNnmdD7paZ

— Julie Bykowicz (@bykowicz) 2018年4月26日
the kanye fundraising has commenced pic.twitter.com/RsFgwEAcql

— Amanda Hess (@amandahess) 2018年4月26日
Get your own here: https://t.co/9ehAdqqJjb ? https://t.co/XxB0Px3JbP

— GOP (@GOP) 2018年4月25日
You don't have to agree with trump but the mob can't make me not love him. We are both dragon energy. He is my brother. I love everyone. I don't agree with everything anyone does. That's what makes us individuals. And we have the right to independent thought.

— KANYE WEST (@kanyewest) April 25, 2018
my MAGA hat is signed ?????????????????????????????? pic.twitter.com/DrDHJybS8V

— KANYE WEST (@kanyewest) April 25, 2018
we got love pic.twitter.com/Edk0WGscp6

— KANYE WEST (@kanyewest) April 25, 2018