Behind The Scenes With Beats 1's Julie Adenuga
London diary, Day 3 with the Beats 1 host.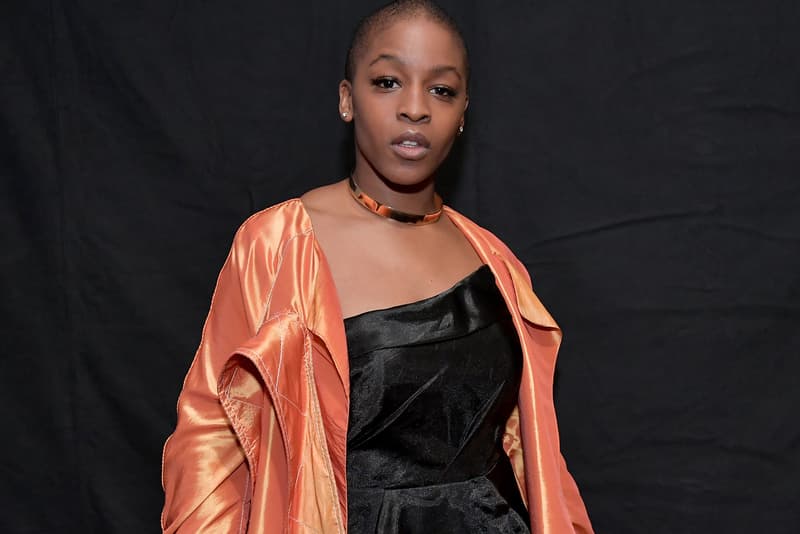 It's raining like crazy when we meet Julie this afternoon down at Radar Radio, one of London's emerging stations. It's the type of place you'd expect to see the future Julie's honing their craft and a bunch of MC's shelling down instrumentals on a daily, just for the hell of it. But we're not here for an actual show at all, it's because Julie alongside her friend Sian have set up a charity called One True Calling, in aid of prepping the future Julie's and Sian's of the world. Their first seminar had to be extended to two days because of the amount of people signed up and people came from as far as Spain to take in their pearls of wisdom. The plan today is for two of the mentees, Amber and Rosetta, to witness Julie interview Che Lingo; an artist she's been supporting for a while and then interview Che themselves. Julie will provide feedback on the recorded interviews by the next time they meet, maybe on audio over the top of their actual interview she jests. It's a new and necessary focus for Julie and Sian yet they're already receiving donations for the cause; Krept & Konan have put them forward as their chosen charity for a project they're currently involved in.
After watching a Logan Sama interview, she was reminded that we're all just fans of music and just so happen to have made a career out of it, so what's important is to keep supporting the music of course but also make sure that when we move on, there are people to fill our gaps. Everyone has to play their part because things have gone full circle almost and artists rely on the people that got the jobs because of them in the first place.
Julie's UK Represent feature on her Beats 1 show is just one example of helping to push unheard music on a global scale. Aware that not everyone tunes into every show, the purpose of the feature is to shed light on one of her favorite UK artists, every day each week, culminating with an interview.
She's happy to have been able to support the likes of Katy B, Etta Bond and most recently Spectra Soul, a D&B duo who she seems to have got along well with. There's a hilarious tale about how Jack from Spectra Soul woke up after getting his wisdom teeth removed with a hole in his face because they couldn't get to his back teeth, so just sliced his mouth open. And over lunch Julie reveals she hasn't been to a dentist, like ever, which is crazy.
But she recounts a tale of having to drive all the way home across the UK with no license or insurance, when touring with JME, as the reason why. As the most logical person she knows it was weird to wintess him in so much pain, he wasn't even looking at the road; he just had his head down repeating, "this pain could kill a small baby". I still think that's more of a reason for actually going to the dentist but Julie's having none of it and is cool with simply extra flossing and brushing.
Anyway we finish eating and move on to Alibi in Dalston. It's an important spot because it's where Julie filmed PlayIt, another outlet of hers, which she started during her days at Rinse. Unable to support artists without that electronic sound the station mostly supports like Kojey Radical, Stormzy, Avelino, Ms Banks and more, Julie wanted to film acts in the style of say, Jools Holland. Originally Rinse were on board but it became too much of a thing and tens of thousands of pounds and pilots started being spoken about but Julie just wanted to actually do it, so she did and on her own terms. It wasn't perfect in her eyes but at least it was being done and it turns out music channel AKA picked it up in the end, and she'll be starting a third series, which will air in July.
It's probably something a lot of people wonder about but how does Julie really find out about new music. It comes down to experience and good people, she tells me. In an ideal world, she'd like to be out with her mates having fun and am incredible tune comes on, which she voice notes and plays back to someone the following day, there's no need for Shazam around here. The Sami remix of Rih Rih's "Bitch Better Have My Money" is just one of those "change her life" finds after discovering it whilst out at Boiler Room's fifth Birthday party.
Her boyfriend and her brothers mostly share music with her and vice versa. "He'll probably deny this because he's forgotten but I reignited the Bone Thugs N Harmony flame that made Junior (Skepta) make "Serious Thugs" with D Doyble E and I put him on to Sam Frank too, which basically kicked off "Blacklisted"". She still finds it hard to outdo her boyfriend who's constantly showing her new stuff and then there's Jamie (JME) who has his own unique way of getting her to like tunes. He just had Sonos System fitted that allows music to flow through the whole of his house and he bought a piano. Pulling out her phone as proof, he's sat there in his room playing along to the chords of Angel's "Rudeboy", a track she wasn't really on board with but he managed to change her mind about.
I'm keen to find out how being a key figure in the UK scene; Julie can help to breakdown the common preconceptions about underground British music, namely grime. "Until this day I still argue with Ebro about it" she begins, the problem being that he keeps trying to call it hip hop but it's not; there's a tangible difference but it's just hard to articulate. Even after taking Ebro to a grime party hosted by Stormzy, he still managed to emerge from the moshpit having had the time of his life, simply shrugging it off like, "yeah, that's hip-hop son". I mention ASAP Mob's below par performance at Red Bull's Culture Clash, the year Boy Better Know rightfully took the title, and she agrees that's probably the best way of describing the difference between hip hop and grime.
Julie believes there's hope though for the future, with more homegrown artists unafraid to be themselves, people have to take notice. Junior (Skepta) said to her the other day, there was a time only Tinie Tempah could get through, no one else; it was always just one person. But we're at a point where Skepta, Stormzy, Little Simz, Section Boyz, Lady Leshurr, all of these people who have their own energies can now be in different places and most importantly it's acceptable.
"Soon it will be normal to see Section Boyz on national chat shows like Jonathan Ross because the person hosting it will have been a fan and grown up listening to them; you never know, maybe it's me," she half jokes. Putting part of this newfound general acceptance down to Drake. "I remember when I was somewhere and grime came on and there was a natural negative reaction from people. It didn't sound like what they were used to but now people are open to hearing someone MC on a beat now, no matter how fast or slow. Rap didn't used to be acceptable, it wasn't happy enough, it wasn't background music, it's got this vibe and energy to it but now thanks to Drake mostly it's alright."
Make sure to follow Julie on Instagram. Her show is live on Beats 1/Apple Music, Monday-Thursday. 8 p.m, check out Julie's Apple Music Connect page for more exclusive content. Check out the Day 1 and Day 2 of our London diary with Julie. And while you're at it, check out Julie's current Top 5 UK tracks below.
Avelino – FYO
Jordan Mackampa – Same Faces
Folded Like Fabric – Falling And You Caught Me
Ghetts and Rude Kid – "Peng Tings
Joker – Planet D