Conor McGregor Arrested & Expected to Be Charged With Assault Following UFC 223 Bus Attack
The Irish Fighter turned himself in.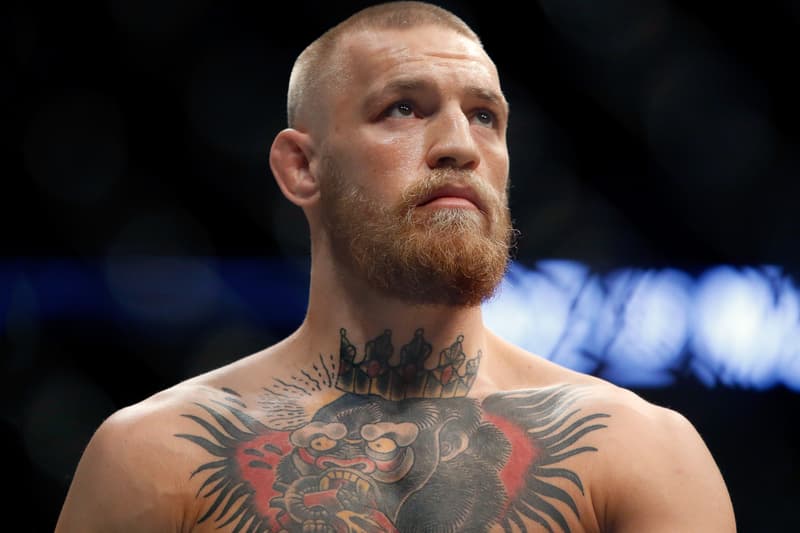 Former lightweight champion Conor McGregor has now turned himself in for a violent run-in that occurred at the UFC 223 media day.
The incident took place when a bus full of fighters participating in the upcoming fight card were preparing to leave the Barclays Center location in Brooklyn. McGregor accompanied by his entourage proceeded to attack the bus, injuring several individuals. UFC fighters Michael Chiesa, Ray Borg, and UFC Vice President Reed Harris suffered cuts and face injuries after a dolly was thrown through the bus window.
Chiesa and Borg have now been pulled from the upcoming event due to the injuries they suffered during the melee. Additionally, fighter and McGregor teammate Artem Lobov has been pulled for his alleged involvement in the attack.
McGregor turned himself in at the New York Police Department and is expected to face assault charges as a video of the Notorious throwing the dolly has been spreading over social media. Reports are noting that McGregor was going after Khabib Nurmagomedov who recently had a run in with Lobov earlier this week.
Check out UFC's official statement regarding the incident below and stay tuned for more developments regarding Conor McGregor's arrest.
"During today's media event at Barclays Center to promote UFC 223: Khabib vs. Holloway, Conor McGregor and Artem Lobov entered the building accompanied by over a dozen individuals.

The group, which included McGregor and Lobov, vandalized the vehicle that contained a number of athletes competing at the event taking place this weekend. NYPD was immediately alerted and is currently in the process of investigating the situation. UFC is working very closely with the New York Athletic Commission, Barclays Center security and law enforcement authorities. All parties are working together to ensure the highest standard of proper safety precautions are implemented to protect the fans and athletes.

The organization deems today's disruption completely unacceptable and is currently working on the consequences that will follow. Immediately, Lobov has been removed from this weekend's card and individuals involved in the incident are not welcome at tomorrow's ceremonial weigh-in or Saturday's event at Barclays Center."
In case you missed it, Floyd Mayweather is currently applying for an MMA license.