Zach LaVine Talks New Fragrance with Hawthorne, Signing to adidas and Moving to Chicago
Peep our exclusive interview with the Chicago Bulls star and budding brand collaborator.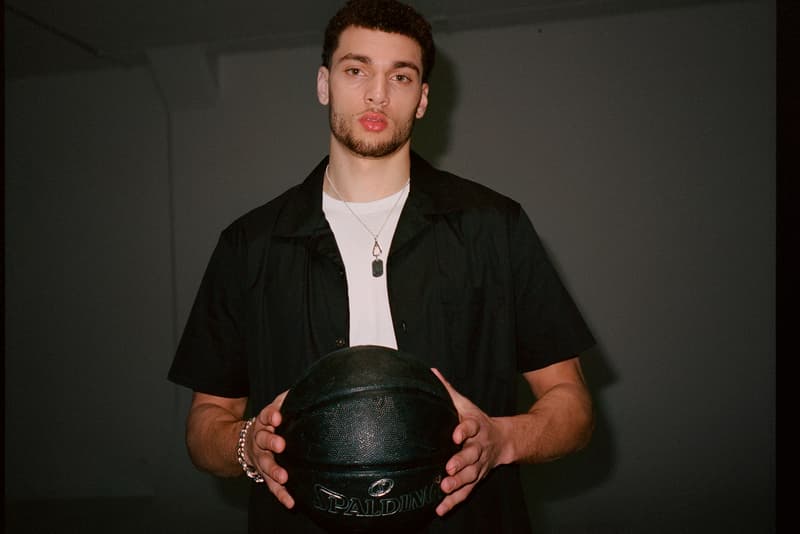 Although he's largely known as a high-flyer with no problem posterizing defenders, Zach LaVine is more than an ESPN highlight, he's a budding brand collaborator. The two-time NBA Dunk Contest champ and new Chicago Bull has recently linked with Hawthorne Fragrances for a special scent. Dubbed "Hawthorne for Zach," the fragrance is tailored to LaVine's own liking through Hawthorne's unique questionnaire. The fragrance brand applies factors from your everyday life into your scent, such as your diet, body temperature, profession and fashion style, among other characteristics.
In an exclusive interview with Zach, we uncovered personality traits that contributed to his special fragrance, in addition to his move from Minnesota to Chicago, how he applies cologne (is he a spray-and-walk kind-of-guy), the transition from Nike to adidas, and what he'd imagine Kanye West's fragrance to smell like.
How did the Hawthorne partnership come about?
Hawthorne reached out to me with the idea to do a fragrance. It seemed like a very cool idea from jump. After that, we started the process to put it all together.
I noticed the Hawthorne experience is very hands-on and tailored specifically for the wearer. Were you deeply involved in the process of your own Hawthorne fragrance?
I was involved from the beginning. The packaging, the logo and even the little photoshoot we did. It was really cool and I'm glad I did the project with them.
For someone who has no idea who Zach LaVine is, how would you explain your Hawthorne fragrance to them?
I'd say it's a little sweet with some wood vibes added in and a little bit of black pepper. It's a really good fragrance and I love it.
What advice would you give your high school self when it comes to choosing and purchasing fragrances?
Ha! For my high school self? I used to wear Bod or something like that. I'd tell myself to get some professional stuff and take things up a notch.
You mentioned wearing Bod, do you remember any other brands that you wore when you were younger?
Oh, of course, it all started with my dad. He was really into smells, from fragrances to candles and whatnot. I remember Cool Water being in the house. He had the Body AXE the Polo. Definitely can't forget about the Michael Jordan cologne either. He had a big 'ol drawer full of them and there's probably more that I'm missing too.
What's the typical fragrance application routine for Zach LaVine?
I usually spray it around my neck and add a little to my shirt. You got some people who do their wrists and some on their head, but I want someone to really smell what I'm wearing so I'll put a good amount on.
You previously mentioned the classic Michael Jordan cologne that many MJ fans had on their dressers. Now that you're on the Chicago Bulls, how did it feel to step on the United Center court after coming back from injury?
It was great! Unfortunately it was following a big injury and I had to put in a lot of hard work for the comeback. It was emotional to have that type of reception from the crowd. They embraced me and I appreciate every moment I put that Bulls jersey on now.
Making the transition from Minnesota to Chicago, have you made any drastic changes in the grooming/fragrance department?
Being in a bigger city there's a larger spotlight which leads to more eyes on you and more photos. Now I'll come to the games in outfits that'll be pre-planned and things of that nature.
You also transitioned from Nike to adidas. What sparked that decision and how do you feel about it now that you're all settled in?
It was more of a personal decision. adidas came to me and we were on the same page moving forward. No hard feelings towards Nike, but I felt that it was time for a change, especially with moving teams and also me going to an adidas school when I was at UCLA. We just clicked at the right time and moving forward we have a lot of big things ahead of us.
Now that you're on the Three Stripes, you've placed yourself in the same circle as Kanye West. If you could create a fragrance for Yeezy what would it smell like?
Ha! That's a tough one. I don't think he'll wear something he doesn't like or something where he wasn't involved in the creative process. It would have to be tailor made for him and it would definitely have to stand out. Almost a little over the top too.
For our sneaker enthusiasts, when you're going out for a night on the town or just to lounge after practice, what are some of the sneakers in your rotation?
I have a lot of the YEEZYS and lot of the BOOST models. Of course you have the designer shoes like Gucci and those Balenciaga runners. The YEEZY collection is big for the guys at the Three Stripes though. Majority of the time I'm in relaxing footwear.