Scott Eastwood on Training for 'Pacific Rim: Uprising' and His Journey Through Japan
The son of Clint Eastwood is taking center stage.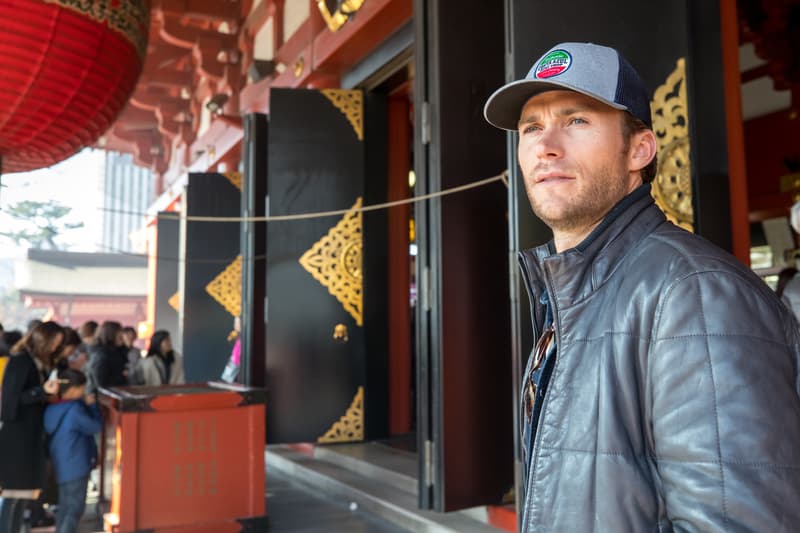 It's not always easy to step out from your parents' shadow, especially when your dad is acting legend Clint Eastwood. But for Scott Eastwood, who began his career using his mother's last name Reeves to avoid nepotism, he is well on his way to taking center stage.
Injected with the same maverick style as his father, Eastwood has appeared in action films such as The Fast and the Furious, Suicide Squad and Fury. Now the burgeoning star is ready to hold his own in the upcoming Pacific Rim: Uprising as the steely Nate Lambert. The $200 million USD sequel to Guillermo del Toro's 2013 fantasy sci-fi sees Eastwood playing the former confidant but now military captain of John Boyega's character, Jake Pentecost. To prepare for the role, Eastwood underwent intensive training and shot at beautiful locations located in China, Australia, Iceland and Japan.
Continuing on his promotional run for the film, Eastwood spoke with us about shooting on location in the bustling city streets of Tokyo, working with Brad Pitt, and if a future role as Wolverine is in the cards.
Tell us about your recent trip to Tokyo
Incredible. An incredible cultural experience going to Tokyo, what an amazing experience. One of the most memorable cities I've been to as far as food, culture, everything, the people, beautiful.
What was it like working in Japan?
I partnered with ANA and we went out there and explored and had a great time. Got to experience all the flavors Tokyo had to offer, which was pretty amazing. I'm actually going back this weekend for Pacific Rim press.
What are your must-have items when you travel and why?
Really, passport and good travel sweats and a jacket. Something that's comfy for plane travel. Good tennis shoes.
What are your thoughts on the fashion over there?
They've got all the big brands out there. I don't know if I'm really a credible expert to really ask that question just cause I'm not too up on my fashion game.
What's your own stance on fashion? What are some of the top brands you like?
There are definitely brands I love, as far as suits go. Italians make some of the best suits in the world. But as far as fashion for me, I keep it classic.
How did you initially get into acting?
Telling stories, real simple man. Telling stories, affecting people.
What was it like working on Pacific Rim: Uprising?
Very global. It was a very global film, I think that's the word that comes first and foremost. It was very globally shot in China, Australia, Tokyo, L.A., Iceland. It's a very big, global film.
Can you tell us about working with Morgan Freeman on The Manuscript and some of the other projects you have coming down the pipe?
[The Manuscript] is sort of a thriller where I play a struggling writer working at a publishing firm. It's cool, it takes you down a spiral, you know, he gets a little in over his head and all of a sudden he's gotta sort of find his way out.
"I love Wolverine, he's an iconic character. He's probably my favorite comic book character."
You've worked on a lot of blockbuster films with a lot of blockbuster talent from Morgan Freeman to Brad Pitt, even up-and-comers like John Boyega. Is there anything you've picked up in the accumulation of working with all of these actors throughout the years?
It'd be hard to quantify into one sentence, it's a lifetime of lessons. But I think probably the first and foremost [lesson] learned is hard work and a good work ethic, and being a good human to other people is the best way forward.
Tell us about your workout routine. Music you listen to while you train.
Music, man, that's a good question. I like the classics, I like putting some Funk on when I workout. I want Parliament-Funkadelic, I want some James Brown, something to get me moving and grooving.
There are some renderings of you as Wolverine floating around the Internet, are you interested in playing him?
I love Wolverine, he's an iconic character. He's probably my favorite comic book character. If it were ever a possibility, I would be honored if I were considered [to play Wolverine], but it's not my decision, you know? Somebody call Stan Lee, somebody call Marvel.
Pacific Rim: Uprising lands in theatres this Friday, March 23.