These Are Hubert de Givenchy's Biggest Style Feats
Remembering the legendary courtier.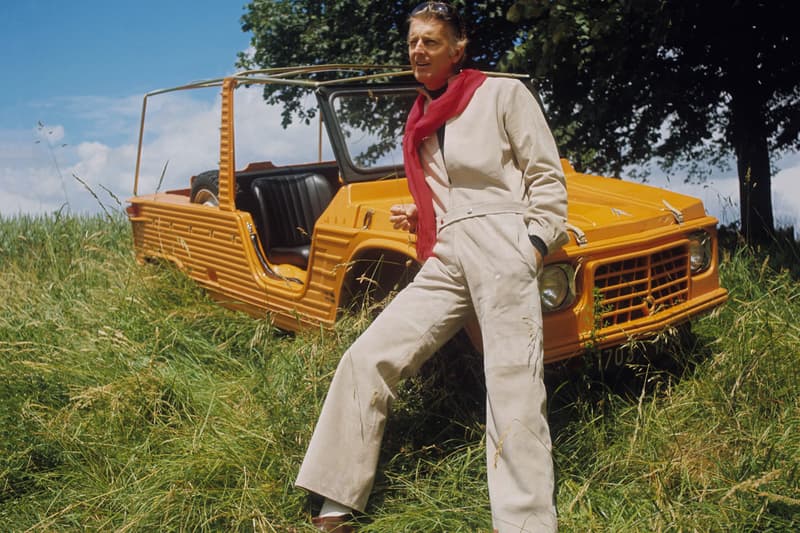 For over 40 years, Hubert de Givenchy reigned as a giant in fashion – and not just because he stood 6'6'' tall. From the early '50s until his retirement in 1995, Givenchy redefined womenswear, creating sculptural clothing that blended timelessness and wearability; he emphatically believed that clothing designers must "think about the life of a woman." Famous women flocked to his brand, with friends and fans ranging from Ingrid Bergman to Grace Kelly all swayed by his effortlessly chic clothing.
One of the world's last great couturier's, Givenchy's eye for detail and gifted hands were nurtured during a half-decade stint working for Elsa Schiaparelli. Givenchy's life changed forever when he met one of his idols, Haute Couture master Cristóbal Balenciaga in the late '50s. The ensuing creative relationship between the pair resulted in the exquisite level of craft channeled by Givenchy during his tenure as a designer.
Below, we've broken down four of Givenchy's most crucial design elements in honor of his passing on March 10, 2018 at the age of 91.
The Little Black Dress & Audrey Hepburn
According to the designer himself, "The little black dress is the hardest thing to realize, because you must keep it simple." Indeed, the little black dress — although arguably conceived by Coco Chanel — is inseparably associated with Givenchy, thanks in no small part to Breakfast at Tiffany's. The movie starred Audrey Hepburn, who famously wore a black off-the-shoulder Givenchy dress in one of its key scenes. Hepburn quickly became the designer's favored muse; following their initial collaboration for Sabrina, she insisted, "Each time I'm in a film, Givenchy dresses me." According to Hepburn, Givenchy's designs granted her the strength to perform and make grand public appearances, while Hepburn's understated, yet demanding, tastes elevated Givenchy's sublime creations.
Jackie Kennedy
Though Jackie Onassis Kennedy may be best known for her love of Chanel and Oleg Cassini, she was a personal client of Givenchy from the beginning of his brand. His refined, tasteful dresses were Kennedy's go-to formalwear — she wore Givenchy for a presidential photograph session and John F. Kennedy's funeral. Meanwhile, the designer's functional overblouse was one of Kennedy's go-to looks during her husband's 1960 presidential campaign. Kennedy became a style icon for American women during the late '50s with her reserved, cultured taste in clothing, and Givenchy was key in shifting her wardrobe towards daring colors and forward-thinking shapes.  Indeed, Givenchy designed Kennedy's signature red welted-seam coat and ruffled fuchsia dress that informed her later flirtations with bold pink suits and chartreuse gowns.
The Bettina Blouse
Almost immediately after launching his label in 1952, Givenchy debuted the "Bettina Blouse," so-named for the designer's PR manager, pioneering French model Bettina Graziani. The design contrasted the blouse's signature ruffles with a trim fit. Crafted from raw shirting cotton — heretofore exclusively used for couture fittings — the blouse was key in reintroducing tailored shirts back into high fashion. Nominally relegated to men's suits, shirting was commonly thought to be masculine, and therefore inappropriate for women at the time. The Bettina Blouse's ruffled sleeves, elegantly flowing collar and exquisite embroidery emphatically upended that notion, setting a fashion movement in motion and garnering the equivalent of nearly $14,000 USD in its first day of sales.
Redefined Separates
The same year that he introduced the Bettina Blouse, Givenchy offered his vision of "separates" in his debut collection. Standing in stark contrast to the ordinary, stiff garments of the day, Givenchy's disparate skirts and blouses exuded simplicity and effortless style. The concept of allowing women to create their own style was innovative, and flew in the face of then-conventional fashion wisdom, which dictated that women must observe agreed-upon rules of dress. Like the Bettina Blouse, the items were an instant success, with the initial line consisting of a two-piece evening gown and a blouse, cardigan and skirt for daywear. Offering sumptuous construction and simple design, the separates invited quietly personalized styling, one of Givenchy's many progressive notions.
Keep up with the current-day House of Givenchy with its latest presentation: Clare Waight Keller's Fall/Winter 2018 collection.