Drake Is the UK's Best "Beg Friend"
Looking into how the superstar's deep embrace of the UK scene helps the musicians within.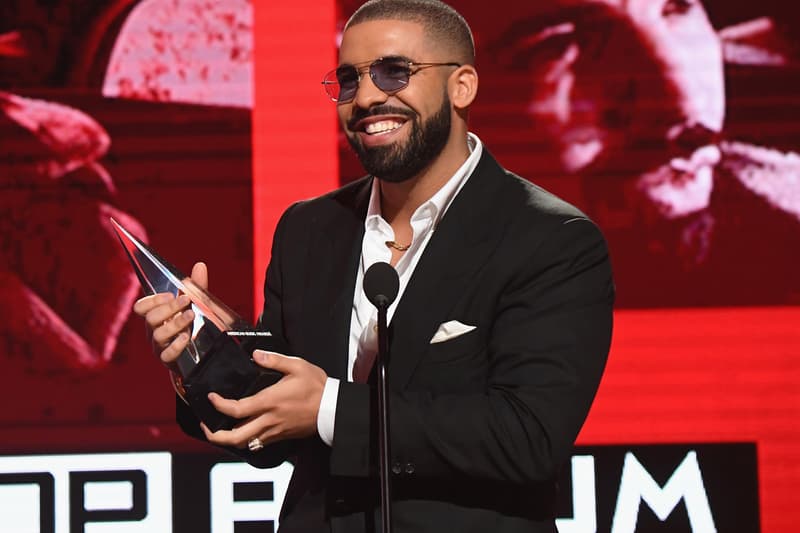 The release of More Life has made two facts clear. The first is that Drake loves UK music (and not just grime, like some uninformed U.S. critics have taken to calling anything coming from the UK). The second is that he's a bit of a beg friend* about it.
*According to Urban Dictionary, a beg friend/begging is, "someone who: kisses arse, sucks up, compliments someone to be in their good books as it will benefit them in the present and the near future as they are losers and must do what they can to gain your friendship."
Drake has had a longstanding love of the UK and it's been a running joke that whenever he comes to the UK, he turns into a roadman. Because of this we decided to have a deep dive into whether Drake's UK love is beneficial for the artists, how his interest extends beyond music, the cultural similarities between Toronto and London and whether the U.S. will ever fully understand grime music.
Drake Loves the UK
Drake has always been a chameleon. When his buzz was building, he was known for his love of the Houston sound. There's been a slew of articles about Drake's grime obsession, but one of Drake's biggest songs was one that heavily sampled a UK Funky House classic, so the obsession clearly goes beyond one genre.
In fact, Drake's love of the UK extends beyond music, with his Instagram posts about Top Boy. The pictures led to rumors of a Drake-funded series 3 starring Skepta which, as of yet, hasn't materialized into anything. While Drake has been accused of biting everyone from XXXTENTACION to D.R.A.M, his foray into the UK is one that's based on collaboration.
And it's a collaboration that's helped the artists involved. Drake is far from the first North American artist to take influence from the UK — Danny Brown is an avowed grime fan and Kanye West's "All Day" performance inadvertently showed up the Brit Awards' lack of respect towards grime, something the awards ceremony tried to rectify after being called out. But Drake often takes his fandom a step beyond anything that's reasonable for one of the world's biggest stars – whether that's popping up at just about any UK artist's show, signing to BBK in a deal that still hasn't been explained, his embarrassing attempts at UK slang, or getting a BBK tattoo, if there's something worth doing, Drake is guaranteed to overdo it.
The U.S. Still Doesn't Get Grime
One of the underlying issues when it comes to Drake's embrace of UK music is that his main fans are primarily in the U.S. and they can sometimes be both ignorant and stubborn about their knowledge of other music scenes. For instance, it was only last week that The Ringer's Justin Charity argued that "Grime is bad, and at the very least Americans should refuse to take it seriously until grime artists and grime apologists drop the pretense that grime is totally unrelated, and not indebted, to hip-hop." After all some people like their cucumbers pickled, saying grime is indebted to hip-hop is demonstrably false given the obvious influences of sound systems and jungle loom far larger over grime than hip-hop does.
We spoke to Alex Griffin, editor-in-chief of GRM Daily about this. "It's very much a culturally niche thing to England and I think people are slowly starting to realize that we don't actually need their understanding or acceptance to flourish on our ones," he says. "Maybe one day they will accept the genre, but I'm not convinced."
And, beyond the U.S.'s acceptance of grime is whether they have the ability to differentiate between different types of UK music. We asked Griffin about this and he said that "you see artists like Section Boyz, even Giggs, are billed as grime artists when at their core they aren't. Even Ray BLK – an R&B singer – gets called a grime artist!"
Griffin goes on to say "with education maybe they will get there, but to be honest – and no shots – I don't think American audiences care enough to learn the differences between rap and grime. Sometimes, particularly in more recent years, it's a blurred line between the two anyway. They adapt each others cadences and flows and sounds more than ever, which would perhaps make it difficult for a casual listener. A serious grime fan will shut you straight down if you get it wrong though!"
The Similarities Between Toronto and London
But one question that's rarely been asked is why UK culture seems to resonate so much with Drake. Much has been spoken about the melting pot of Toronto, with its 5.5 million dwellers, of which half are foreign born. The city is also known for a concentration of Caribbean residents, which has led to patois becoming part of the slang in the city.
There's often a rush to place everything from the UK under an amazingly dated frame of reference that seems to start and stop with Downton Abbey, tea, croquet, the Queen, and Geoffrey from The Fresh Prince of Bel-Air. But for people of color (POC for short) in the UK, most of these references don't apply to them — except the tea — and are increasingly just tiring. While POC have been in the UK for centuries, the vast majority of them are usually first or second generation immigrants, which means they're more likely to have carryovers from their parents' culture. And among those immigrants the dominant culture was Caribbean, which explains why so much of UK 'roadman' slang is actually just patois. In fact, the reason Drake is a beg friend in the title is because it's a patois saying that's become a solid part of UK slang.
It's a connection that few U.S. writers have picked up on, but it's an important thing to note nonetheless. Toronto's use of slang mirrors the UK's use of slang because of the similar situations when it comes to first generation immigration, which provides a plausible reason as to why Drake seems to love the UK so much.
Drake Is "Begging" It, but in the Best Way
Yes, Drake overdoes it – but he does it in a way that undoubtedly benefits the people he's working with. Earlier this week we wrote about the boost being on More Life has had on Giggs, Skepta and Jorja Smith, so there's a definite payoff when Drake's involved. We asked Griffin about whether Drake hopping on a UK song sees a boost in traffic from America. "I think Dave is the one who has felt the effect the most. When Drake hopped on his "Wanna Know" tune the traffic to our website was insane, from audiences at home and away."
So, while there is still an argument to be had about whether Drake is a culture vulture, he's putting UK artists on his album — sorry playlist — boosting their careers and giving back. Essentially, he's the UK's best beg friend.