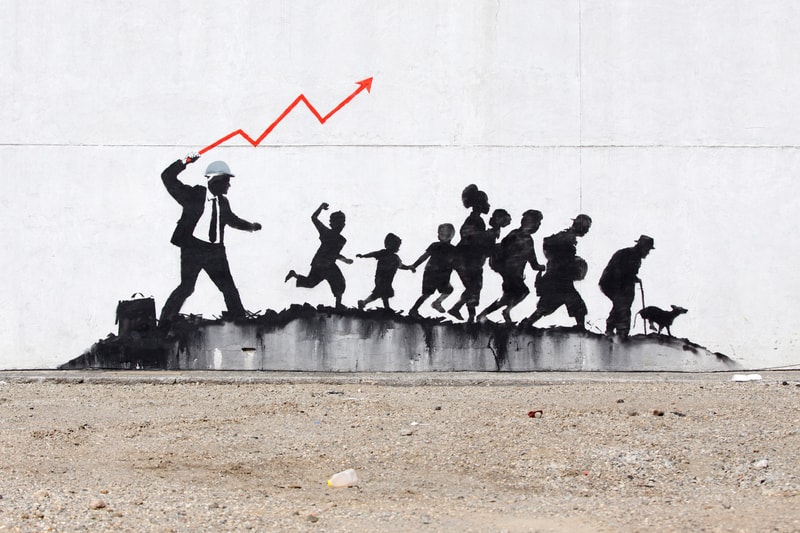 Best New Art: Banksy Invades NYC, James Jean's Stained Glass Works & More
Including a new group show by Nike ATELIAIR in Tokyo.
---
From the Code of Hammurabi in 1754 B.C., to Banksy's street art stencils in 2018, politically-engaged art continues to be one of the most prominent types of works created across the globe today. These pieces don't necessarily have to be public works of art, but they can also appear as commissioned works in museums, galleries and other institutions. Take, for example, visual artist Mike Lee, who currently has a new show at the Arsham/Fieg Gallery in New York City. Lee created a series of miniature oil paintings that touch upon female empowerment as well as social injustices.
Read on to learn more about Banksy and Lee's politically-charged works, alongside current as well as upcoming shows.
Banksy Continues to Unveil New Public Artworks in NYC
Last Thursday, Banksy marked his return to New York City with a new rat piece. Since then, a handful of public artworks have been making their rounds on social media with fans guessing whether or not the elusive artist created them. Banksy confirmed his Bowery Wall mural of Turkish artist Zehra Dogan as well as "The Whip" piece on Coney Island Avenue on Instagram. Depicted in the banner above, "The Whip" portrays a business-man whipping a group of people with a red stock-market graph. Although unconfirmed, another piece spotted in East Harlem, unofficially dubbed "You Loot, We Shoot," also has fans thinking that it's a Banksy artwork as well.
Nevertheless, stay tuned for updates and follow Banksy on Instagram to see if he confirms any more pieces in New York City.
James Jean Prepares New Stained Glass Pieces for Upcoming Tokyo Exhibit
Acclaimed artist James Jean will be launching a new show at Takashi Murakami's Kaikai Kiki Gallery in Tokyo, Japan. Titled "Azimuth," the presentation will put on a striking display of never-before-seen stained glass works by the artist. More precisely, a series of triptych Portals initially unveiled by Jean on Instagram will be placed in the gallery space. "Azimuth" is set to launch this April 6. Visit Kaikai Kiki Gallery's official website to learn more about the exhibition.
Kaikai Kiki Gallery
Motoazabu Crest Bldg. B1F
2-3-30 Motoazabu,
Minato-ku, Tokyo 106-0046
Japan
Pace Prints to Launch NYC Show Spotlighting 50 Years of Peter Saul Graphics
Iconic American painter Peter Saul is the subject of a new retrospective by Pace Prints in New York City. The exhibition spotlights 50 years of Saul's graphic works, spanning paintings and prints that touch upon socio-political issues. The artist is widely-recognized for his colorful and figurative pieces that reference popular culture, ridicule consumerism, blatantly expose the violence of war, and challenge high-art norms. The retrospective will take place starting April 26 at Pace Prints' Chelsea gallery.
Pace Prints
32 E 57th St.
New York, NY 10022
Mike Lee Opens New "Besties" Exhibit at Arsham/Fieg Gallery in KITH NYC
Daniel Arsham and Ronnie Fieg's Arsham/Fieg Gallery at KITH NYC is now presenting new works by visual artist Mike Lee. Titled "Besties," the presentation is comprised of five miniature oil paintings portraying Lee's signature abstract figures. Essentially, the show raises awareness for global injustices experienced by women. "In light of all women coming together to speak out, it's about time their voices are being heard loud and clear," said Lee in a statement.
The show is currently on view, visit KITH NYC's official website to learn more and find the address below to check it out yourself.
KITH NYC
337 Lafayette St.
New York, NY 10012
Meguru Yamaguchi Takes Part in New Nike ATELIAIR Show in Tokyo
Brooklyn-based artist Meguru Yamaguchi is participating in a new group show hosted by Nike ATELIAIR in Tokyo, Japan. Yamaguchi is known for creating three-dimensional sculptures of brushstrokes, and his presentation at Space O in Shibuya sees varying artistic interpretations of the Swoosh's Air Max franchise. Yamaguchi alongside local and international artists are currently displaying their pieces at the space up until March 25.
Space O
Omotesando Hills B3F
Jingumae, Shibuya-ku 4-12-10
Tokyo, Japan