Are Flute Samples the Latest Sound Trend in Rap Music?
Listen to our favorite flute-infused songs like Future's "Mask Off" & Kodak Black's "Tunnel Vision."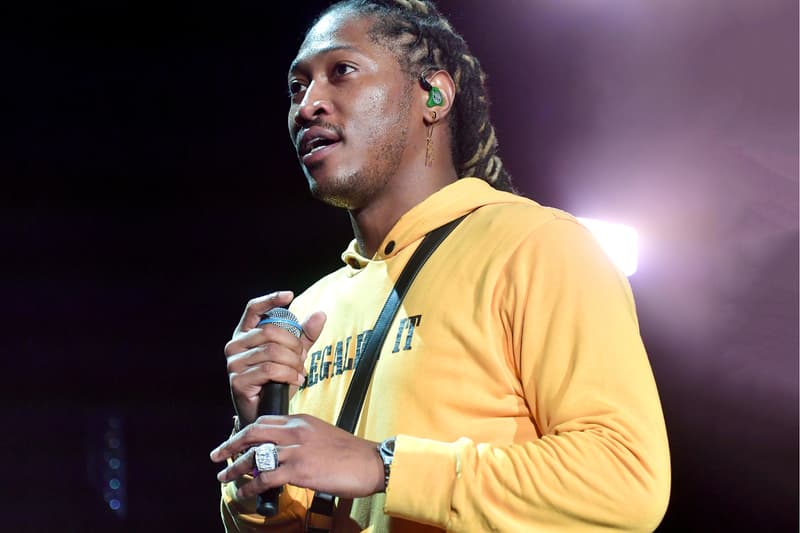 Future is back on news headlines today. The Atlanta rapper set a new record as the first-ever artist to ever have back-to-back number one album debuts (Future & HNDRXX) to top the Billboard Top 200 chart within two weeks. The Freebandz general (or his social media team) seems to be in high spirits, reposting several memes and viral videos on his Facebook account including one of his Future highlights, "Mask Off," playing over a scene from Jon Woo's 2008 Chinese epic war film, Red Cliff. The stirring scene finds a farmer child playing the flute to an entire army. After general Zhou Yu makes an adjustment to the kid's instrument, Future's catchy flute-laced tune plays instead of the youngster's actual performance.
The incorporation of the flute, piccolo, vessel flute (ocarina) and pan flute (or its worldwide variants, such as the Chinese dizi, Mongolian tsuur, Persian ney, Japanese shakuhachi, Indian bansuri, Ashanti atenteben, Korean danso, Balkans kaval, Andes quena, Native American flute etc.) in rap production isn't something new. Contrarily, the flute and its edge-blown aerophone variants are some of the most-used sounds in beat-making history — their light and fluttery, yet sometimes dark, exotic and mystical, timbre contrasts well against the genre's hard-hitting drums and bass-lines. Beastie Boys ("Flute Loops" and "Sure Shot"), Snoop Dogg ("Tha Shiznit") and more had flute-infused beats in the '90s. They were sprinkled all over '00s hits: JAY Z's "Big Pimpin'", 50 Cent's "Just a Lil' Bit", Timbaland's "Indian Flute," amongst many others, as well as ones from this decade: A$AP Rocky's "Goldie," Kendrick Lamar's "HiiiPower," J. Cole's "Power Trip," Yung Lean's "Kyoto," et al. Aerophones were also big in underground rap (Mos Def's "Sex, Love & Money," Dilated People's Kanye West-featured "This Way" and Atmosphere's "The Waitress") and were often used by revered producers like J Dilla, Madlib and Nujabes.
None, however, employ the flute sound quite like the way Atlanta producers do, though. It's one of the Atlanta rap's signature sounds and is often used by the city's biggest producers, like Metro Boomin, Southside and Mike WiLL Made-It. Not only does the instrument give danceability and soul to the music, it produces a playful, Pied Piper-esque ambience when paired with bouncy 808s and slinky pianos — making listeners feel like they are in some sort of a trapped-out role-playing game. The spirited style flute playing was first used by the early Atlanta producers such as DJ Toomp (who produced T.I.'s flute-featuring 2004 hit, "Motivation"), and later refined by the likes of Lil Jon, Shawty Redd, Nitti and most notoriously, Zaytoven. Over the last few years, flute samples have been laced all over the most well-known songs from Atlanta's biggest rappers like Future, Migos, Gucci Mane, 21 Savage and 2 Chainz.
In the last month, it looks like this flute-infused Atlanta-style of rap music is gaining commercial popularity. Future's "Mask Off," which sounds like it could soundtrack an East Asian epic film (as the aforementioned meme suggested), is one of the more popular cuts off of his chart-topping self-titled album. The song is produced by Metro Boomin, Frank Dukes and Southside, and samples Tommy Butler's 1976 pipe-laden "Prison Song." Kodak Black's latest smash hit "Tunnel Vision," which hit Billboard's Top 40 late last month, is produced by Metro Boomin, Southside and Cubeatz. The track's got a Celtic folk vibe to it and sounds like it could've been produced by the likes of Bonobo, Nujabes or Emancipator. Other relatively recent pipe-woven songs include 21 Savage's Future-contributing "X," D.R.A.M.'s Lil Yachty-featured "Broccoli" and Gucci Mane and Drake's "Both" and "Back on Road." These tracks have all climbed up the Hot 100 charts — "Mask Off" at No. 49, "Tunnel Vision" at No. 27, "X" at No. 36., "Broccoli" at No. 5, "Both" at No. 41 and "Back on Road" at No. 81. Rarely before has this pipe-driven style of rap music hit the Hot 100 charts. Based off of these recent examples, flute samples could be the latest popular sound trend in rap music.
We've gathered 22 of our favorite Atlanta or Atlanta-influenced flute-infused rap songs below. Let us know your favorite track and if we're missing out on any good ones.
21 Savage & Metro Boomin featuring Future – X (Produced by Metro Boomin)

2 Chainz featuring Jeezy – BFF (Produced by Zaytoven)

2 Chainz – MFN Right (Produced by Mike WiLL Made-It & Zaytoven)

2 Chainz featuring Drake – Big Amount (Produced by Buddah Bless)

D.R.A.M featuring Lil Yachty – Broccoli (Produced by J Gramm, Rogét Chahayed & Karl Rubin)

Drake featuring Quavo & Travis Scott – Portland (Produced by Murda Beatz and Cubeatz)

Future – Blood on my Money (Produced by Cassius Jay, Zaytoven & Metro Boomin)

Future – Feds Did a Sweep (Produced by Zaytoven & Cassius Jay)

Future – Mask Off (Produced by Metro Boomin, Southside & Frank Dukes)

Gucci Mane featuring Drake – Back on Road (Produced by Murda Beatz and Boi-1da)

Gucci Mane featuring Drake – Both (Produced by Metro Boomin & Southside)

Gucci Mane – Stutter (Produced by Murda Beatz)

Gucci Mane – Waybach (Produced by Zaytoven & Mike WiLL Made-It)

Kodak Black – Tunnel Vision (Produced by Metro Boomin, Southside and Cubeatz)

Lil Yachty featuring A$AP Ferg – Terminator (Produced by Maaly Raw)

Migos – Antidote (Produced by Zaytoven)

Migos – Bando (Produced by Juvie)

Migos – Get Right Witcha (Produced by Murda Beatz)

Migos featuring RiFF RAFF & Trinidad James – Out Da Gym (Produced by Phenom Da Don)

Murda Beatz featuring Skooly & 2 Chainz – Cappin N Sh*t (Produced by Murda Beatz)

Travis Scott featuring Juicy J – Wasted (Produced by Metro Boomin, Frank Dukes & Mike Dean)

Young Dolph – Preach (Produced by Zaytoven)