UK Radar: Jorja Smith
Enter the world of the socially conscious singer/songwriter Jorja Smith in her very first interview.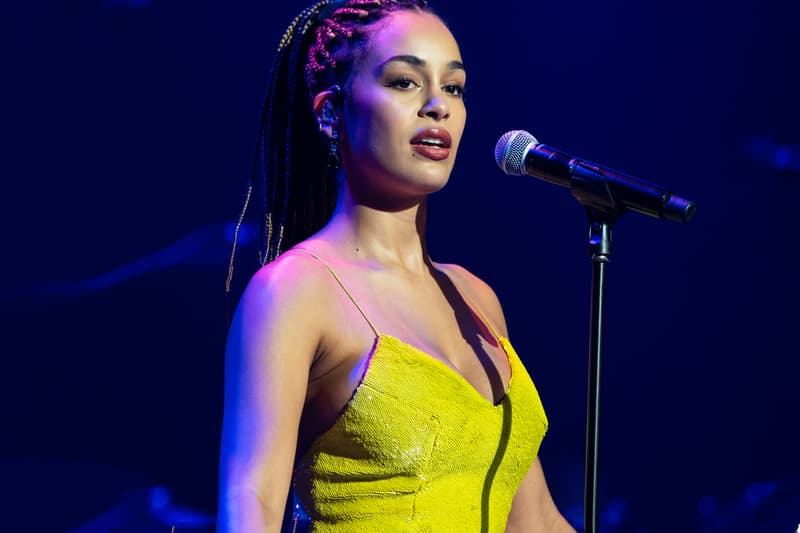 Currently wavering around half a million listens on Soundcloud, "Blue Lights," Jorja Smith's debut track and sole song on her page, is a semi-fictional tale addressing the twisted relationship between police and young black men. Over the course of the four-minute track, Jorja captured listeners with its nod to grime using Dizzee Rascal and Ghetts as a visual and sonic reference, live elements, the most eloquently delivered bars and that authentically British essence fusing everything together. 18-year-old Jorja only popped up a couple of months ago, in my instance, via a co-sign from the ridiculously underrated fellow singer/songwriter Maverick Sabre, who has been working with her for the past few years.
As you've probably noticed Jorja Smith isn't your average hipster singer, glam girl or whatever other stereotype the music industry churns out nowadays. Jorja's not really into make up and false lashes, going out for the sake of being seen, she's happiest on stage and writing back at home in Walsall, casually sporting an understated all black attire and as for the pressure, what pressure?
"Blue Lights" was playlisted on national radio the same week it hit the Internet and a rehearsal video of a currently unreleased song Life Boats sits exclusively on Jorja's YouTube channel. Other than that, there are a few videos flying around of Jorja hitting up an open mic event and a main stage billing at the Rudimental and Disclosure curated Wildlife Festival in June; so we met up with the mysterious singer to get her story.
On debut track "Blue Lights" blowing up…
I didn't expect it all, my goal was a 1,000 listens and I went a little bit over that (the track currently sits at 413k). I hadn't put anything out before so I was looking to other people who had done stuff and wanting to be up there and it just did a little better.
On the social commentary running through "Blue Lights"…
I did an A-Level in Media and for my last piece of coursework, the question that I chose to discuss was, 'Is Post Colonialism Still Present in Grime Music?' I looked at Ghetts video, Rebel because of all the ideologies in there and then I analysed Dizzee Rascal's Sirens because he's being chased as if it was a foxhunt and that's a bit of Post-Colonialism. Whilst I was doing that, I went into my room and was going through beats and I heard that one by Joice. When I write, I kind of freestyle, so I put my mic on full and sat really far back and just start singing. I've got the original one, it's so bad but you can tell where I was going with it. [Blue Lights] is based on people I know and I like observing things too, so part of it is true but then I just expanded on it so it's more relatable because I don't know what happened to these boys that I wrote about.
On musical role models…
Nas, he's a true storyteller and observes everything. Illmatic is amazing, that's what I listen to in the gym, just the whole album on repeat; 'One Love' is my favorite track on there. I look up to Alicia Keys and Nina Simone, those types of artists because I like playing the piano.
On not being "new" to music…
I was classically trained from Year 7, so I sing in German, French, Italian; I love it because it really helps with my breathing. Because the school was in Aldridge and I didn't live there, it was difficult for me to get in but I went in on the music scholarship. I cried at my audition as well because I sang and played the piano but I messed up but I got in.

On Jorja Smith vs. Jorja Smith…
It's quite interesting, I'm good at talking but when I'm on stage its different. I sing and that's fine but in between I'm just like, "This is Omani (who I play with) and we're gonna play some songs, okay?" I was speaking to people after an open mic gig and they said it works because it is a bit mysterious. I think I'm two people; I'm a Gemini, so there's two Jorja Smith's. When I listen to my songs – this is going to start getting so confusing – but basically when I'm listening to my songs, I'm writing songs for people like me who want to hear that sort of music.
On slotting into the music scene…
I don't want to fill any gaps, I want to make my own gap not fill any because there's so much music out there, and I don't think you can.
On the ultimate message delivered through your music…
Be you. I want people to be able to take away a new feeling or an understanding from my songs. Just for them to open their mind after hearing a song. One I wrote recently, made me feel a lot better. All of those emotions that had been built up inside me were released and listening to it gave me even more ideas. It's like a love song but I admit I haven't been in love but I can exaggerate feelings that I've had. But even Blue Lights I'm really happy that people in the grime scene have listened to it because it's stereotypical of what's going on in the grime scene. It's not just for them because my dad can relate to the song, he's black, and he knows what it's like to be in fear of the police. It's that ideology that is forced upon young black males; you don't like police because they don't like you.
On the one song you wish you had written…
"You Sent Me Flying" by Amy Winehouse is amazing, that's my favorite song, and it's always on repeat. My friends actually said to me the way she writes reminds them of me, getting stuff out by writing; it's good to have that outlet. Growing up I used to listen to her but I didn't realise how much she was in the media because I wasn't old enough to see it at the time.
On whether fame and the media seem daunting…
No. I don't want to think about it, I guess you just have to go with the flow and it's all about the people around you and I've got good friends around me. I can't ever see myself being a diva, I apologise after everything. I've stopped it a bit but normally if I sing something wrong when I'm recording, I'm like 'OMG I'm sorry' and everyone says, you don't need to apologise.
On feeling any pressure…
No, not at all, I've been working and doing this properly for two years but I've been writing since I started school. I remember the first song I wrote, "Life is A Path Worth Taking," I can remember it all and I played it to my class on piano. When I got to 15/16, I started experiencing more stuff and watching and listening to more music because I realised I didn't listen to a lot of music. I did because there was music around me, so it was more subconsciously. I tend to just replay an album, I've just come out of Rodeo by Travis Scott and now I'm listening to Rihanna's album Anti and Anderson .Paak's Malibu as well. Frank Ocean is always on there; he's got his own playlist. I like Trevor Nelson's Collection on just a shuffle, those tracks remind me of Sundays, and going to church my dad would be playing that in the morning, so it takes me back.
On personal goals…
I want people to sing my lyrics because I live with my little cousins and they know all my songs. The other day I was in my room and I just heard of them singing "Blue Lights" around the house, they're six and eight. It's sick that little kids can remember your song because if kids don't want to listen to something they won't. I'm the oldest I have a little brother but because I live with my auntie and uncle, now I'm the oldest of my cousins too. It's nice because what I'm singing about is positive, it's not ratchet, it's not something that goes straight through your ear with a catchy melody, its' something that you think about.
On what to expect next…
I've got a lot of songs, so it's just a matter of putting it out at the right time. I don't wanna say I'm a rapper, I'm a singer/songwriter but I have got a track that I did more recently, [Life Boats] which touches on topics of inequality, injustice and poverty and it's mixed with Kanye West's, "All Fall Down," which is in a similar vein to "Blue Lights."
On the London-centric feel of the music scene…
It does help being in London but I wrote a lot of stuff back in Walsall, that's where a lot of my rawest stuff comes, which is why I want to go and write more back home. London is amazing for me looking at it from a different perspective. It's so quick, I feel like Walsall, I love home but my Mum lived in Turkey and New York and came back and then had a family in Walsall, for me it's a place where you set up. London is full of events as well, in Walsall it's like events, what? I'm not really into going out; it's not my thing. To be fair, I like going home and writing and reading something. I will try to go to more but there are certain events where people are just there to be seen and I'm not about that. I like shadows, that's my plan stay in the shadows and let my music do the talking.
Let the music play over on @JorjaSmith SoundCloud and look out for the video to "Blue Lights" dropping soon.
Revisit the first part of our new series UK Radar with Jay Prince here.